If you have dived in Philippines before, please share your experiences: Dive spots you would recommend, which Dive Center you used, Fishes & Diving, Visibility, Currents, etc. Please post your comments in the section below, by doing so you will help fellow divers to plan their next trip

Thousands of Islands with unlimited Scuba Diving opportunities!
This review is actually under construction. Have a look here to discover the main and best Scuba Diving destinations in the Philippines.
You can read the following reviews:
Dive in Donsol with the Whale Sharks.
Discover the beautiful area of Anilao Batangas.
Or experience some of the best wreck diving in Coron.
Discover more HD Videos on Scuba Diving on YouDive.TV .
In this page you will find more detailed information about scuba diving in Philippines.
Photos Philippines
No related photos found. See all Photos
Where to stay?
I usually use this website to book in advance my hotels in Philippines as they usually have the lowest rates I find. I like it because it's free to cancel and change the dates.
Diving Safety
If you are planning an upcoming dive trip or travelling to Philippines, it is a really good idea to invest in travel insurance, because you never know what could happen and when you might need it (because accidents do happen!). I recommend this travel insurance as they offer worldwide coverage as they offer worldwide coverage and cover scuba diving up to 50 metres deep, as well as snorkelling and many more water activities.
Travel Guide
Now that you know all about the underwater world, you might want to start planning your scuba holiday! Check out our Philippines Travel Review for information about how to get there, activities and excursions, where to stay, and more.
Diving Reviews for this region
Dive spots reviews in Philippines
Liveaboard Reviews in Philippines
The waters of the Philippines offer some of the best diving in the world. In the heart of the 'coral triangle' there is great bio-diversity and the opportunity to see som … Continue reading →
MV Solitude One is a liveaboard owned and operated by Solitude Fleet and Solitude Liveaboards, run by Andrew Lok. Both Palau and the Philippines, which offer some of the … Continue reading →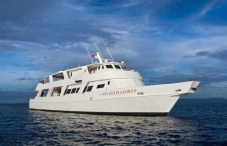 MV Atlantis Azores is a liveaboard safari vessel, offering lavish tours of the reefs and drop-offs of the Philippines. This great liveaboard is owned and operated by Atla … Continue reading →
Diving centers in Philippines
No dive centers found