Cost
Expensive, and Luxury!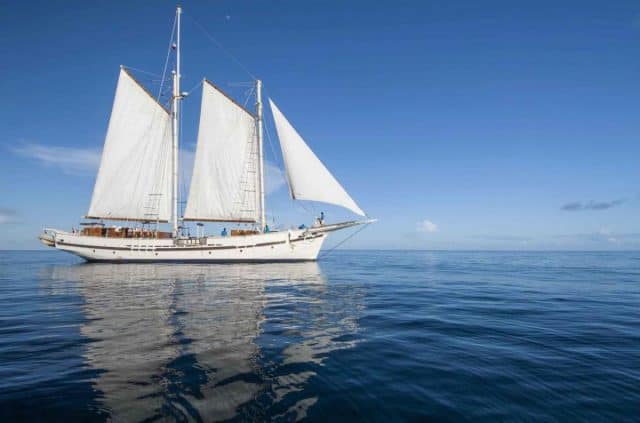 Raja Laut dive boat review
The 31 meters Raja Laut liveaboard is a private charter vessel in South East Asia. Indeed, the Raja Laut Schooner proudly boast to be covering all the destination you might request in southeast asia. Between the Maldives and Papua, the charter vessel has seen just about every destination. Find out more below.
.
Boat Cabins & Layout
The Raja Laut welcomes your charter group with a maximum number of 12 guests. Indeed, there are 6 double occupancy cabins to accommodate divers. Specifically, there are 3 cabins featuring a double bed while the remaining 3 rooms feature twin beds. The vessel is entirely air-conditioned and each cabin comes with plenty of storage space as well as it's own en-suite bathroom.
Visit this page to compare liveaboard & prices for Indonesia!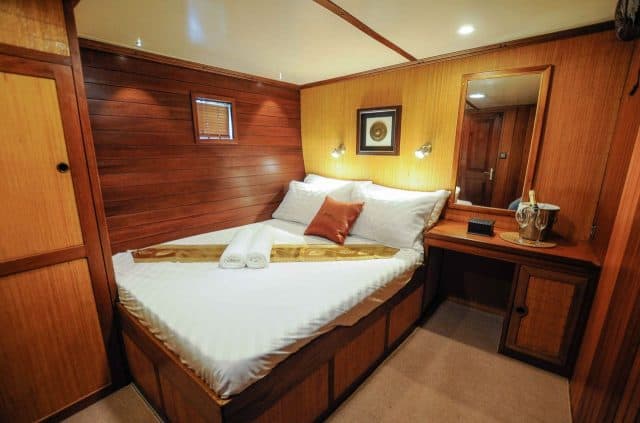 .
Raja Laut's On-board Facilities
The Raja Laut has lots of earth tones as the interior is lavishly decorated with multiple types of tropical hardwoods. There's a beautiful and comfortable lounge, as pictured below, located on the cabin deck. It's a great convivial space featuring a television and entertainment unit (DVD & Music system). Moreover, on the main deck, there's an indoor dining area, where you can also lounge, play board games, etc.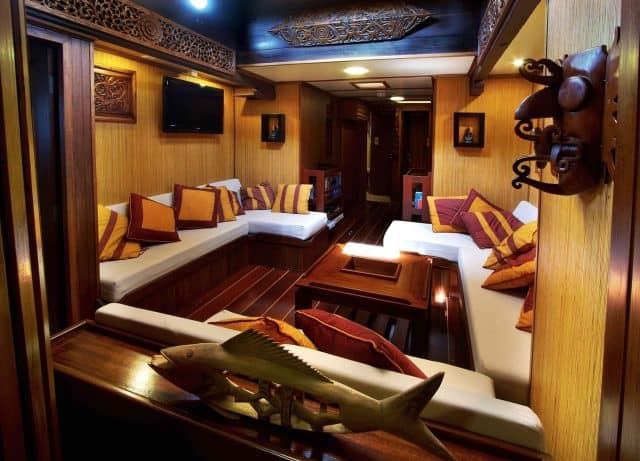 .
Furthermore, the outside bow area is the best place to be on the ship! Indeed, with both shaded and not covered areas, it's perfect to lounge and enjoy the sea breeze. The main dining area is on this deck, alfresco and spacious. Plus, it's covered so even lunchtime is great! Also, there are mats and chairs spread over the bow area so you can enjoy the sun, read a book or even watch a starry sky at night!
.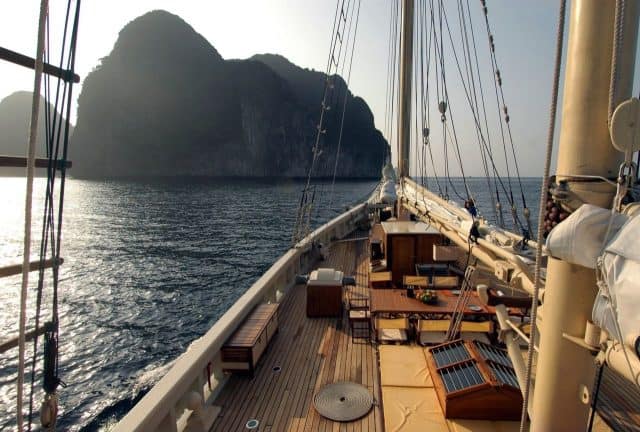 .
Charter Liveaboard Destinations
The Raja Laut is a private charter boat and perhaps the perfect liveaboard for groups of dive buddies! Imagine a week, with your friends doing the activity you like most, scuba diving, at some of the best diving destinations in the world…! Indeed, the charter Raja Laut offers signature destinations such as Indonesia's Komodo National Park or Myanmar's Mergui Archipelago. Plus, you can choose request a different itinerary for your group with a vast range of destinations like Raja Ampat, Sulawesi, Maluku, Alor, Andaman Sea, Phuket, Langkawi, etc.
Take a virtual tour of the charter liveaboard Raja Laut! Watch the video!
.
Vessel Layout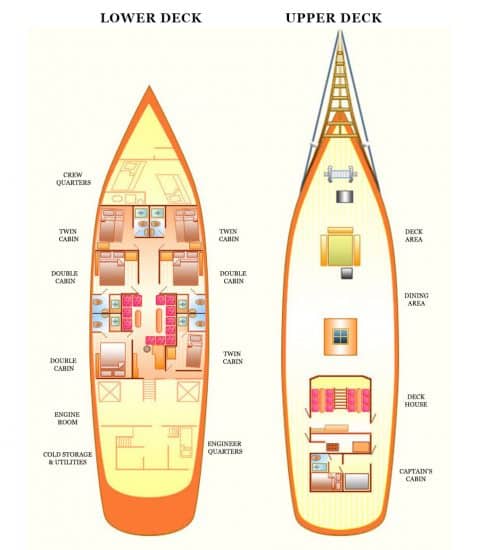 Diving with the Raja Laut
Generally speaking, the Raja Laut has a crew of 8 on-board, among which are at least 1 dive instructor/guide and 1 divemaster. The dive deck is spacious and features just about everything you might need! Indeed, it's equipped for photographers with separate rinse tanks for your toys and a great camera table. Plus, there's a shower on the dive deck! The vessel has complete sets of scuba diving gear for everyone as well as snorkeling equipment.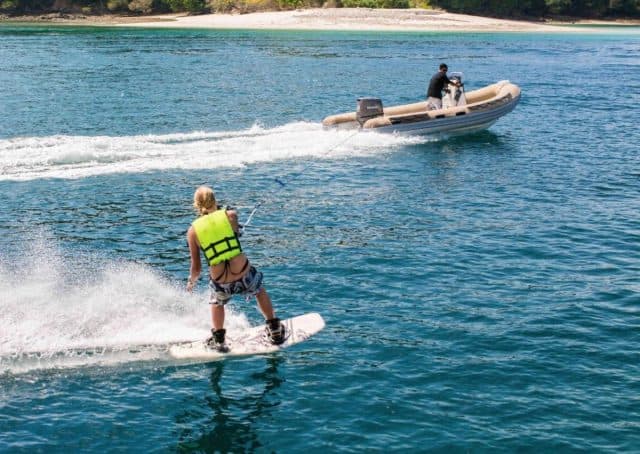 The Raja Laut is assisted by a 5.2m RIB with 70 HP outboard motorized dinghy to facilitate access to dive sites when needed. Plus, you can use the 2 kayaks or have fun with the waterski, wakeboard and banana boat available!
---
Prices are for full charter and depends on itinerary requested and trip length!
Contact the Raja Laut team here for inquiries and booking!
.
Where does this liveaboard dive boat go?
Check out the fabulous places where this dive boat travels to.
Note: some destinations may not be listed below, please enquire for more details.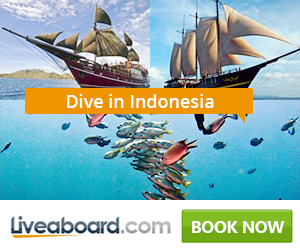 Other Liveaboard Reviews in Indonesia
Dive spots reviews in Indonesia