When you are taking off to some travel destination, isn't there one very important thing that you need? Or two? The first being a passport, and copies of it. The second thing, which is too often left behind, is a good travel insurance. Indeed, in your home country just like elsewhere, an accident can happen, a bad flu can be caught or you can get a severe food poisoning. The difference is that without any insurance, a journey in a foreign hospital can literally cost you both arms and legs. Therefore, it's very important to have a travel insurance, as it can save you from paying enormous amount of money in hospital bills. You have to be even more careful if you are a scuba diver. Indeed, most regular travel insurance won't cover for injuries that occur from the practice of extreme sports like bungee jumping, surfing, and scuba diving! Now, let's compare diving insurance companies and see which gets your back and at what cost.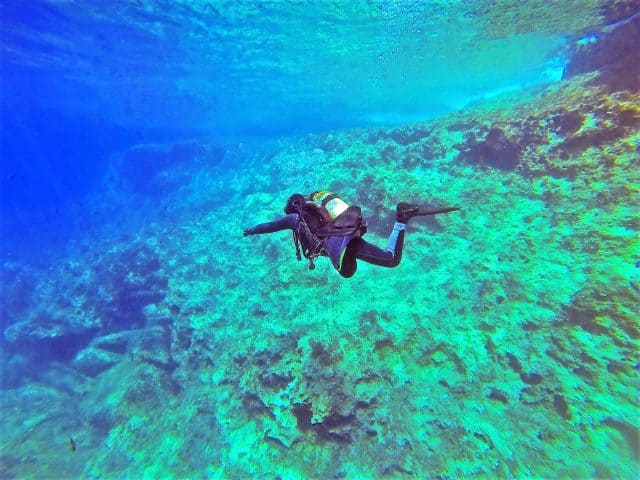 Let's compare the scuba diving insurance policies
Before we start, let's mention the main criteria we're looking at when shopping for the best scuba diver's insurance.
1.    Coverage
You want to make sure that the coverage is high enough and adequate to cover the eventual costs of the most expensive treatments such as evacuation and hyperbaric chamber. This varies a lot between the various insurances. Some coverages are unlimited while others are quite low. Also, make sure you take a look at the exclusions a.k.a the fine prints of your insurance as there are major variations for example in the criteria to match in order to have emergency evacuation covered.
2.    Particularities such as depth and gas limitations
Some insurance companies have strict policies which would invalidate your coverage if you go deeper than you should or if you are using any other breathing gas, but air.
3.    Extras coverage
There are scuba diving insurances which include regular travel insurance as well. And vice-versa. You might want to check for those who do, depending on the type of travel you are going for. Indeed, with extras such as trip cancellation insurance, trip interruption insurance, transportation for your spouse or relatives, etc., it can be worth spending a little more for a complete insurance package.
4.    Diving equipment insurance
For most scuba divers, the practice of this sport is quite expensive. Indeed, we bring a lot of toys down in the deep blue which are worth a whole lot of money. Ranging from scuba gear to expensive underwater cameras, some of us have it all. We advise to look for an insurance plan that includes material coverage, or to get a separate diving material coverage. Indeed, you can damage your gear while diving, or have it stolen, so it's better to be prepared.
Now, let's go through the main scuba diving insurance plans so that you can figure which one suits your needs best.

World Nomads
This is a general travel insurance which also covers for risky activities such as scuba diving.Coverage + Extra Coverage + Gear Protection:

General travel insurance with extended coverage.

Trip Cancellation
Emergency Medical Expenses
Emergency Medical Transportation
Gear Protection
Much more.

Different plans for you to choose from, according to the activities you plan to do.
Most "risky" activities are covered under one plan or another.

All the SCUBA diving is covered, on different levels.

*Example below is for United-States residents in the date of July 2017

Coverage

Scuba diving – paid or volunteer instructor or guide (to 165 feet/50 meters)

Plan

Explorer

Scuba diving (Cave or cavern diving to 165 feet/ 50 meters)
Explorer
Scuba diving (commercial to 165 feet/50 meters)
Explorer
Scuba diving (to 165 feet/50 meters)
Standard
Scuba diving (unqualified/learn to dive course/discover dive with qualified instructor)
Standard
Scuba diving to 50 metres
Standard

| | |
| --- | --- |
| Shark cage diving (to 165 feet/50 meters) | |

Explorer

*Please note that coverages can and do change, please see the full list here for the updated coverage of this insurance company.

Particularities & Limitations:

The best way to know if any limitations or exclusions apply to you is by reading the fine prints when you make a quote. We would love to state them all here for you but that's not possible as the limitations in the coverage vary according to your country of origin and country of destination.

Price Example:
---

DAN – Divers Alert Network
The many insurance plans available through the Divers Alert Network require you to be a DAN member in order to buy any coverage. It's a secondary insurance, which pays 100% of eligible expenses.
Coverage:
Dive Accident Insurance: 3 plans are offered, covering medical dive accidents to different maximum amounts and offering various extras.
DAN also offer various regular travel insurance plans.
*The example below is for a United-States resident, but the plan is different regarding in which state you live. Also, the plan would be totally different for a Canadian resident as well.
| | | | | | | |
| --- | --- | --- | --- | --- | --- | --- |
| | Preferred | | Master | | Standard | |
| |  $ 75 | |  $40 | |  $30 | |
| Medical Dive Accident Coverage | $250,000 | PO | $125,000 | LT | $45,000 | LT |
| Accidental Death & Dismemberment | $15,000 | | $15,000 | | | |
| Permanent & Total Disability | $15,000 | | $15,000 | | | |
| Extra Transportation | $2,000 | | $1,000 | | | |
| Extra Accommodation | $3,000 | | $1,500 | | | |
| Lost Diving Equipment | $2,500 | | $2,500 | | | |
| Medical Non-Dive Accident Coverage | $10,000 | LT | | | | |
Source : http://www.diversalertnetwork.org/insurance/dive/
*Please note that coverages can and do change, please see the full list here for the updated coverage of this insurance company.
Particularities & Limitations: there are no mileage restrictions on scuba diving incidents. For other restrictions, see with the different plans.
Price example: please see presented plan above.

Dive Assure
Dive Assure is a primary insurance company offering both scuba diving and travel insurance around the world.
+ They offer direct payment to the medical care suppliers.
Coverage:
They also offer multi-trip plans as well as regular travel insurance. Check their webpage.
Dive Assure offers two different scuba diving insurance plans, which you can see below.
---
Gold / Platinum
Emergency Medical & Evacuation Expenses $150,000 / $250,000
Accidental Death and Disability $10,000 / $25,000
Loss of personal diving equipment $2,000 / $4,000
Repatriation of remains $5,000 / $10,000
Flight/Accommodation – extra expenses following diving accident $3,000 / $5,000
Depth limit None / None
Annual coverage available Yes / Yes
Short term coverage available Yes / No
---
*Please note that coverages can and do change, please see the full list here for the updated coverage of this insurance company.
Particularities & Limitations: Both the Gold and Platinum plan of Dive Assure have no depth or mixed gas restrictions.
Price Example:
1 month/30 days coverage for a SHORT-TERM DIVING trip, 30 years old New York, USA resident travelling to dive outside the USA

Gold plan is 79$US
Platinum plan is 129$US (annual coverage only, no short term)
Get your very own quote right here.
---
Of course, there are many more great travel and scuba diving insurances out there. You now have the knowledge to go and seek for the insurance company that will fit your needs best! Please share your best and worst travel insurance story with us in the comments below! Finally, here's a little checklist you can use!
---
What to look for in a travel insurance?
To sum this all up, here's a point by point of what you should pay attention to when shopping for a travel and/or scuba diving insurance.
24-hour emergency assistance?
Complete medical coverage, including for extreme sports and outdoor activities, especially for scuba diving?
All scuba diving related treatment, such as hyperbaric chamber, are covered?
Any limitations?
Repatriation coverage, check the mileage limits of some policies.
Public liability insurance versus not covered?
Gear protection coverage, for loss and damage of any travel gear and including scuba diving material?
Trip interruption and/or cancellation insurance?
Get all the extra coverages you need?
Read the fine prints for details related to your particular country of origin and destination?
If you can say "yes" to all this, it seems like you're ready to go and explore!
---
Related Posts