Cost
Expensive, and Luxury!
Simple Life Talay Dive Resort Review
Simple Life Talay is located across the most popular beach of Koh Tao, Sairee Beach. This beautiful resort has its own private sand beach. Simple Life Talay offers great accommodation such as restaurant bar on-site, pool and an award winning PADI 5* dive school. This resort has a great location and attractions whether for days or nights adventure. This place has everything you need for an awesome stay.
Please note that there are 3 Simple Life Resorts on the island of Koh Tao where you have access to scuba diving opportunities. Indeed, they are the Simple Life Resort, Simple Life Talay & Divers Resort and the Simple Life Cliff View Resort. Now everything is in your hand!
.
Rooms at Simple Life Talay's Dive Resort
This resort offers multiple types of accommodation which will match a wide range of traveler and budget types. Every room offers Wi-Fi and an en-suite bathroom. You are looking for a clean and economical accommodation? I suggest you the fan room. Or maybe you want to meet other travelers, get a dorm bed. If you want more privacy and enjoy your stay with a beautiful view, get a bungalow. You can also choose between a sea view or a garden view.
Visit this page to view room prices & available dates for this dive resort!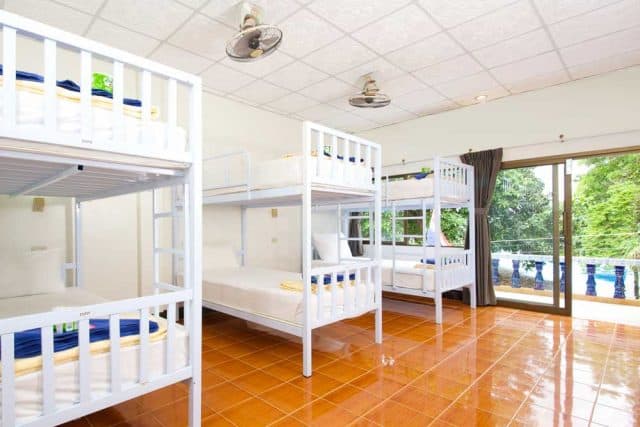 .
Resort facilities
This resort offers a restaurant where they prepare both Thai and Western cuisine. On the site, they have a bar where you can relax and enjoy the sunset view. You can also walk to the private beach where you can swim and snorkel on the coral reef.  If you don't want to put your feet in the sand, you can sit and relax on the deck area above the beach.
This amazing resort has two swimming pool. Those pools are designed for scuba training in the day, but when they aren't occupied it's a great spot to relax. The diving school is located in the resort, so it a great place to stay if you wish to scuba dive in Thailand.
.
Scuba Diving with The Simple Life's Dive Resort
Simple Life Talay is the ideal place to stay if you wish to scuba dive. The Simple Life Talay dive center is located right at the resort. Plus, their diving school is an award winning PADI 5 stars school! Thus, divers of all levels will find the certification they need with Simple Life Talay. Indeed, from discovery dives around Koh Tao to advanced and technical PADI certifications, you'll find it here.
Moreover, this school offers a diving class every day in small group, rotating around all Koa Tao's best dives sites. The Simple Life Divers have two great dive boats, spacious and comfortable with on-board air compressor, sun deck, briefing area, diver platform, W/C and refreshments. Those boats are known to be the best in this part of Thailand. Plus, as mentioned abobe, the Simple Life Talay dive resort has swimming pools dedicated to scuba diving training.
---
Price starts at 19$US for a Standard room
Where is this dive resort located?
Learn more about scuba diving in this area.
Diving Reviews for this region
Diving resorts in this area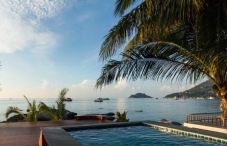 Simple Life Cliff View Resort is a dive
Dive spots reviews in Koh Tao & Thailand