If you have dived in Aruba before, please share your experiences: Dive spots you would recommend, which Dive Center you used, Fishes & Diving, Visibility, Currents, etc. Please post your comments in the section below, by doing so you will help fellow divers to plan their next trip


Aruba, along with Bonaire and Curacao, are often called the ABC Islands. These are the three western-most islands of the Leeward Antilles in the Caribbean Sea, and are just north of Venezuela. Tourism is the major industry of Aruba and scuba diving is a major portion of that industry.
Moreover, Aruba is known for outstanding fringing reefs and those reefs have lured many ships to the bottom. While Aruba does have dry and wet seasons, they are south of the hurricane belt and are generally not impacted by those devastating storms.
From a cultural point, the ABC islands are unlike the rest of the Caribbean as there was no Spanish colonization. The islands were purchased from the local people and colonized by the dutch, giving the islands a different blend of cultures.
In this page you will find more detailed information about scuba diving in Aruba.
Photos Aruba
Best Dive Review
In Aruba, you can dive on natural reefs, shipwrecks and artificial reefs. In fact, some of the best dive sites in Aruba are shipwrecks, which either went down as the result of accidents, or were placed there as part of an artificial reef program.
Moreover, you'll find plenty of stunning wall dives to be done in Aruba! The dive sites on the south side of the island are perfect for open water divers and open water training. As for the sites off the north coast, can be impacted by currents, so are more for advance divers.
The SS Antilla is known as one of the best ship wreck dive in the Caribbean. The ship was a German cargo that sailed between the Caribbean and Europe. The captain scuttle the ship to avoid capture when he found himself in the wrong place, Dutch Aruba, at the wrong time, meaning when Germany invaded Holland. The ship was scuttle in shallow water just 45 feet (14 meters). Part of the ship is just below the surface. This site is great as an open water dive and a training site for wreck dive training. It is also a great site for snorkeling.
Pedernales Wreck, also called the Phoenix of Aruba has an interesting story. In mid-January 1942 group of 5 U-boats left Europe for the Dutch Caribbean, with the purpose of destroying oil production and shipments. On February 16, 1942, these U-Boats attacked a number of different locations. In Aruba, the German U boats, attacked tankers and an oil refinery. The first strike was the Pedernales, which went up in a fireball. However, she did not sink. Later a 124-foot center section of the tanker was cut out and the bow and stern welded together. The center section was sunk and is a dive site today.
Jane Sea: Located just south of Barcadera harbor, the Jane Sea is a 250 feet (76 meters) long freighter sitting on the bottom at 90 feet (27 meters). She was abandoned in port and was eventually bought by local divers.
How to dive Aruba?
Aruba is a small island and the dive sites are close to shore. As such, all the diving is done from shore based dive centers or dive resorts. Plus, the majority of the diving is on the west coast, with a concentration in the northwest.
While there's not much liveaboard boats going around Aruba, there are plenty of other options of diving cruises in all of the Caribbeans, if that's what you're looking for!
Best time to dive in Aruba
Aruba enjoys consistently good weather year-round with only two seasons. First, the dry season starts in April and continues till November. The calmest sea conditions are found from April to June.
Secondly, December sees the start of the rainy season that goes until March. Heavy rainfall happens almost daily. However, the rain does not often last more than a few hours. January to March will have an occasional winter squall that may impact diving.
The wet season has much lower rates and few other tourist. If you can adapt to the rain, this will be the best time to go. There is no real difference in temperature or diving conditions between the seasons.
Top liveaboards in Aruba & Caribbean according to divers reviews
Dive courses
Aruba is a great place to learn how to dive. The number of wrecks is also ideal to take a wreck diving course!
Scuba Diving conditions
The two seasons of Aruba are different only when it comes to the amount of rainfall. Indeed, the air and sea temperatures vary little.
Sea temperatures stay around 85°F/29 °C and air temperatures stay at approximately 89°F/31°C. Daily variance is slight and not impacted by the season. Moreover, not that there is a small chance that during the peak of the wet season, strong winds impact some dive sites. Check with your dive center or resort if you are traveling during rainy season.
Snorkelling in Aruba
Aruba is an amazing place for snorkeling. Many of the beaches have access to outstanding snorkeling. Also, many of the ship wrecks reach very near to the surface. The outstanding visibility also allows snorkelers to see some deeper wrecks as well.
Fishes and Coral
Aruba is not known for large species. While you will find a wide range of sharks and rays, they are not in high numbers. There are sites that have many turtles and other sites known for the seahorses that live there.
Moreover, Aruba's reefs have large populations of different reef fish as well as a wide variety of corals. Due to the mostly storm free decades, the coral reefs are well aged and flourishing.
Diving Safety
If you are planning an upcoming dive trip or travelling to Aruba, it is a really good idea to invest in travel insurance for scuba diving, because you never know what could happen and when you might need it (because accidents do happen!). I recommend this diving insurance as they offer worldwide coverage and focus on providing scuba divers a quality insurance and medical assistance service.
Aruba is a great year round destination. If your vacation time places you in the Caribbean in the middle of the hurricane season, then Aruba may be your best choice. Outside of the hurricane belt it offers divers not only great weather but many reef and shipwreck dive sites.
Travel Guide
Now that you know all about the underwater world, you might want to start planning your scuba holiday! Check out our Aruba Travel Review for information about how to get there, activities and excursions, where to stay, and more.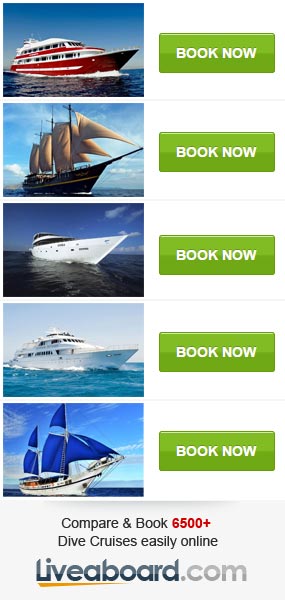 Diving Reviews for this region
Dive spots reviews in Aruba & Caribbean
No dive sites reviews found
Liveaboard Reviews in Aruba & Caribbean
Diving centers in Aruba & Caribbean