If you have dived in Maldives before, please share your experiences: Dive spots you would recommend, which Dive Center you used, Fishes & Diving, Visibility, Currents, etc. Please post your comments in the section below, by doing so you will help fellow divers to plan their next trip

Scuba Diving around the Maldives has recently become hugely popular among the diving community. The hundreds of isolated and deserted Islands offer an enormous playground for divers to explore.
Between the Islands, there are channels connecting the Indian Ocean to the Lagoons. This water coming from the ocean is full of plankton and nutrients which, in turn, attracts an incredible marine life. The coral is beautiful in Maldives but what makes it so special is the high density of marine life!
You are likely to be able to spot Eagle Rays, Napoleon Wrasses, lots of pelagic fishes such as the Giant Trevally or the Barracuda, the magnificent Manta Rays and the very rare Whale Shark!
You will also encounter the Whitetip and the Grey Reef Shark, and if you are very lucky the rare Hammerhead Shark! The best location for big pelagic fishes is called the Ari Atoll and most of the liveaboards visit it.
Inside the lagoon, the shallow water has a teeming fish life with myriads of reef fishes and bright, colourful coral gardens.
The water is very clear around Maldives and you can expect a visibility ranging from 20 to 40 meters. That combined with the amazing marine life, makes Maldives an excellent destination for Underwater Photography.
Discover more HD Videos on Scuba Diving on YouDive.TV .
Most of the dives are drift dives, making it more suitable for experienced divers. However there are also very good dive sites in the lagoon for beginner divers too.
In this page you will find more detailed information about scuba diving in Maldives.
Best Dive Review
Macro Diving
The Maldives is not really a destination for critters lovers and macro photography. However you can still encounter Frog fishes and colourful Nudibranchs.
If you are looking for amazing Macro Diving Destinations, try Lembeh Strait or Wakatobi in Indonesia and Mabul Island in Malaysia.
Wreck Diving
Maldives offers very few wrecks and not very spectacular so it is not really the right destination if you are a wreck fan! Better try the Yongala Wreck in Australia or the Liberty Ship in Bali, Indonesia!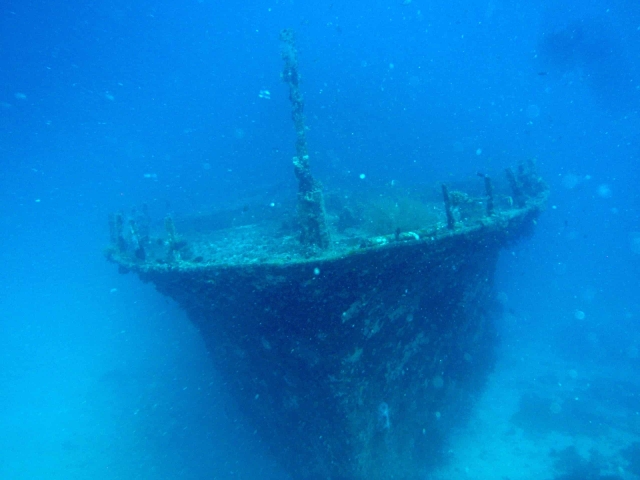 How to dive Maldives?
There are two ways to dive the Maldives:
Liveaboard
I usually use this website to book in advance my liveaboards in the Maldives as they usually have the lowest rates I find. I like it because they have an easy booking system.
If you come to Maldives especially for diving, a liveaboard cruise is the best choice. It will allow you to dive all of the best sites and discover the best of what the Islands have to offer. If you want to spot Manta Rays and Whale Sharks, this is your best chance of doing so.
A Liveaboard trip can also be cheaper than an expensive resort as the diving packages are all inclusive. A typical liveaboard trip starts in the capital, Male. From there you will head to various locations around the 1,190 surrounding islands!
As an example, you could explore South Male, North Male or Ari Atoll which is the best place for big fishes, Manta Rays and Whale Sharks!
Hot Tip:
Book your trip well in advance as the Liveaboards are often full!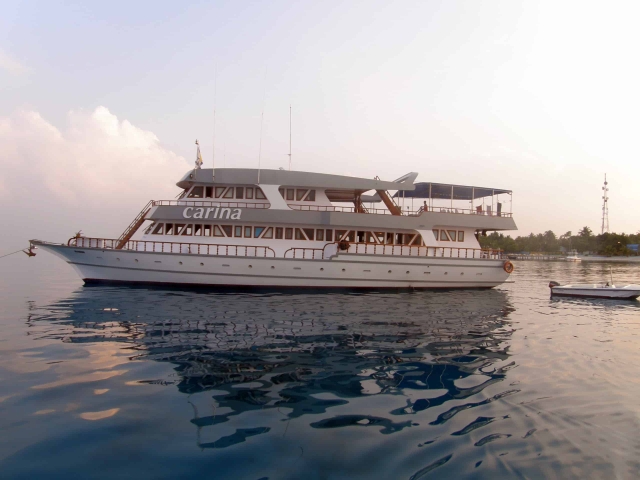 Resort
If you come to Maldives to relax and just to have a few fun dives in your own, the best choice is to book into a resort. You will dive at local dive sites where you can explore the lagoon and shallow coral gardens. You will have the choice between 100 different resorts, from very basic to very luxurious accommodation. Some of the resorts are even dedicated purely to diving.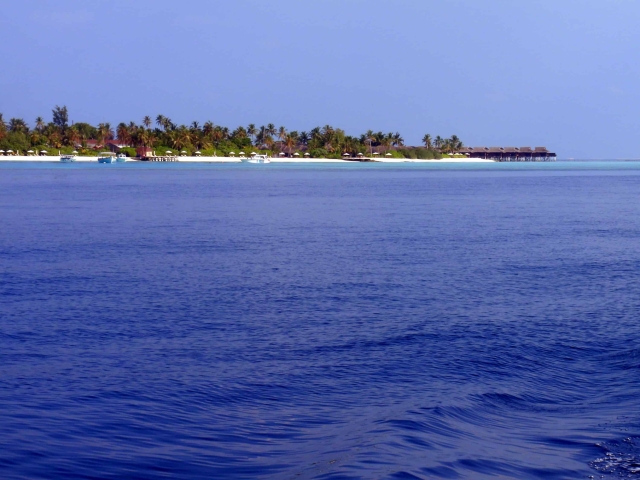 Where to stay?
I usually use this website to book in advance my hotels in Maldives as they usually have the lowest rates I find. I like it because it's free to cancel and change the dates.
Best time to dive in Maldives
It is possible to dive in the Maldives all year round:
The Wet Season with rain, winds and waves runs from May to August reducing the visibility, but diving is still good. It is usually heavy short rains followed by sunshine
The Best visibility and dry weather is from December to March
The Hottest season is from April to June
The High Plankton density in May reduces visibility but does attract Manta Rays and Whale Sharks!
The best season for scuba diving is from January to April with very good visibility and excellent sea conditions.
Most of the Liveaboards operate from November to May.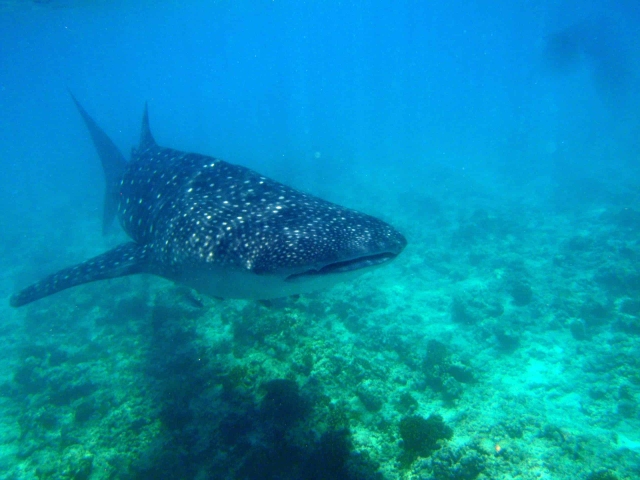 destination of the month
Top liveaboards in Maldives according to divers reviews
Scuba Diving conditions
The conditions are generally good all the year around Maldives.
Air temperature: 26°C to 32°C year round.
Average Water temperature: Ranges from 27°C to 30°C year round
Average Visibility: You can expect from 15m to 40m depending on the season and location. The visibility is not as good during the rainy season (May to August).
Current: Depends a lot on tide and location, ranges from none in the lagoon to very strong in the channels.
Depth: From 5m to 40m. The coral reef is shallow and most of the dive sites are between 10 and 20 meters deep.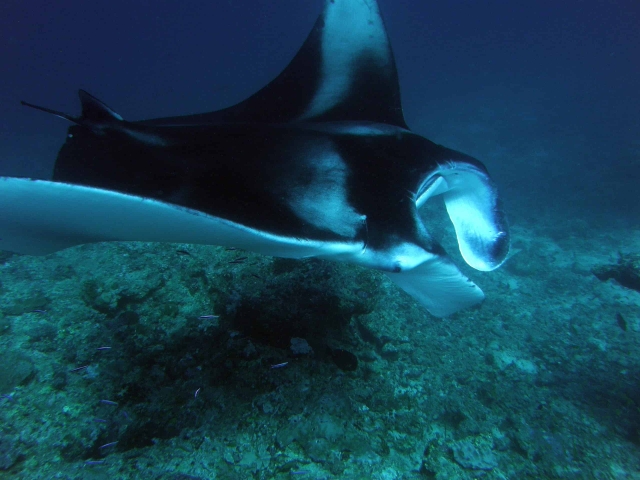 Snorkelling in Maldives
The Maldives is great for Snorkelling! There is a shallow coral garden wherever you stay to snorkel in front of your resort. They can also arrange for you snorkelling tours to take you to the best spots around the Island. You even have the chance to spot baby harmless Blacktip Reef Sharks while snorkelling!
Diving Safety
If you are planning an upcoming dive trip or travelling to Maldives, it is a really good idea to invest in travel insurance for scuba diving, because you never know what could happen and when you might need it (because accidents do happen!). I recommend this diving insurance as they offer worldwide coverage and focus on providing scuba divers a quality insurance and medical assistance service.
Review by Julien, creator ofBlog de Plongee
Photos Maldives
previous
Anemone Clownfish

Photo by Matthieu Billaud

Patrolling

Photo by Matthieu Billaud

Eagle Ray Closeup

Photo by Matthieu Billaud

Turtle Swimming Back View

Photo by Matthieu Billaud

Crystal Clear Water Maldives

Moorish Idol

Photo by Matthieu Billaud

Busy Reef Maldives French Polynesia Reef

Photo by Matthieu Billaud

Batfish Bubbles

Photo by Matthieu Billaud

Shooting School Of Fish

Photo by Matthieu Billaud

Eagle Ray

Photo by Matthieu Billaud
next
Travel Guide
Now that you know all about the underwater world, you might want to start planning your scuba holiday! Check out our Maldives Travel Review for information about how to get there, activities and excursions, where to stay, and more.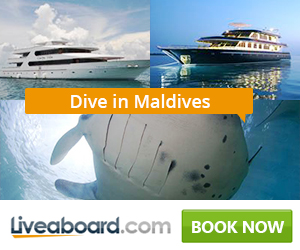 Diving Reviews for this region
Dive spots reviews in Maldives
No dive sites reviews found
Liveaboard Reviews in Maldives
Diving centers in Maldives