MV Turks & Caicos Aggressor II dive boat review
The MV Turks and Caicos Aggressor II is one of the worldwide Aggressor Fleet of vessels. It's a large, luxury vessel. Based in the USA, the Aggressor Fleet has worldwide facilities and experience.
Located approximated 575 miles to the south east of the USA coast from Miami, great visibility and nutrient-rich waters attract a wide range of aquatic life including but not limited to Jacks, Groupers, Eels and large pelagic animals in to feed in it's healthy waters. There are corals and sponges in abundance making it great diving for all levels of divers. And, reef sharks circling in to take a closer look at you and your buddies! A combination of walls and simply reef dives make it interesting for all levels of diver.
The MV Turks and Caicos Aggressor II is 120ft/36m long and designed specifically for purpose in accordance with Aggressor Fleet Standards. She is capable of cruising at 10 knots and is only marginally shorter than it's main competitor, Turks and Caicos Explorer II. However, Turks and Caicos II caters to 2 less guests.
You can check the availability and prices for this Boat here.
Cabins and Boat Layout
Turks and Caicos II is able to comfortably accommodate 18 guests.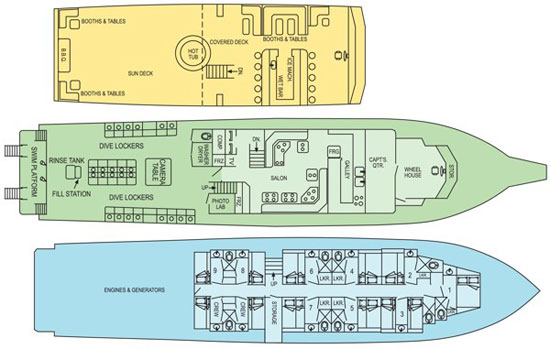 There are essentially 3 cabin options on the Turks & Caicos Aggressor II.
There are 6 'Deluxe Staterooms' which have a lower double bed and an upper bunk-style bed. There are individual climate air-conditioning controls, a media player and private bathroom and shower facilities and a hairdryer.
There are two 'Twin-Share Staterooms'. These cabins have two single bunks and a wardrobe. They have use of an ensuite bathroom and shower which is shared with the adjoining cabin.
The 'Master Stateroom' is more spacious, has a Queen-sized double bed and private bathroom facilties in addition to the other amenities.
On the main deck there is a spacious dining/salon area next to the galley where the onboard chef will serve a combination of western and local cuisine. There is no danger of getting hungry! Also, snacks, soft drinks, tea, coffee and beer are complimentary.
During the day you may also choose to relax on a sofa, read a book from the onboard library or watch the TV. Or, if you're one of the growing number of photographers, you might take up a seat in the camera room and begin editing your underwater memories.
The sun deck, on the upper deck, is partially covered and you have the option to nap in the shade or simply take in the view as you cruise to from site to site. There is also a Jacuzzi to unwind it and watch the sun set.
Other onboard facilities include a leisure deck, daily housekeeping and free internet.
Diving onboard Turks and Caicos Aggressor II
Up to an amazing 5 dives a day are available on the Turks and Caicos Aggressor II.
Dive sites visited include French Cay, Northwest Point and West Caicos. Topside you'll be thoroughly briefed and the top-class crew will be there to attend to your every need.
Every member of the dive team, whether a Instructor or Divemaster, is trained and certified by a Professional agency. And, in addition, every member of the the team receives proficiency training and an annual inspection.
The vessel has a nitrox membrane system which provides gas mixes to qualification and dive site; allowing those qualified to extend bottom time and stay fresh.
Itineraries
Voyages are typically 7-8 days. Expect to pay around EUR2,113 for the 7 day trip.
This equates to approximately 308/day. However, please note that this does not include some extras such as nitrox and equipment rental. Please contact us for further details.
Where does this liveaboard dive boat go?
Check out the fabulous places where this dive boat travels to.
Note: some destinations may not be listed below, please enquire for more details.

Other Liveaboard Reviews in Caribbean & Turks & Caicos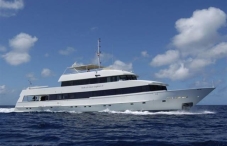 The MV Turks & Caicos Explorer II is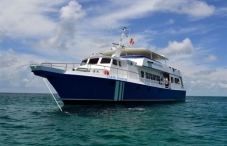 There are few more luxurious dive vessel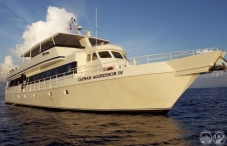 MV Cayman Aggressor IV is part of the le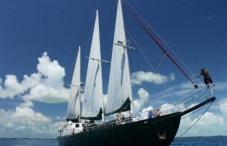 The almost 32 meters Juliet is a schoone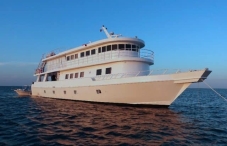 The Jardines Aggressor is a liveaboard o
Dive spots reviews in Caribbean & Turks & Caicos
No dive sites reviews found