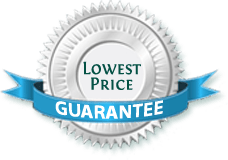 Lowest Price Guarantee: If you can book the same package any cheaper then you will get 100% of the price difference, guaranteed!

---
Find out which Budget Liveaboard options are available in the Similan!
Compare all the Luxury Liveaboards of the Similan Islands! 
Liveaboard diving in Similan Islands
The country of Thailand has always been one of the top SCUBA diving destinations in the planet and the country is known as home to some of the spectacular and best diving sites in Asia! Among these sites are the Similan Islands group, which is located in the Andaman Sea.
I usually use this website to book in advance my liveaboards in Thailand as they usually have the lowest rates I find. I like it because they have an easy booking system.
Watch this video to know more about Similan Islands!

The word "Similan" is actually obtained from the Malay word "Sembilan", which means "nine". In fact, each of the islands in the Similan Islands group has its own number aside from its name. These are:
Koh Ba Ngu (Island no.9)
Similan (Island no.8)
Payu (Island no.7)
Pousar, or "Elephant Head Rock" ( Island no.6 to some)
Miang (Island nos.4, No. 5 and No. 6 to some)
Payan (Island no.3)
Payang (Island no.2)
Hu Yong (Island no.1)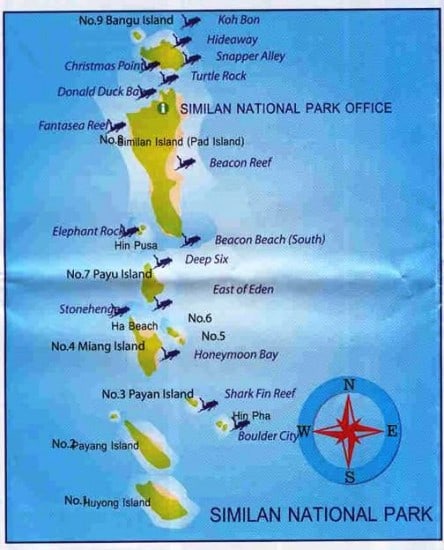 Map credit:http://www.khaolaklovers.com/
Similan Islands group is considered and thought to be as Thailand's Liveaboard diving capital, thus it simply offers the best dive sites of the country. Aside from its stunning dive sites, what makes Similan Islands even more interesting is the fact that liveaboard costs are pretty much affordable compared to other dive destinations in the world.
Photo credit: http://www.royalandaman.com/
Similan Islands await for divers who are all static and excited to plunge into its underwater world and there's no better way to explore what Similan Islands have to offer but to do liveaboard diving!

Diving in the Similan Islands
Without a doubt, Similan Islands offers Thailand's best diving sites. Although the Similans don't have the spectacular limestone scenery of Krabi and Phang Nga, what make these islands so irresistible are its amazing white sandy beaches and rich waters from the Andaman Sea.
And the most captivating sight of the Similan Islands? It is found beneath its waters! Massive coral reefs and thousands of marine life species can be found underwater! It certainly is no wonder why the area have spectacular underwater scenery, which keeps divers coming back for more.
Photo credit: http://www.similandivecenter.com/
Best time to go on Similan Islands Liveaboard
Divers can actually dive Similan Islands all year round. Encounters with the Manta Rays may be experienced since these giant rays can be found throughout the year. While the Whale Sharks are known to visit the islands from February to May.
Photo credit: http://www.andamanadventures.com/
However, it is recommended to do liveaboard during the liveaboard season, which is from November to April. Best time to dive is on the month of March, when the waters of Andaman Sea is calmest and clearest.

Similan Island Liveaboard Route
The Similans Islands indeed boast of great underwater sites and there are more or less 25 dive sites in the island group. There is definitely no way to dive these scattered dive sites but only through liveaboard.
The amazing dive sites allows divers to explore the impressive corals reefs and abundant marine life which includes eels, snappers, sharks, barracudas, rays and butterflyfish to name a few.
Common Highlights of Similan Islands Liveaboard:
Elephant Head Rock – This dive site is undeniable the most popular among dive sites of the Similan Islands. The dive site was named by Horst Hinrichs, German founder of one of the first dive shops in Phuket. The site is named after the rock that resembles that of an elephants cranium. The dive site is an exciting site, wherein divers can explore between the rocks and holes for a chance to meet sharks and stingrays! Play the video and see for yourself what Elephant Head Rock has to offer!
West of Six– This dive site has been a favorite of some divers. Thanks to its peculiar sights underwater! Aside from its spectacular topography (drop-offs and the likes), its resident frogfish, marine turtles, baraccudas, ribbon ells and octopus also makes this site even more appealing and fantastic.Watch this video to see one of the resident marine turtles of West of Six.
Christmas Point – This dive site is characterized and dominated by the gigantic granite boulders that formed arch-like passages, wherein divers can explore, dive and pass through. The boulders also serves as substrate for the soft corals and sea fans found in the area. Diving at this site is extra ordinary and unique from the typical SCUBA diving elsewhere.
Watch divers as they pass through some large stacked boulders in Christmas Point!
With world-class dive sites at reasonable costs, liveaboard diving in the Similan Islands is definitely a fun, exciting and worthwhile experience. So what are you waiting for? Dive Similan Islands now!


Other Destinations you may like