If you have dived in Red Sea before, please share your experiences: Dive spots you would recommend, which Dive Center you used, Fishes & Diving, Visibility, Currents, etc. Please post your comments in the section below, by doing so you will help fellow divers to plan their next trip

The Red Sea is home to amazing Reefs with a teeming marine life, pelagic fishes, Reef Sharks, Dolphins and even the very rare Dugong. The Red Sea can be divided into two parts:
The North Red Sea with the resort destinations such as Sharm El Sheikh, Hurghada and the more laidback Dahab (which is the most popular part). Sharm El Sheikh offers excellent wreck diving and even maybe the best wreck dive in the world, the Thistlegorm Wreck! Not far from there is the Ras Mohammed National Park with great wall diving and amazing coral formations. The second biggest diving destination in Egypt is Hurghada. It offers good conditions to learn scuba diving as well as great wreck diving with 4 beautiful wrecks to explore in Abu Nuhas Reef. Dahab located a bit more North has a more chilled out atmosphere and is famous worldwide for the Dahab Blue Hole.
Discover more HD Videos on Scuba Diving on YouDive.TV .
The South Red Sea is less popular and offers much less crowded dive sites and pristine reefs with superb coral. Most of the people coming here are experienced divers looking for world class scuba diving. Marsa Alam is the main gateway to explore this area and features amazing opportunities and for many people the best diving in Egypt. You can for example go on a day trip to explore the World famous Elphinstone Reef for challenging drift dives. You will have the chance to encounter the rare and curious Oceanic Whitetip Shark, Hammerhead Sharks as well as various reef Sharks! Other superb dive sites such as Abu Dabbab offer the opportunity to dive with the very rare and endangered Dugong as well as giant Green Sea Turtles. Fury Shoals is also very famous for the most pristine Reefs of Egypt and for giving the possibility to swim with Dolphins at the Dolphins House reef!
In this page you will find more detailed information about scuba diving in Red Sea.
Best Dive Review
The best dive sites of Egypt are:
Macro diving
Scuba diving in the Red Sea is more about big fishes than tiny critters and macro stuff. However there are still nice nudibranchs or pipefishes to find on wrecks and along beautiful reefs.
If you are looking for amazing macro diving destinations, try Lembeh Strait or Wakatobi in Indonesia or Mabul Island in Malaysia.
Photo Credit: http://www.flickr.com/photos/silkebaron/3184793916/
Wreck diving
The Red Sea has many very good wrecks to dive! In addition most of these are lying in quite shallow water making it suitable for recreational scuba diving. There is even one of the best Wreck dives in the World, the Thistlegorm Wreck featuring trucks; motorbikes and locomotives from World War 2! There are also 4 very good wrecks to dive around Abu Nuhas as well as the deeper Rosalie Moller Wreck.
How to dive Red Sea?
Local Dive Centers
Most of the diving is done shore based with local dive operators running day trips to local dive sites. However, travelling time to the dive sites can be long. For example from Sharm El Sheikh, you can go on a day trip to the Thistlegorm Wreck but it takes 3h30 min each way! Ras Mohammed is reached in about 1 hour. From Hurghada, it takes 3 hours to reach the Abu Nuhas Wrecks! Alternatively, Dahab offers most of the time shore diving with quick access by car or even camel! Marsa Alam has excellent day trips to Elphinstone Reef, Abu Dabbab and Fury Shoals.
Liveaboards
If you want to maximise your number of dives and to explore the popular dive sites early in the morning before it gets crowded, you should consider taking a liveaboard.
The liveaboards exploring the North Red Sea (Ras Mohammed National Park, Abu Nuhas Wrecks, Thistlegorm Wreck, …) start in Sharm El Sheikh or Hurghada. The liveaboards exploring the South Red Sea and offshore reefs such as the excellent Brothers Islands, Daedalus Reefs, and Zarbagad start in Hurghada and Marsa Alam.
I usually use this website to book in advance my Liveaboards in the Red Sea as they usually have the lowest rates I find. I like it because they have an easy booking system.
Read our article about the best Liveaboards of the Red Sea.
Photo Credit: http://www.flickr.com/photos/sushy99/4346600828/
Where to stay?
I usually use this website to book in advance my hotels in Red Sea as they usually have the lowest rates I find. I like it because it's free to cancel and change the dates.
Best time to dive in Red Sea
It is possible to dive all year round in the Red Sea. The only thing that varies is the water and air temperatures.
If you don't like "cold" water, avoid coming in December, January and February!
If you don't like very hot weather, try to avoid June, July and August.
If you don't like the tourist crowds, try to avoid the high season that runs in March, April, May, September, October and November.
The low season is during the summer months in June, July and August.
The winter months (December, January, February) are high season for cultural tourism and low season for scuba diving due to the "cold" water.
For the creatures of the sea, the seasons are:
Oceanic Whitetip Sharks (Longimanus) are best visible from October to January however it is possible to spot them year round in places like Elphinstone reef.
The best season for Hammerhead Sharks runs from June to September.
Your best chances to spot a Whale Shark run from May to the end of July and mostly in North Red Sea.
The Thresher Shark can be best spotted in Autumn and Winter mostly on offshore reefs like the Brothers or Daedalus reef.
Top liveaboards in Red Sea according to divers reviews
Scuba Diving conditions
The Red Sea offers excellent scuba diving conditions all year round. The visibility is just amazing. However, the water temperature varies greatly throughout the year.
Air temperature: 20°C to 45°C depending on the season. The winter is warm and the summer is hot to VERY HOT! Nights tend to be cold.
Average Water temperature: ranges from 21°C to 28°C year round. If you prefer warm water, around 28°C, it is best to visit Egypt during the Summer, August being the hottest month. If you come in winter, the water is cooler, around 21°C. February is the coldest month. If you come during Spring or Autumn the water temperature is around 25°C.
Average Visibility: You can expect 20 to 50 meters all year round!
Current: Depends a lot on tide and location, ranges from none to very strong. The offshore dive sites like Elphinstone Reef or the Brothers are famous for amazing drift dives with strong current!
Depth: From 5m to 30m. The coral reefs are shallow and most of the dive sites are between 10 to 20 meters deep. In addition, there are several wrecks like in Abu Nuhas that are quite shallow and suitable for all level of divers.
Snorkelling in Red Sea
The Red Sea offers amazing snorkelling. You can snorkel just about everywhere on shallow reefs in crystal clear water with a teeming reef life. Most of the dive operators also offer snorkelling day tours to explore the best sites around your area. The best snorkelling spot in Egypt is Dahab Blue Hole and other nearby reefs. Another great snorkelling spot is Marsa Alam Dolphin House (Sha'ab Samadai Reef) where you can swim with a pod of Spinner Dolphins!
Hot Tip
Always wear a t-shirt to avoid sunburn when snorkelling as the sun is very strong in Red Sea!
Diving Safety
If you are planning an upcoming dive trip or travelling to Red Sea, it is a really good idea to invest in travel insurance for scuba diving, because you never know what could happen and when you might need it (because accidents do happen!). I recommend this diving insurance as they offer worldwide coverage and focus on providing scuba divers a quality insurance and medical assistance service.
Red Sea's discounted diving cruises and liveaboards
Photos Red Sea
Travel Guide
Now that you know all about the underwater world, you might want to start planning your scuba holiday! Check out our Red Sea Travel Review for information about how to get there, activities and excursions, where to stay, and more.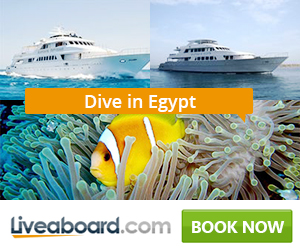 Diving Reviews for this region
Liveaboard Reviews in Red Sea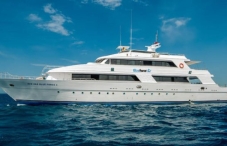 The 40 meters Blue Force 3 is a luxury l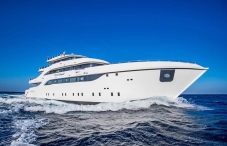 The SS Glorious Miss Nouran Liveaboard i
Diving centers in Red Sea