Cost
Expensive, and Luxury!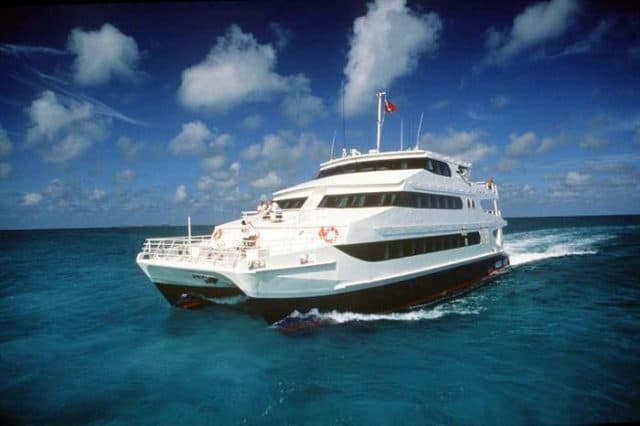 Aqua Cat dive boat review
The 31 meters Aqua Cat Liveaboard is a stable catamaran, cruising the waters of the Bahamas. This diving cruises takes you to the best site of the Exuma Cays. Built for space and stability, the Aqua Cat offers a flexible layout and suits larger groups.
Boat Cabins & Layout
The Aqua Cat offers a flexible cabin layout; between 22 and 30 divers are welcome on-board! Indeed, some cabins can sleep 2 to 4 guests, according to your needs. So, there are 11 cabins total, all equipped with a private en-suite bathroom as well as individually controlled AC. Plus, the beds are large, insuring great comfort and restful nights.
You can check the latest schedule & prices for this boat here.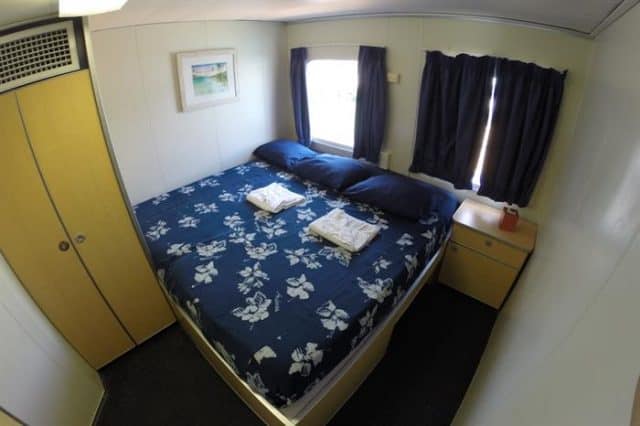 Most cabins have large windows, or a skylight, and their configuration is various. Indeed, some cabins have a queen bed, with the flexibility of adding a twin bed, which would be perfect for a family! Some cabins are twin beds and/or bunk beds, perfect for friends sharing a room!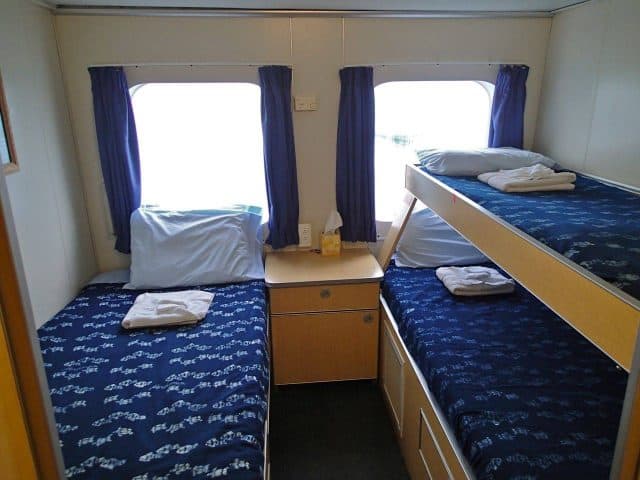 Aqua Cat On-Board Facilities
There's plenty of space to go social and meet your fellow divers on the Aqua Cat. The meals, prepared by a chef, can either be enjoyed in the roomy dining room or on the "Alfresco" deck. Soft drinks and tap beer dispensers can be found here for the guest's free use. Plus, there's a coffee and tea station as well as a snack and fruits counter.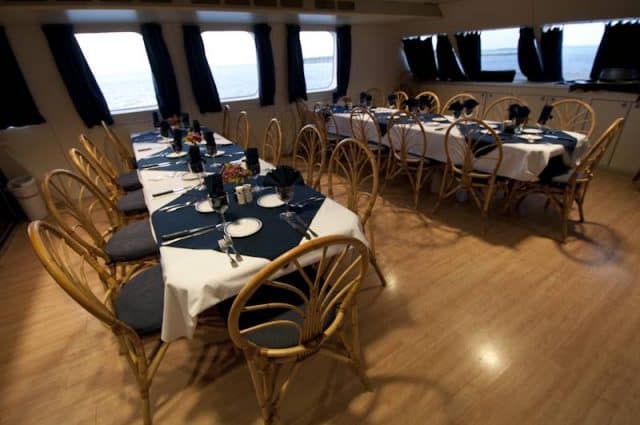 Furthermore, adjacent to the dining area is the lounging area. With ample seating space, the salon boast a television and DVD player with a complete media library. You can also borrow a book from the salon and head to the sundeck to read it!
The sundeck, located on the top deck, boast plenty of space and loungers for your comfort. Plus, it has a full bar, with 3 local draft beers available as well as soft drinks. Also, if you diving day is over, the crew can get you a iced Rum drink ready!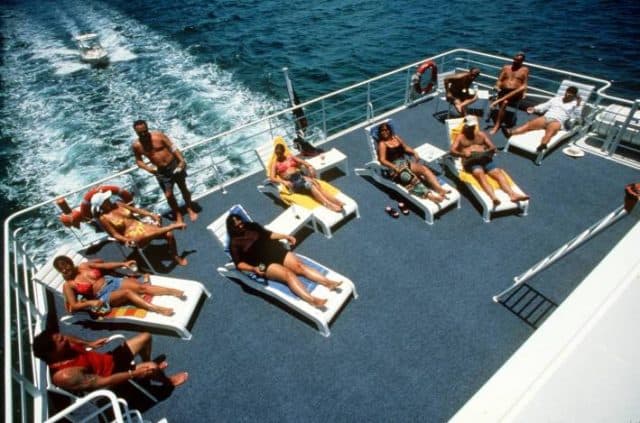 Finally, the alfresco deck is  the perfect place to have some shaded, fresh air time! Boasting tables, hammocks and the BBQ work station, you can choose to enjoy your meals & drinks there.
Want to peek at how it's like to be part of a diving cruise on the Aqua Cat ?
Watch this video!
Vessel Layout
In the Bahamas, the Aqua Cat is unique. Indeed, of the same fleet, All Star Liveaboards, we know the Blackbeard's Morning Star & Blackbeard's Sea Explorer, which styles are totally different.
The Aqua Cat Catamaran is stable, showcasing a spacious layout and the perfect option for larger groups of divers.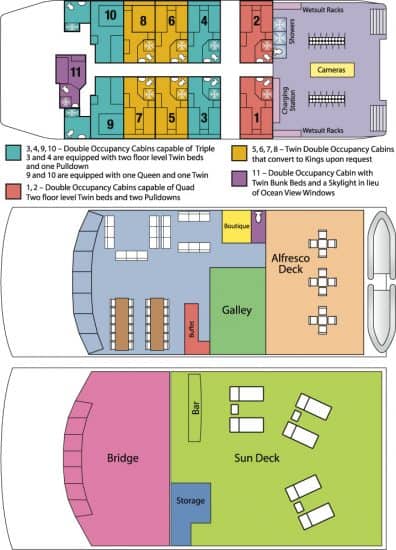 Diving with the Aqua Cat
Here comes the best about this boat! Purposely built for amazing diving in the Bahamas, the Aqua Cat won't let you down! At the stern, you will find a huge dive deck, fitted with everything you need. Indeed, there are fresh water rinse tanks, showers, rinse hoses and a bathroom available right on the platform or on the deck. Isn't it convenient? It doesn't stop there! Underwater photographers are treated with a large camera work station right on the deck!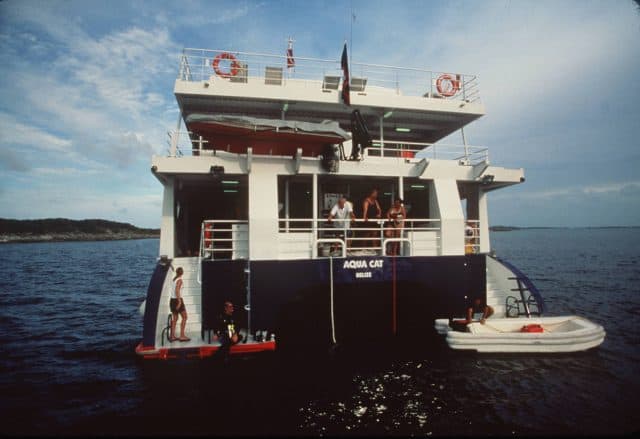 Finally, there is plenty of space to store you gear, get it on and off, and help your buddy without ever feeling cramped. Ready to discover some of the most remote dive sites of the Bahamas? All set, you go!
---
Price starts at 1995$ for 8 days / 7 nights – Best of the Bahamas
Where does this liveaboard dive boat go?
Check out the fabulous places where this dive boat travels to.
Note: some destinations may not be listed below, please enquire for more details.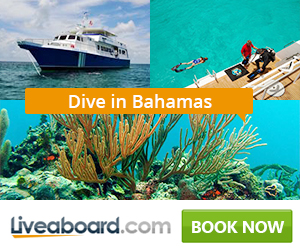 Other Liveaboard Reviews in Bahamas & Caribbean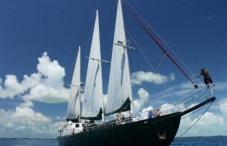 The almost 32 meters Juliet is a schoone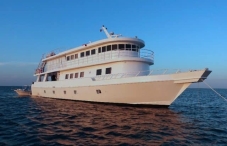 The Jardines Aggressor is a liveaboard o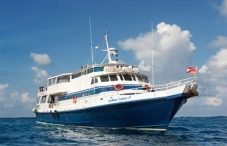 The Caribbean Explorer II departs from e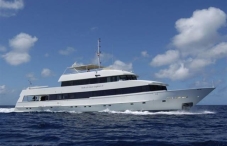 The MV Turks & Caicos Explorer II is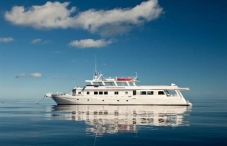 The MV Turks and Caicos Aggressor II is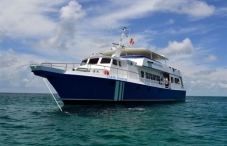 There are few more luxurious dive vessel
Dive spots reviews in Bahamas & Caribbean
No dive sites reviews found