If you have dived in Saint Martin before, please share your experiences: Dive spots you would recommend, which Dive Center you used, Fishes & Diving, Visibility, Currents, etc. Please post your comments in the section below, by doing so you will help fellow divers to plan their next trip

The diving in St-Martin / St Maarten is incredible. There are over 55 dive sites surrounding this small island.
Liveaboards departing for the Silver Banks leave from here and have dives at some of the sites as well. The dive sites of Point Blanche near Philipsburg are among the most used, as they are also the ones closest to the cruise ships.
While the Scuba diving is outstanding, the islands tourism has many faces and divers will find that the dive sites are not crowded or over used.
In this page you will find more detailed information about scuba diving in Saint Martin.
Photos Saint Martin
previous
Flying Ray Manta in Bali!

Barracuda Alone In The Blue Sea

Barracuda Face Scary Smile

Barracuda School

Photo by Matthieu Billaud

Manta Ray Flying Viewed From Side

Manta Ray Closeby

Photo by Matthieu Billaud

Manta Ray Coming

Photo by Matthieu Billaud
next
Best Dive Review
There are many outstanding dive sites around St-Martin / St Maarten. It is a difficult task to limit a review to just a few as there are worthy of special attention. There is a number of wrecks around the island with seven of them being on most dive shops destination list. Still the reefs around these volcanic islands are also wonderful to dive. Here are a few of the most favored dive sites.
HMS Proselyte was 32-gun frigate of the British Royal Navy. Originally Dutch, the ship began as the 36-gun frigate Jason, built in Rotterdam in 1770 by Paulus van Zwinjndregt. In 1796 the crew of 230 mutinied and took the vessel to Greenock, in Scotland, where it was commissioned as HMS Proselyte.Refitted with 32 guns, Proselyte measured 133 ft (40.5 m) at the gundeck, 110 ft 8 in (33.7 m) at the keel, with a beam of 35 ft 8 in (10.9 m). On September 2, 1801, while under sail, the ship hit Man of War shoal and sank. The crew was saved. Today the wreck is scatter and sits on its starboard side in 20 to 55 feet of water. The ship is well covered with coral and has many different types of marine life.Located just a few minutes from the main harbor. Depending on the sea conditions this site may be subject to surges.
Carib Cargo is a roll-on roll-off ship that some dive centers call the RORO and some the Carib Ghost. Hurricane Luis in 1995 badly damaged the vessel. She sat almost a year at anchor until the approach of Hurricane Bertha in 1996. A commercial dive operator was hired to get rid of it. It took the local recreational divers a bit of time to find her, and some got into the habit of calling her a ghost. The ship was found upright in about 85 feet of water and an average depth of about 60 to 65 feet. The Carib Cargo is on a sandy patch that southern sting rays love so you can find many of them there. It is an easy ship for wreck Scuba divers and some of the dive shops use it in their penetration training. Underwater Photographers love the spot because of its clear water, abundance of corals and the variety of marine life. You can look at some outstanding photographs of the Carib Cargo on one of the dive centers flicker page.
The Fuh Sheng is a 120 foot long fishing vessel that was damaged and then allowed to sink in 1995. The bow of the Taiwanese vessel sits at 114 feet with the stern at about 90. The visibility is outstanding generally over 100 feet, this means you can see the wreck below you as you start your descend. The line is attached to the bow, in front of the bow in the sandy bottom are hundreds of garden ells and a number of sting rays. Lobsters are very plentiful along the deck, and sharks keep a watchful eye. Due to the limited bottom time recreational divers have little time to explore inside the wreck. This wreck is considered the best deep site around St Martin and technical wreck divers often dive here.
The Fish Bowl gets its name from the variety of fish that are found on the reef. Crystal clear water and splashes of color every where. This reef is near the entrance to the harbor and it easy for the dive shops to get to. The depth ranges from 40 feet to 60 feet. There is a large arch that you can swim through with barracudas often found at the arch. Reef sharks are found in abundance as is another nearby dive site called big Momma. While this is a dive site for all skill levels, it can become dangerous in rough sea conditions.
How to dive Saint Martin?
The best way to scuba dive St-Martin / St Maarten is from a land based dive center. Most of them are located on the Dutch side of the island where most of the dive sites are at.
Tourist, who arrive on a cruise ship, will find this an easy location to add a scuba dive or two to their cruise vacation. The cruise ships offer shore excursions and most of the dive centers have programs designed to allow cruise ship passengers the opportunity to dive with them.
There is not a strong liveaboard industry based on Saint Martin. While liveaboards do depart from here and include some of the dive spots, most of the liveaboard's primary destination is the Silver shoal.
Best time to dive in Saint Martin
Diving is great year round, the main consideration is not the diving but the number of people. The majority of tourist are from North America. They escape the colder weather from December to the end of April.
They visit again when school is out July and August. The rest of the year is the off season. Weather wise: June to November is considered the hurricane season, however, the island is out of the primary hurricane area. The rainy season does have more rain but seldom does it last long.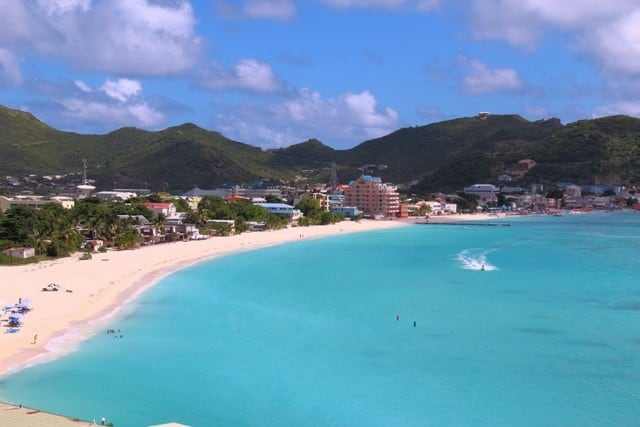 Top liveaboards in Saint Martin & Sint Maarten & St Maarten according to divers reviews
Dive courses
The dive centers of Saint Martin provide the full range of diving found in the tropics. This is a great place for Open Water Diver training. Wreck diving certification is an excellent course to take here, given the number of fully intact wrecks.
Scuba Diving conditions
Year round there is little difference in the water temperatures or the excellent visibility.
Water temperatures range from 26 to 29°C (79 to 84°F) in the warmest months (February) down to 22 to 24°C (72 to 75°F) in late August.
Visibility on most dive sites are beyond 100 feet/ 30 meters. Dive sites close to shore might be impacted due to run off during the rainy season, but it not a great decrease. Some of the dive sites are in open water and may be subject to rough conditions. In these times, other dive sites will be protected.
Snorkelling in Saint Martin
St. Maarten has excellent snorkeling with a number of shore sites and some off shore;
Shore snorkeling include:
Dawn Beach

Friar's Bay

Mullet Beach

Simpson's Bay
Snorkel from boats is often in the St. Maarten Marine Park. The sites include:
Anse Marcel Reef

Creole Rock

Happy Bay

Pinel Island

White Rock Reef
Fishes and Coral
The reefs and wrecks of St Maarten are teeming with marine life.
Nurse sharks, Caribbean Reef sharks, Sea turtles, and a few species of grouper make up some of the larger species. Whales are also sometimes seen as the islands are in the migratory path. The reefs have a wide range of reef fish.
Diving Safety
If you are planning an upcoming dive trip or travelling to Saint Martin, it is a really good idea to invest in travel insurance for scuba diving, because you never know what could happen and when you might need it (because accidents do happen!). I recommend this diving insurance as they offer worldwide coverage and focus on providing scuba divers a quality insurance and medical assistance service.
St-Martin / St Maarten is a destination that divers can truly love. The smallness of the island makes getting around the island easy and the dive sites are only a few minutes off shore. There are dive sites for all skill levels and a wide range of off gas activities.
Travel Guide
Now that you know all about the underwater world, you might want to start planning your scuba holiday! Check out our Saint Martin Travel Review for information about how to get there, activities and excursions, where to stay, and more.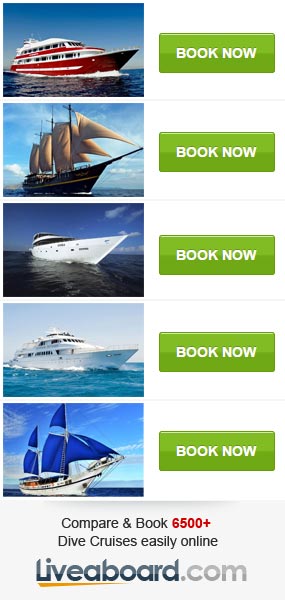 Diving Reviews for this region
Dive spots reviews in Saint Martin & Sint Maarten & St Maarten
No dive sites reviews found
Liveaboard Reviews in Saint Martin & Sint Maarten & St Maarten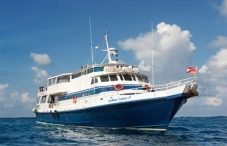 Diving centers in Saint Martin & Sint Maarten & St Maarten