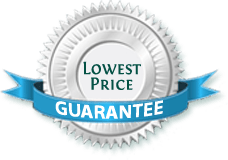 Lowest Price Guarantee: If you can book the same package any cheaper then you will get 100% of the price difference, guaranteed!

Liveaboard Diving in Fiji
Located at the heart of the South Pacific and at about 4,450 km southwest of Honolulu, Hawaii, Fiji is an invigorating underwater playground for all levels of divers. This country is made up of more or less 300 islands and 500 smaller islets, where a hundred islands are permanently inhabited.
Cheap Fiji Liveaboards
⇒Compare the Budget Liveaboards of Fiji!⇐
---
Luxury and High Budget Fiji Liveaboards
⇒Compare the Luxury Liveaboards of Fiji!⇐
---

Fiji lives up to this reputation as the "Soft Coral Capital of the World", it's famous for the dazzling corals and diverse marine life ranging from barracuda, grouper, wrasse, sharks, mantas and eagle rays. You can gaze at these marvellous creatures during the day or during one of your night dives. From pristine sandy beaches to fantastic dive sites, a trip to Fiji will not only lessen the everyday stresses in life but also rejuvenate your senses as a whole.

Ever dream of diving with the Bull Sharks? Then better pack your diving gears and head to Fiji for a once in a lifetime encounter with these sharks!
Getting on a liveaboard is without a doubt the best way to experience the kind of adventure only exclusive to Fiji. From white sandy beaches to over 400 astounding different types of coral, plenty of big fish encounters, remarkable marine life and the chance to meet the friendly locals who, you can expect an interesting journey in the islands of Fiji! It is truly a definition of paradise! Diving in Fiji will go beyond your expectations and beyond belief.
Best time to go on Fiji Liveaboard
More than just a diving destination, Fiji also offers hiking, nature tripping, interesting culture and its wonderful local people. However, Fiji offers even more when it comes to SCUBA diving! Be ready to be captivated with the corals reefs, astonishing fish and large pelagic species. And liveaboards can make this sighting accessible and more enjoyable.
The dive season in Fiji is all year round. However, the best diving season is between April and October. The visibility tends to peak from July to September, when the surface can be a little choppy and the water is as cool as 22°C. November to April is when the water temperature is around 30°C, which are considered as the summer months in Fiji.

Manta Rays can be seen on summer months because of the abundance of planktons during the said months.

Fiji Liveaboard Routes
Ranging from barely noticeable to very strong, currents are considered as the lifeblood of the reefs that exist in Fiji. The currents sweep the nutrients to corals and fish making them grow in vibrant and rich mode. The currents also affect the water's visibility which can be the best around.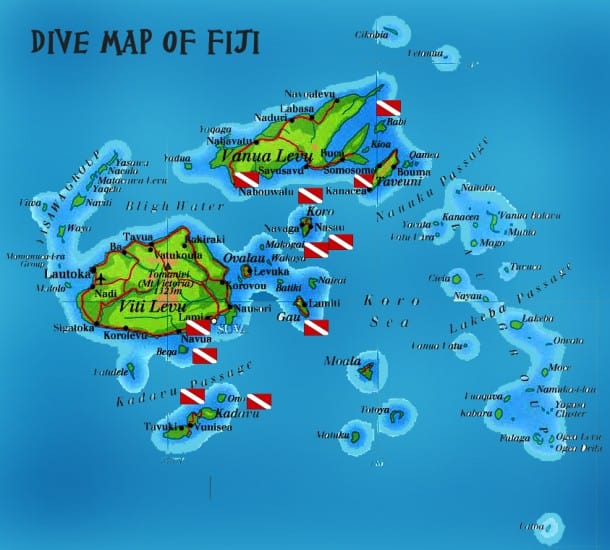 Map credit: http://aquaviews.net/
If one wants to seek a pristine and serene underwater ambiance which is less crowded, the reefs found in Bligh Water and Koro Sea are recommended. However, if you consider yourself as a novice to the diving world, only a few selected sites are in store for you due to strong currents that may prevail more in this area.
Bligh Water is one of the focal points of liveaboards cruising around the island of Fiji. If In Bligh Water you can find E-6 , the site mostly preferred by photographers. It is equally stunning either during the day or night. You can credit it to the awesome scenery and the mixture of the attractive and diverse marine creatures that bring more life to your pictures. Here you can also enter 'The Cathedral', an awesome swim-through where light filters down from above making your photographs look more splendid.
A myriad of barracuda, snappers, trevallies, mantas and hammerheads will definitely stun scuba divers in the popular Nigali Passage. Several eye-catching creatures patrol the 3 pillars found in another site called Chimneys at Namena Island in the Koro Sea.
Somosomo Strait earns Fiji the title of being the "Soft Coral Capital of the World". It runs between Taveuni Island and Vanua Levu where divers can attest to the grand marvellous site created by the colourful soft corals. The nutrient-filled waters of Taveuni also promise plenty of pelagic fish species. A site aptly named as 'the Zoo' is where a throng of manta rays, barracudas, and sharks can be spotted.
Regardless of which Fiji liveaboard you'll choose, you would be assured that any trip will include incredible dive sites.

Other destinations you may like