If you have dived in Philippines before, please share your experiences: Dive spots you would recommend, which Dive Center you used, Fishes & Diving, Visibility, Currents, etc. Please post your comments in the section below, by doing so you will help fellow divers to plan their next trip

Due to destructive fishing practices, poor diving standards and a failing infrastructure, the Philippines earned a reputation as a poor diving destination. Much has changed over the years and divers who puts aside the old stories are finding a dive destination with pristine dive sites, abundant marine life and a supporting infrastructure.
Scuba Divers can now find some of the most affordable diving options in the world and many unique experiences.
Discover more HD Videos on Scuba Diving on YouDive.TV .
In this page you will find more detailed information about scuba diving in Philippines.
Best Dive Review
You may have heard of the "coral triangle". The WWF describes it as "The Coral Triangle, the global centre of marine biodiversity, is a 6 million km2 area spanning Indonesia, Malaysia, the Philippines, Papua New Guinea, Timor Leste and the Solomon Islands. Within this nursery of the seas live 76% of the world's coral species, 6 of the world's 7 marine turtle species, and at least 2,228 reef fish species."
The diving in the Philippines is diverse that attracts divers with a wide range of interest. Overall divers can expect good visibility and water temperatures that require a dive skin to 3mm wet suit. The dive season is best from November to May. June to October is the rainy season and also noted for typhoons. Rains will cause a decrease in visibility and in places can cause numerous days of storm warning that prohibits diving. Typhoons can be very strong and create very dangerous conditions on land. Here is a run down of just some of the top destinations. This list is not a top ten list, as divers are attracted to different aspects of diving.
Tubbataha Reefs Natural Park: If this was a top ten list, this would be on top. Tubbataha Reefs Natural Park is a 97,030-hectare Marine Protected Area (MPA) in the Sulu Sea off the coast of Palawan. Puerto Princesa City is the closest city about 150 km or 10 to 14 hours by boat away. Two large atolls rise from the deep Sulu Sea creating a rich reef area constantly feed by the nutrient rich waters of the deep. The conditions create one of the most diverse marine populations in the world, with both large pelagics and small macro subjects abound. Visibility is excellent. Due to the extreme nature of conditions in the Sulu Sea diving here is seasonal starting in March and going to June. Strictly a liveaboard destination, about 15 liveaboards serve the park in dive season, some by international fleets. I usually use this website to book in advance my liveaboards in the Philippines as they usually have the lowest rates I find. I like it because they have an easy booking system.
Puerto Galera: PG, as it is mostly referred to, is oldest international accepted diving destination in the Philippines. It has a natural harbor with white sand beaches. The name refers back to the time of the Spanish Galleons, the ships would seek protection here waiting for the right weather before continuing their journeys. No matter the weather conditions a portion of the area would provide protection. A number of its dive sites are often found on different top ten in the world list. While often incorrectly considered a part of Luzon by divers, it is in fact in Oriental Mindoro. Luzon and Mindoro are separated by the Verde Island Passage. The passage is just one of the attractions for divers. It provides outstanding wall and drift dives in an area abundant in marine life that scientist are still discovering new species. There are dive sites for all level of divers, with ample dive sites for new divers. Puerto Galera also has outstanding support for deep technical diving. It provides year round diving and is not often impacted by the typhoons.
Cebu: The province of Cebu has a number of outstanding dive destinations, that has made it the destination of choice for many divers. Cebu province consists of Cebu Island, as well as 167 smaller islands. Mactan island, home of Cebu's airport, is known for its outstanding wall and drift dives and has a number of resorts. Malapascua Island, located off the northern tip of the Cebu, is known for its thresher shark dives as well as manta rays, macro photography, nearby Gato island known for sharks and tunnels and a few outstanding wrecks. Moalboal located on the west coast of Cebu Island has developed a tourism industry based on recreational diving and beaches. Tañon Strait separates Cebu from Negros Island and Moalboal sits on the strait. It is a 100 mile long marine protected zone known as a passage for large pelagics including whale sharks and other shark and ray species. It is also a sanctuary for marine mammals, sharks and rays.
Bohol: Both the provinces of Cebu and Bohol were areas that the DOT determine would make ideal diving destinations. Bohol is rapidly growing a reputation for great diving and great dive centers. Located a short distance from Cebu, it also presents a range of diving opportunities.
Anilao, Batangas: This dive destination is often listed as one of the best places to dive. Being only 2 hours from Manila by road, it is the destination by divers from that city. On the opposite side of the Verde Island Passage from PG it has outstanding drift and wall dives. Marco photographers also love the area.
Coron and APO Reef: These are really two distinct destinations, however, they are often promoted together by Liveaboard operators. Coron is best known for the WWII Japanese ships that are sunk in the bay. They also have a few unique lakes that are used for diving, Cathedral Cave and Barracuda Lake offer interesting dives plus an opportunity for qualified cave divers. APO Reef is the largest continuous reef in the world and offers outstanding diving. This is a developing destination and still not used very often. Located off the coast of Mindoro, it has limited dive centers in the area and is time consuming to reach those centers. It is, however, becoming well accepted as a liveaboard destination. In the past Liveaboards were primary just at Tubbataha Reefs, but currently a growing number are active year round and APO reef is one of the destinations, starting from Coron or PG.
Subic Bay: Unlike the rest of the dive destinations in the Philippines, Subic Bay is not known for great reefs, pelagics or great visibility. Subic Bay is a very popular tourist destination, that also has great wreck diving. It has the most wreck dive sites in the Philippines and they are all just 20 minutes or less from the dive centers. It is also a great destination for tech divers. Diving in Subic Bay is year round and not often impacted by severe weather.
Where to stay?
I usually use this website to book in advance my hotels in Philippines as they usually have the lowest rates I find. I like it because it's free to cancel and change the dates.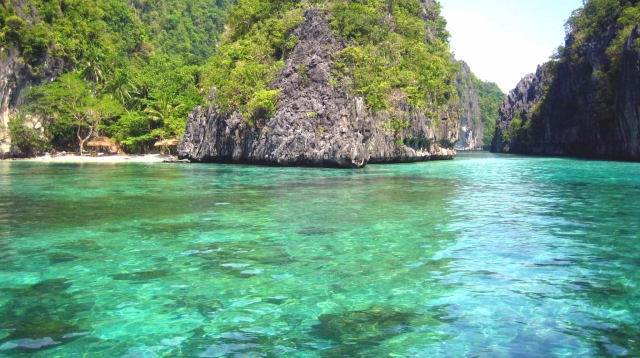 Top liveaboards in Philippines according to divers reviews
Diving Safety
If you are planning an upcoming dive trip or travelling to Philippines, it is a really good idea to invest in travel insurance for scuba diving, because you never know what could happen and when you might need it (because accidents do happen!). I recommend this diving insurance as they offer worldwide coverage and focus on providing scuba divers a quality insurance and medical assistance service.
Photos Philippines
Travel Guide
Now that you know all about the underwater world, you might want to start planning your scuba holiday! Check out our Philippines Travel Review for information about how to get there, activities and excursions, where to stay, and more.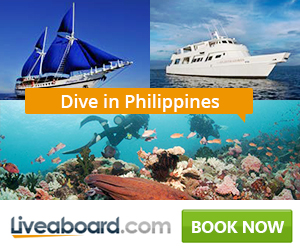 Diving Reviews for this region
Dive spots reviews in Philippines
Liveaboard Reviews in Philippines
Diving centers in Philippines