Liveaboards cruising around Socorro and Guadalupe Islands, Mexico
For detailed information, see our comparison of the Luxury Liveaboards of Mexico! 
Liveaboard diving in Mexico
Mexico found in North America, is known to have a warm tropical climate. It is bordered by the United States of America in the north, Belize and Guatemala in the south, with the Gulf of Mexico and Caribbean Sea on the east and the Pacific Ocean on the west coast.
Divers are treated with a tremendous diversity of tropical species and breathtaking pelagic actions. The Pacific is most popular for the big fish encounters you can have while diving. Well, there is no other way to experience these thrills without hopping on a liveaboard. The best diving spots in Mexico are Socorro Islands (Revillagigedo), Guadalupe Island and Sea of Cortez.
Photo credit: Bonnie Pelnar
The Sea of Cortez also has nutrient rich water and massive amount of diverse species. There is always an underwater adventure in store for those who wish to visit the beautiful islands only found in Mexico!
I usually use this website to book in advance my liveaboards in Mexico as they usually have the lowest rates I find. I like it because they have an easy booking system.
Best time to go on a Mexico Liveaboard
The island of Socorro is usually dived from November to May when the surface conditions are pretty good. Water temperatures range from 28°C in November to 25°C in May, cooling down to 21°C in February. You can witness the entertaining whale shark actions in November and December while humpback whales are often spotted from December to February.
Diving season in Guadalupe is more fun when done between August and October. This is the period where you can expect fantastic visibility and sea temperatures are from 19 to 22°C.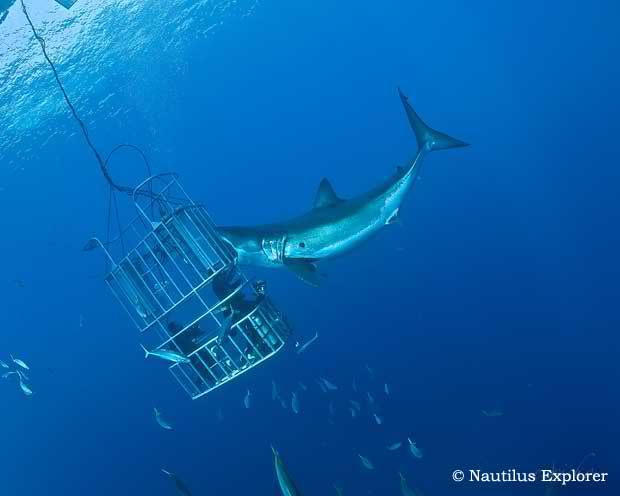 You can take part in the Guadalupe shark cage diving from August to October.
Photo credit: Nautilus Explorer
No need to fuss on when you can maximize having fun in the Sea of Cortez for it is considered to be a year-round diving destination. However, it is best recommended to take any of the Sea of Cortez liveaboards from August to November when the water temperatures are around 27°C mark and hammerhead sharks also bring joy and excitement to everyone.

Mexico Liveaboard routes:
The Revillagigedos Archipelago, also known as Socorro, is located in the eastern side of the Pacific Ocean, around 250 miles south of Cabo San Lucas, Mexico. It consists of 4 main islands. It is widely known as the version of Galapagos island in Mexico due to its wide array of endemic plants and animals as well as the noticeable pelagic sightings. A trip to the Socorro Islands would definitely include the possible destinations of San Benedicto, Socorro, Roca Partida and Clarion Islands on the itinerary.
If you want to see manta rays, you are advised to go to Socorro. Mantas in Socorro are indeed gigantic mantas. They are the largest of the rays and also the most energetic and acrobatic. Just like the dolphins, they are also known to be receptive to human interaction. You can only reach this remote island by liveaboard, and is approximately 24 hours away from San Cabo. The currents and choppy conditions as well as the open ocean nature of Socorro islands make it an ideal dive destination for large pelagics not only for mantas but also for Humpback whales.
If you are looking forward to see great white sharks at a closer range, you can head to Guadalupe Island which can be found at 165 miles west of Ensenada, Mexico.
Cage Diving with Great White Sharks of Isla Guadalupe, Mexico

The visibility and water temperature are commendable. Everyone is encouraged to try cage diving. Instead of SCUBA tanks, both divers and non-divers will use surface supplied air (hookah) which makes things more interesting.

If you're on a lookout for a calm and more relaxing liveaboard experience with both big and small marine animal encounters, The Sea of Cortez is right for you. It is found between the Baja Peninsula and the mainland of Mexico. Around 850 species of reef fish can be spotted in this place. You will also experience another fantastic encounter with hammerheads, orcas, whale sharks, whales and dolphins.
Other Destinations you may like