If you have dived in Malaysia before, please share your experiences: Dive spots you would recommend, which Dive Center you used, Fishes & Diving, Visibility, Currents, etc. Please post your comments in the section below, by doing so you will help fellow divers to plan their next trip

Scuba Diving in Malaysia is excellent. The country is divided into 2 parts and it may not be likely that you'll have the time to travel both.
Sabah province, the Malaysian Borneo features quite simply some of the best diving in the world for big fishes such as in Sipadan and Layang Layang or for muck diving with Mabul Island. However, diving these places is maybe more suitable for experienced divers. You can watch this nice video if you want to see how it looks like underwater in particular in Sipadan Island!
Peninsular Malaysia features many islands among the most beautiful in the world such as the Perhentians Islands, Redang Island and Tioman Island on the east coast and Langkawi Island on the west Coast. These islands offer white sandy beaches, thriving coral reefs and are covered with lush tropical jungle. On these Islands, scuba diving and snorkelling is good to very good and mostly easy.
Generally speaking, you will encounter on all the diving places in Malaysia a great marine life and superb coral. In many sites, you can spot Manta Rays and huge schools of pelagic fishes. Reef Sharks and turtles are also very common.
Borneo is one of the few places in the world where you can spot hundreds of Hammerhead Sharks in a single dive. The best chance to see them is in Layang Layang and sometimes (if you're lucky) in Sipadan.
Diving in Malaysia is truly a great experience for underwater macro photographers with amazing muck diving and rare critters to find like for example in Kapalai Island ;-).
Beginners can learn scuba diving for very cheap in places like the Perhentians islands or Tioman Island.
In this page you will find more detailed information about scuba diving in Malaysia.
Best Dive Review
Muck diving
Malaysia has some of the best muck diving locations in the world. The best dive sites for macro stuff are located in Borneo around the Islands of Mabul and Kapalai.
Mabul is world famous for the great number of rare species of critters you can find. The most widely known are the giant frog fish, the Mimic Octopus or the rare flamboyant cuttlefish! You can also spot a Blue-ringed Octopus and many rare species of Nudibranch.
Maybe the most interesting dive site is the Seaventure platform. It is a former oil rig located 500 m offshore from Mabul and has been transformed in a diving resort. It is possible to dive under the platform and you will see the most amazing biodiversity and great macro pictures opportunities. On Froggy Lair dive spot you can often see the rare ornate ghost pipefish.
Kapalai is like paradise for underwater macro photography with very good conditions and a great variety of macro subjects for photo lovers. Night diving can be done directly off the jetty on a site called Mandarin Valley where you can find the famous Mandarin fish!
Both Islands are also the perfect starting point to dive Sipadan Island.
Another great location for muck diving is situated in Lankayan Island in the North of Sabah. It is one of the few destinations which offer at the same place macro diving, easy wreck diving and very beautiful coral.
Wreck Diving

Malaysia doesn't offer overly spectacular Wreck diving as in some places. However, you can still find many small wrecks, generally sunken illegal fishing boats, for example in Langkawi Island or on the Perhentians Islands with the Sugar wreck worth to explore.
Photo Credit: http://www.flickr.com/photos/nodust/4941954306/
How to dive Malaysia?
Malaysia is very easy to dive. There are numerous dive centres in the touristy areas. However, some dive centres do have lower safety standards and you should choose your dive operator carefully. On the islands of Mabul, Kapalai, Lankayan and Mataking, there are very good diving resorts.
As most of the islands are close from the mainland, there are just a few liveaboards in Malaysia. Two liveaboards explore the Layang Layang atoll and one is cruising around Sipadan. I usually use this website to book in advance my Liveaboards in Malaysia as they usually have the lowest rates I find. I like it because they have an easy booking system.
There are several areas you can dive, check out our other Guides at the bottom of the page.

Peninsular Malaysia
Perhentians Islands
Redang Island
Tioman Island
Langkawi Island
Sabah, Borneo
Sipadan Island
Mabul Island
Layang Layang
Lankayan Island
Kapalai Island
Photo Credit: http://www.flickr.com/photos/soham_pablo/560470482/
Where to stay?
I usually use this website to book in advance my hotels in Malaysia as they usually have the lowest rates I find. I like it because it's free to cancel and change the dates.
Best time to dive in Malaysia
It is possible to dive Malaysia all year round. However local monsoon forbid diving at certain times of the year in some places.
When it is the Monsoon on the West coast it is the dry season on the East coast and vice versa.
East coast
Dry season from April to October, average temperature of 27°C.
Rainy season from November to March, average temperature of 29°C.
Peak tourist season runs in July and August
The diving season is from April to October. The best visibility is generally around summer time. The water temperature is between 27°C to 30°C year round.
West coast
It is possible to dive year round. Air temperature ranges between 25 °C and 32 °C. However some months are affected by heavy rains.
Dry season from mid November to mid April, with very little rain
Mid-season runs from April to August with light precipitations.
Rainy season from September to November. It rains every day for about 2 hours and at night.
The peak tourist season is during the dry season. Prices drop during the rainy season and it can be a great deal for low budget travellers.
The best diving time also runs during the dry season with better visibility.
Sabah, Borneo
It is possible to dive all year round in Sabah. However, Sipadan Island is very famous and popular and during high seasons such as during July/August, December/January and Chinese New Year it is advised to book well in advance!
Refer to the destinations pages to know more about their specific weather.
As you can imagine the best time to go diving is during the dry season and the worst time during the rainy season when the visibility is reduced (but this is also the peak tourist time) so the choice is up to you.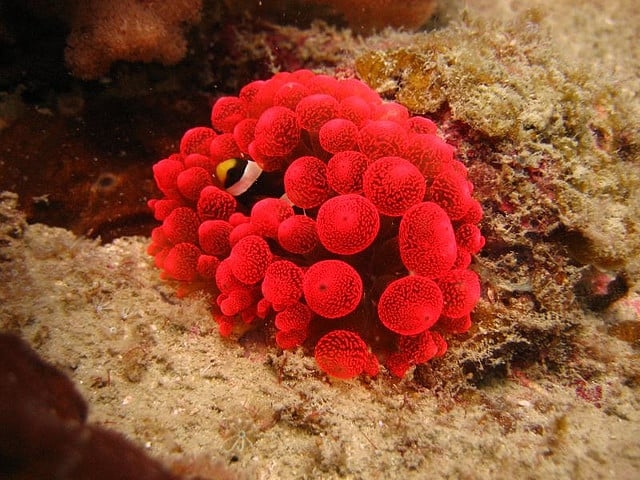 Top liveaboards in Malaysia according to divers reviews
Scuba Diving conditions
Air temperature: 25°C to 32 °C depending on the location and the season
Average Water temperature: ranges from 26°C to 30°C year round
Average Visibility: You can expect from 5m to 60m depending on the season and location.
Current: Depends a lot on tide and location, ranges from none to fierce. Mostly gentle current in Peninsular Malaysia and stronger in Borneo.
Depth: From 5m to 40m. Coral reef are shallow and most of the dive sites are between 10 and 20 meters deep.
Snorkelling in Malaysia
Malaysia has terrific snorkelling possibilities! In most places it is possible to arrange a snorkelling day trip with local people. On the Islands located on the East Coast of Peninsular Malaysia, you will find superb and easy snorkelling for example in Tioman Island, Redang Island or on the Perhentians Island. In Malaysia it is common to spot harmless blacktip reef sharks and turtles in shallow waters.
Diving Safety
If you are planning an upcoming dive trip or travelling to Malaysia, it is a really good idea to invest in travel insurance for scuba diving, because you never know what could happen and when you might need it (because accidents do happen!). I recommend this diving insurance as they offer worldwide coverage and focus on providing scuba divers a quality insurance and medical assistance service.
Photos Malaysia
Travel Guide
Now that you know all about the underwater world, you might want to start planning your scuba holiday! Check out our Malaysia Travel Review for information about how to get there, activities and excursions, where to stay, and more.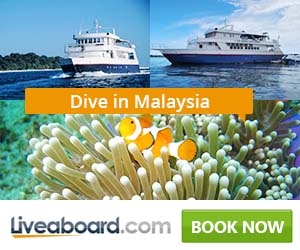 Diving Reviews for this region
Liveaboard Reviews in Malaysia
Diving centers in Malaysia