Komodo is the very well-known name of the giant lizard, the Komodo Dragon. Moreover, it's the name of a wonderful Scuba Diving destination in Indonesia. Indeed, Komodo boasts incredible dive sites teeming with marine life, big and small. A liveaboard is the best way to discover not only the Island but the the surrounding region as well. See below all the mid-range and budget liveaboard options for Komodo!
Budget ain't for you? See our comparison of the Luxury Liveaboards of Komodo.
See the Best Indonesia Liveaboard Reviews of 2016 to know more about the boats!
Also, here is our full list of Budget Liveaboard and Luxury Liveaboard in Indonesia
---
---
SV Mona Lisa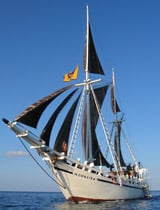 The SV Mona Lisa is a 33 meter long traditional Indonesian Pinisi. The minimum stay on board is 3 nights. There are 6 cabins and can accommodate up to 12 adults and 2 children. It is also possible to sleep on the open deck and watch the stars by night if you so wish. All cabins have hot shower and AC. The Mona Lisa is one of the most popular liveaboards of the Komodo Islands.
⇒Coming Soon! Read more about the amenities and specs of the Mona Lisa⇐
---
Indo aggressor
(Formerly known as the Komodo Dancer)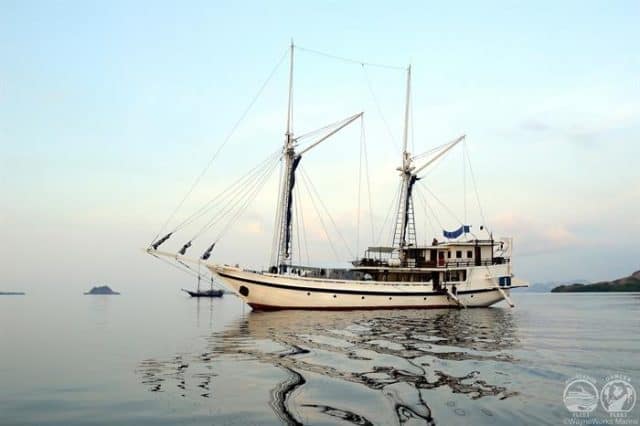 The Indo Aggressor is a 38 metre long sailing yacht which can accommodate up to 16 divers, perfect for touring around the intriguing island of the komodo dragons. With a trained local crew, you can be assured that an exciting liveaboard diving experience is attainable, and at an affordable price.
On board facilities and services:
Fibre-glass motorised dinghies for all diving
Air-conditioned saloon with bar, video, music and marine library
Sundeck with deck chairs
E-6 Jobo film processing
Indo Aggressor Boat Budget Range / Price Starts at US$ 4,250 for 10 nights

Check Availability & Prices of this Boat Now!
⇒Read more about the amenities and specs of the Indo Aggressor⇐
---
MV Manguanna
MV Manguanna is a 27m long Phinisi wooden boat designed to comfortably accommodate up to 8 people within its four cabins with en-suite bathrooms. Aside from all of the diving equipment, snorkelling equipment, sea kayaks and fishing equipment are also available for rent. Mineral water, soft drinks, coffee and tea are available 24 hours as well– free of charge!
MV Manguanna on board facilities and services:
Upper deck, both shaded and directly exposed to the sun with couple of deck chairs suitable for relaxing
Salon that also serves as a dining room
Library offering a collection of books about the flora, fauna and local history
TV and DVD player
MV Manguanna Boat Budget Range / Price Starts at US$1944 for a 6 night tour