If you have dived in U.S. Virgin Islands before, please share your experiences: Dive spots you would recommend, which Dive Center you used, Fishes & Diving, Visibility, Currents, etc. Please post your comments in the section below, by doing so you will help fellow divers to plan their next trip

The United States Virgin Islands ( USVI) is made up of three major islands and fifty smaller islands. The three major islands: Saint Croix, Saint John, and Saint Thomas, plus Water Island are where the vast majority of tourist visit.
The other islands are lightly populated if there is anyone living on them at all. Each of the major islands have their own flair to them. A personality that is different. The scuba diving is great around each of the islands with some of the best wall diving in the Caribbean. There is also a great selection of wrecks and coral reefs. Scuba Divers of all skill levels will find diving that is thrilling and within their scuba experience.
A Liveaboard will allow you to dive all three islands and on to some dives in the British Virgin Islands.
In this page you will find more detailed information about scuba diving in U.S. Virgin Islands.
Photos U.S. Virgin Islands
Best Dive Review
The US Virgin Islands has much to offer all Scuba divers from beginners to seasoned professionals. More than 500 species of fish, 40 types of coral and hundreds of invertebrates are found in the the water's of USVI.
Silvery horse-eye jacks, queen triggerfish, vibrant blue tang, spiny Caribbean lobster, spotted eagle rays, Creole wrasses, and cleaner gobies are just a sampling of the marine life populating the underwater terrain. Night dives allows you to experience the night marine life octopuses, sea horses and moray eels make their appearance.
Endangered marine turtles, Hawksbill, Green, and Leatherback turtles, are found at many dive sites. Here are a few of the hundreds of dive sites to chose from:
The Wall, St. Croix – This site is also called Salt River Canyon East & West Walls. It is on the north shore where the reef drops off into the 5,000 foot deep Puerto Rico trench. The Salt River Canyon is an ancient river bed that divides the wall into east and west. The reefs leading to the walls start in shallow waters and provide excellent diving for novice divers. More advance divers can dive along the wall at depths within their skill and comfort levels. Sponges and sea fans carpet the vertical drop off and large pelagics, such as horse-eye jacks, cruise just offshore. There is also some dive sites along the Canyon itself. This site often ranks amng the best wall dives in the world.

Frederiksted Pier, St Croix. This shallow dive site has a depth from 25 to 45 feet and is considered one of the best macro photography sites in the Caribbean. It also rates as one of the best night dive sites.

Eagle Shoals, St John's. Located on St. John's east end between Ram Head and Leduck Island, arches, tunnels and caves are its signature features. "The Cathedral" is a multiple entrance cave that, is encrusted with vivid sponges and orange cup coral. Schools of black durgeons, porkfish and silversides populate the shoal. This site can be tricky at times due to surface conditions, however, when calm it is an outstanding dive site.

Carvel Rock, St. John. A number of rocks extends to and beyond the surface on this interesting dive site. Its unique underwater seascape and abundant marine life make this a favorite dive site. Nooks and crannies provide ample hiding places for many species. This dive is often done as a slow drift dive. Dive centers from St. Thomas will also dive here.

Cow and Calf, St. Thomas named for it unusual shape, the two largest rocks that break the surface are said to look like whales—a cow and her calf. The site has dramatic ledges, wide canyons and large caves.

Tunnels of Thatch St. Thomas. This dive site is at and under Thatch Cay near St. Thomas. Lava tubes and black arches are the highlighting feature of this dive site.
How to dive U.S. Virgin Islands?
Saint Thomas and Saint Johns are often dived together on alternate days or you can take a short ferry ride between them. Saint Croix is a few hours away by high speed boat.
You can fly between St. Thomas and St. Croix or just take the ferry and not worry about time to fly rules. You should also consider a liveaboard. The liveaboards often include dive sites around the three islands plus some in the BVI (British Virgin Islands).
Accommodations on St Thomas is more high end then those on the other two islands. While it is possible to find budget accommodations on St Thomas, the other two islands have a wider range to choose from.
Best time to dive in U.S. Virgin Islands
The Caribbean is a year round destination. The Virgin Islands are in the hurricane belt and is impacted by a hurricane on average once every three years. Direct hits by a hurricane on the Virgin Islands average once per eight years.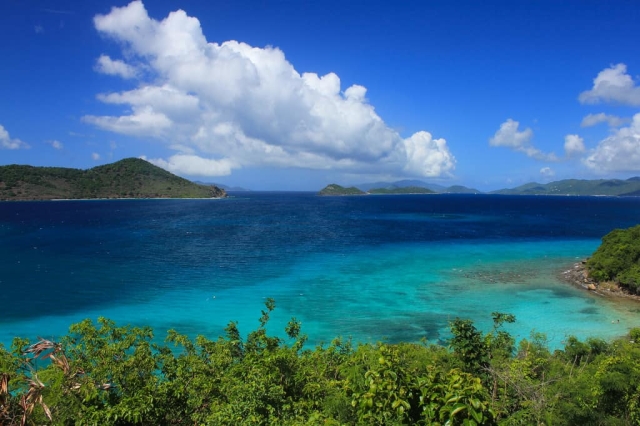 Top liveaboards in Virgin Islands according to divers reviews
Dive courses
All warm water courses are taught in the US Virgin Islands. It is a great place to learn to Scuba dive. If you are not a deep diver or a drift diver and are diving from St Croix and have not taken those certification, now is the time.
St Thomas has a good selections of wrecks and taking a wreck diving course could be beneficial.
Scuba Diving conditions
The average water temperature is around 82° F (29° C) in the summer and 80° F (26° C) in the winter. Most diver are comfortable in shorty-style wetsuits or rash guards year-round.
Visibility generally ranges from 60 to 100 feet, but it can occasionally be higher or lower depending on weather conditions.
Snorkelling in U.S. Virgin Islands
While there are few shore dives in the Virgin Islands, there are a number of outstanding sites that are great for snorkeling.
Coki Point Beach (St. Thomas) near Coral World is one of the leading places to snorkel. There is a fringing reef about 150 feet off shore.

Hurricane Hole (St. John) too shallow for scuba diving, this mangrove forest is an ideal snorkeling spot with coral growing among the mangrove roots. The roots provide protection for juvenile fish which are numerous.

Waterlemon Cay / Leinster Bay (St John) it is an easy 10 to 15 minute walk from the parking lot to the entry point for this snorkeling site. Once there, you can swim out to and around Waterlemon Cay. The coral formations are amazing and fish life abundant. Outstanding chance you will be approached my marine turtles.

Cane Bay (St. Croix) this site is perfect for snorkeling, with massive coral formations and marine life. Experienced snorkelers can swim out about 450 feet to the edge of the reef and look down hundreds of feet along the Cay Bay Wall.
Fishes and Coral
Marine life varies among the different spots however, 250 to 400 different species of reef fish can be expected on the reefs. Turtles are common and large pelagic are found on the sites near the deeper waters.
Diving Safety
If you are planning an upcoming dive trip or travelling to U.S. Virgin Islands, it is a really good idea to invest in travel insurance for scuba diving, because you never know what could happen and when you might need it (because accidents do happen!). I recommend this diving insurance as they offer worldwide coverage and focus on providing scuba divers a quality insurance and medical assistance service.
If you are looking for a great diving vacation any of the three main islands of the US Virgin Islands would be great. Select the one that matches what you want from your vacation and start exploring. Or take a liveaboard vacation and visit all three islands plus British Virgin Islands.
Travel Guide
Now that you know all about the underwater world, you might want to start planning your scuba holiday! Check out our U.S. Virgin Islands Travel Review for information about how to get there, activities and excursions, where to stay, and more.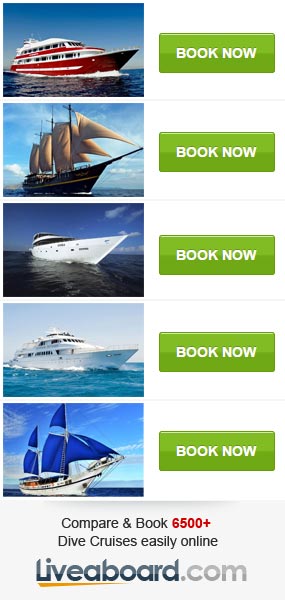 Diving Reviews for this region
Dive spots reviews in Virgin Islands
No dive sites reviews found
Liveaboard Reviews in Virgin Islands
Diving centers in Virgin Islands