Cost
Expensive, and Luxury!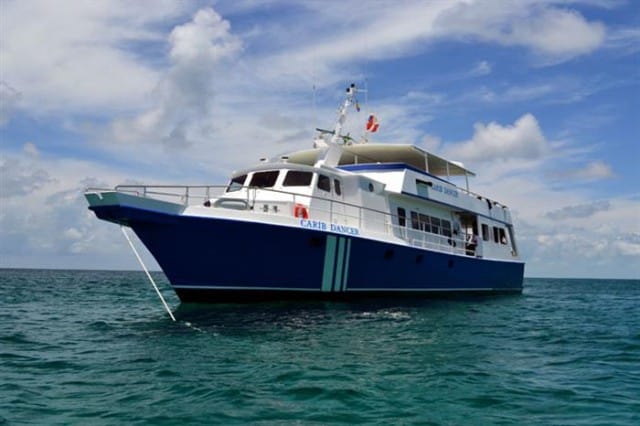 MV Bahamas Aggressor dive boat review
There are few more luxurious dive vessels than the MV Bahamas Aggressor, previously known as the Carib Dancer cruising the Caribbean. She is owned by the long-standing company, Aggressor Fleet, based in the USA, who have worldwide facilities and experience.
The Bahamas are a group of Caribbean islands to the east of America's Miami and Fort Lauderdale coast. 100,000 square miles of luscious blue waters offer a variety of diving experiences; some of the diving in the Bahamas offers swim-throughs and caverns, dolphin and shark encounters, wreck diving, reef and wall diving, as well as simpler, family-friendly diving and snorkeling experiences. There really is something for everyone.
The MV Bahamas Aggressor is 100ft/33m long and 22ft/8m in beam. She is built to Lloyd's Registry and American Bureau of shipping and designed specifically for purpose in accordance with Aggressor Fleet requirements. She has a full compliment of safety equipment onboard and she is lavishly equipped and laid out to meet the needs of scuba divers.
Bahamas Aggressor is slightly smaller in size than some of her immediate competitors cruising the Caribbean water such as the Caribbean Explorer II, Turks and Caicos Aggressor II and Turks and Caicos Explorer. However, while slightly smaller she caters for few guests and, therefore, offers a more intimate holiday experience.
You can check the availability and prices for this Boat here.
Cabins and Boat Layout
Bahamas Aggressor offers berths for 14 guests.
The vessel has 5 'Deluxe Staterooms' onboard. And, for families or a group, 1 'Quad Stateroom'.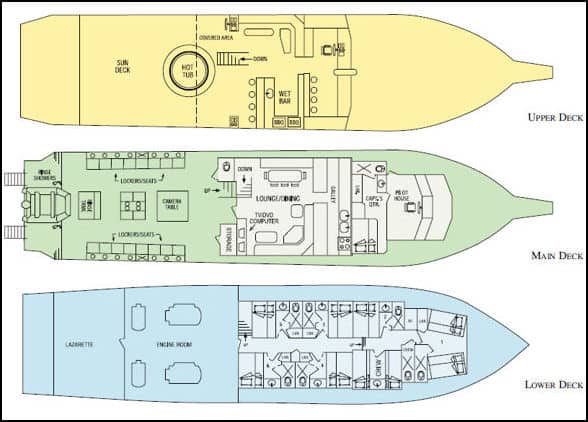 Each Deluxe Stateroom features a lower double bed and has an upper single bunk above. All of these cabins have a private head, shower and port window. In addition there is climate control and a monitor – which has some media playing functions for private viewing in your cabin. The Deluxe Staterooms vary marginally in size but are all of a comfortable size and well-appointed.
The Quad Stateroom is the ideal choice for a group of friends or a family. It's slightly larger to accommodate two sets of twin bunk beds but, otherwise, has the same facilties.
When you're not in the cabin there are numerous other facilities and amenities to enhance your trip.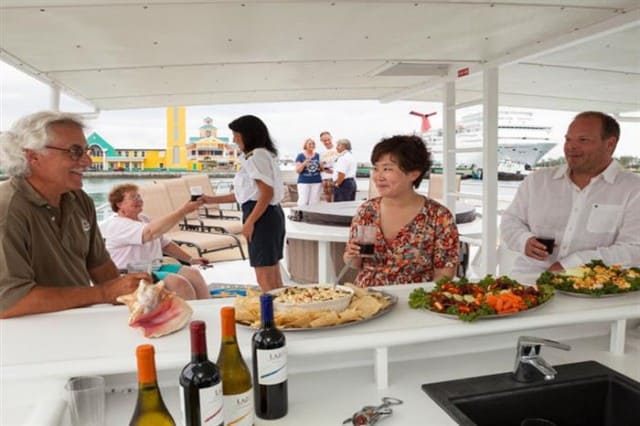 On the main deck there's an tempting salon area with relaxed seating. So, should you wish to escape the sun and read a book in comfort. Or, also in this space you may choose to spend the evening making use of the full entertainment system to watch one of your favourite movies and chat with friends and fellow guests.
Next to the Salon area is a dining area where the onboard chef will provide you with tasty meals that are a combination of local and international flavours. There's a great selection of local beer or wine onboard to unwind with in the evenings when the diving is done. And, as you would expect, during the day there is always water, tea, coffee and soft drinks available to ensure you stay hydrated and ready for action!
Outside on the upper deck is the usual area for those who love to soak up the sun, together with a hot tub and 'wet bar'. What better place to watch the sun set over the amazing Caribbean views with a cold beer?
The crew are highly professional, attentive and always on hand to offer help and assistance as required.
Diving onboard Bahamas Aggressor
The vessel has a nitrox membrane system which provides gas mixes to qualification and dive site; allowing those qualified to extend bottom time and stay fresh. This is a useful addition as up to an incredible 5 dives a day are available.
There are also support dinghies which trail the main vessel which are always on hand to ensure safety and assist with shore excursions.
For all divers there is a camera station, charging points, rinse tanks for your more sensitive equipment and warm water showers. The diving deck is well set out and shaded to allow you to get kitted-up without cooking in the tropical sun.
Itineraries
Itineraries vary depending on the season but are usually 6-7 voyages departing from Nassau, Bahamas, year round.
Expect to pay around EUR1,865 for this length trip. This equates to 235/day. However, please note that this does not include some extras such as port/marine park fees, nitrox and equipment rental. Please contact us for further details.
Where does this liveaboard dive boat go?
Check out the fabulous places where this dive boat travels to.
Note: some destinations may not be listed below, please enquire for more details.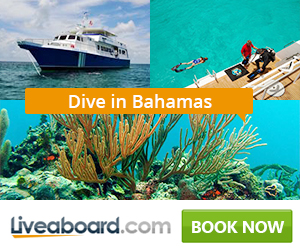 Other Liveaboard Reviews in Bahamas & Caribbean
Dive spots reviews in Bahamas & Caribbean
No dive sites reviews found