If you have dived in Saba before, please share your experiences: Dive spots you would recommend, which Dive Center you used, Fishes & Diving, Visibility, Currents, etc. Please post your comments in the section below, by doing so you will help fellow divers to plan their next trip

For the diver looking for pristine conditions, variety in the dive sites, no crowds and small group diving, then Saba may be the perfect location.
Saba is off the beaten path, but is just a short travel time from an international airport with extensive connections. However, you will not find high rise resorts with thousands of rooms. You will find small cozy hotels, villas and cottages. The island has three dive centers and the largest dive boat holds less than 20 Scuba divers.
In this page you will find more detailed information about scuba diving in Saba.
Photos Saba
Best Dive Review
When we talk about dive site review, we normally see a list of sites and what they offer. The dive sites around this small island each deserve a mention, however, we will select one from the different types of diving.
Eye of the Needle is one of the 5 pinnacles dive sites. A pinnacle or seamount is an underwater mountain that does not reach the surface. Often they are steep. The pinnacles here are five peaks that reach to about 100 feet of the surface. Eye of the Needle reaches to 90 feet so it is a great dive for advance Open Water divers. These dive sites are very rich with large corals and sponges. Sharks and rays often come up from the deeps to be found here among the numerous reef fish. Groupers and turtles make great photo models.

Diamond Rock is one of three dive sites in a protective cove formed between Wells Bay and Torrens Point. This area is shallow with a maximum depth of 80 feet. There are some tunnels and canyons. The area is rich in marine life. The walls are abundant with small corals and sea fans. Diamond Rock dive site is near the edge of the cove and can be subjected to currents. This can create some great drift dives if managed correctly. This change of currents make this site the most rich in marine life of the three spots. Good for snorkeling.

Customs House is one of the five dive sites in the area known as Ladder Bay. The shore around the island is very rocky. Before the port was built, locals used to unload boats within this bay and carried the cargo up steps to the village high above. The stairs are so steep they appear to be a ladder instead of steps. This dive site is about 65 feet deep and is a rectangular reef.

Tent Reef dive site is located on the Tent Reef which has four dive sites. The tent reef dive site starts in 14 feet of water with its deepest point 50 feet. It is a great night dive site with lobsters, turtles, octopus and other nocturnal marine life in large numbers. In the same reef is the Tent Reef Wall which drops to 80 feet.

Greer Gut is one of the Windwardside dive sites. These sites are more impacted by weather and currents. Greer Gut is a 60 foot deep coral reef. Most of the coral reefs around the islands are built on the volcanic rocks, these are built as a true reef. The site as with the others on this side are mostly hard corals.
How to dive Saba?
Scuba Diving in Saba is primarily land base from any of the three dive centers operating on this tiny island. The diving is done from smaller boats with highly personalized service. There are no "cattle" boats. Each dive is catered to the needs of the divers.
There are some liveaboards opportunities to dive Saba. However, they do not depart from the island.
Where to stay?
I usually use this website to book in advance my hotels in Saba as they usually have the lowest rates I find. I like it because it's free to cancel and change the dates.
Best time to dive in Saba
The diving conditions are excellent year round with little variance in air and water temperatures.
The hurricane season running from the beginning of June until the end of November may impact diving at times. Saba is considered within the hurricane belt, however, the last major hurricane was Hurricane Georges in 1998. Saba has been hit 6 times by hurricanes in the last 20 seasons.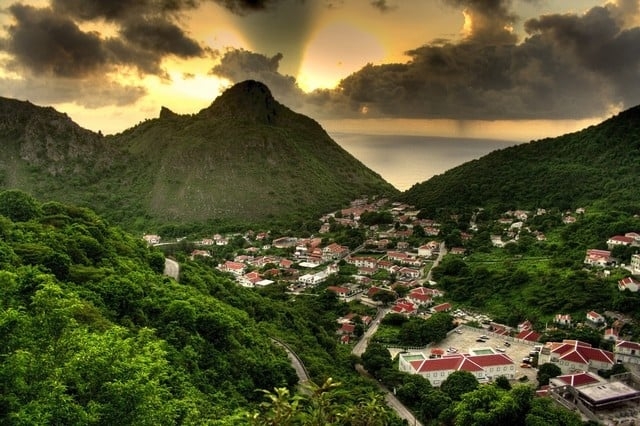 Top liveaboards in Saba according to divers reviews
Dive courses
To get the most out of diving Saba it is best to be an Advance Open Water Diver or Deep Diver as some of the seamounts are at 90 feet. Enrich Air Nitrox is also a good certification to have here. These course are available at the local dive centers.
Scuba Diving conditions
 Saba offers year-round diving with only minor seasonal differences in water temperature and surface conditions. The leeward side is less impacted by storms or winds.
The water temperature varies between 26C and 28C (77F-84F).
Visibility is great and ranges from a minimum of 60 feet (18 meters) to virtually unlimited.
Snorkelling in Saba
There is limited places where you can snorkel from shore and only a few dive sites that are suitable. The waters around Torrens Point and Tent Reef are used by snorkelers.
Fishes and Coral
Diving Safety
If you are planning an upcoming dive trip or travelling to Saba, it is a really good idea to invest in travel insurance for scuba diving, because you never know what could happen and when you might need it (because accidents do happen!). I recommend this diving insurance as they offer worldwide coverage and focus on providing scuba divers a quality insurance and medical assistance service.
For the diver looking for pristine diving with few other divers around, the short trip from St. Maarten is well worth it.
Travel Guide
Now that you know all about the underwater world, you might want to start planning your scuba holiday! Check out our Saba Travel Review for information about how to get there, activities and excursions, where to stay, and more.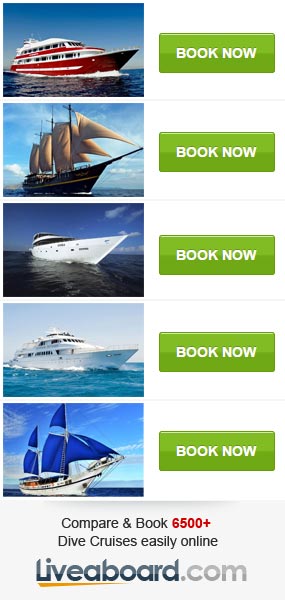 Diving Reviews for this region
Dive spots reviews in Saba
No dive sites reviews found
Liveaboard Reviews in Saba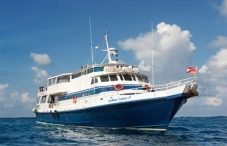 The Caribbean Explorer II departs from e