If you have dived in Turks & Caicos before, please share your experiences: Dive spots you would recommend, which Dive Center you used, Fishes & Diving, Visibility, Currents, etc. Please post your comments in the section below, by doing so you will help fellow divers to plan their next trip

The Turks and Caicos Islands shares the Lucayan Archipelago with the Commonwealth of the Bahamas.
Turks & Caicos Islands is made up of two island groups separated by the Columbus Passage, a 35-kilometre/22-mile-wide channel. Often also called the Turks & Caicos Channel, the passage reaches a depth of over 7000 feet.
Visitors to the islands will find a relaxed environment with an atmosphere that conveys a local feel. Simple accommodations are the most common.
In this page you will find more detailed information about scuba diving in Turks & Caicos.
Photos Turks & Caicos
previous
Lion Fish swimming in crystal clear water

Photo by Agnes Tjandranegara

Two Lion Fish Swimming Blue Ocean

Photo by Agnes Tjandranegara

Barracuda School

Photo by Matthieu Billaud

Two Lion Fish

Photo by Agnes Tjandranegara

Huge Turtle resting on the sea floor

Lion Fish Resting Sea Floor

Turtle Flying To The Surface
next
Best Dive Review
Only eight of the islands are inhabited plus three Boutique islands which only have exclusive resorts. Most of the tourist activities including scuba diving are found on just three of the islands.
Providenciales also just called Provo is in the Caicos island group, while Grand Turk and Salt Cay are located in the Turk island group. Salt Cay is only eight miles from Grand Turk and many of the Grand Turk dive operators will visit the same sites as those on Salt Cay. There are over 40 islands and Cays.
There are hundreds of dive sites between the three dive destinations within the Turks and Caicos Islands. Not only do each of these islands have their own dive spots around them, they each have other cays and islands that provide more sites.
We also need to mention the Silver Bank and the Mouchoir Bank. These banks are visited by liveaboards from the islands. An estimated 2,500 North Atlantic humpback whales spend part of the winter here.
Here are a few that you might want to scuba dive.
Grand Turk's McDonalds not the hamburger franchise but an underwater arch teeming with marine life. The arch also has cleaning stations nearby that large grouper frequently visit.

Columbus Landfall Marine National Park. This national park on Grand Turk is the largest in the Turks & Caicos Islands and includes the largest marine protected area as well. There are 25 moored dive sites within the park, plus additional shore dives and unmoored sites. Scuba Divers will find a mix of reefs and sandy bottoms at a depth of around 30 to 40 feet. The reef extends out about 1,000 feet from shore. There divers will find drop off to thousands of feet. The Amphitheatre is one of the more popular dive sites here.

French Cay is a short distance away from Provo and has many dive sites. The wall here starts in about 40 feet of water and drops to over 6,000 feet. Some sites are sheer will others are sloped. The wall has an east to west orientation allowing the corals and sponges to get maximum sunlight. The sunlight combined with the rich nutrients rising from the depths results in massive growth. Healthy reefs lead to abundant reef fish which attract larger fish. Eagle rays, sharks and occasionally manta rays and hammerheads. Seasonally, French Cay is visited in the January to March by Humpback whales. The waters of the Cay also attract nurse sharks from July to September, their mating season. Visibility is normally around 100+ feet.

Molasses Reef is also dived by the Provo dive operators and is near French Cay. The reef is down to around 55 ft and the wall is vertical. Wall dives will be shared with large sharks and the reef top has many large groupers.

West Caicos – How many dive sites can you fit along a 6 mile long wall? The dive operators have about 25. The wall is close to shore only 100 to 150 meters/yards. The wall is on the leeward side of the island so the water is more protected. With the reef at just 35 to 45 feet, this is a dive destination suitable to all skill levels and is a great introductory wall dive for open water divers. Sharks, rays and sea turtles are common here.

Grace Bay and the Princess Alexandra National Park. The coast here is protected by a barrier reef and provides excellent diving. Here the walls are smaller only dropping to 100 feet/ 30 meters from the 30 foot/ 9 meter deep reefs. Snappers, turtles, groupers, barracuda, and pregnant reef sharks are commonly sighted among huge barrel sponges.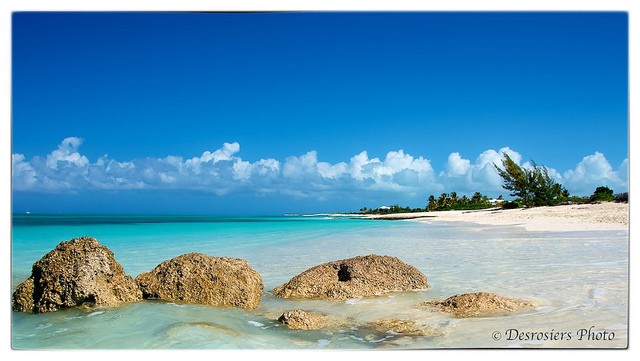 Leaward Beach Turks & Caicos Photograph by Brian Desrosiers Photography
How to dive Turks & Caicos?
Diving in the Turks & Caicos Islands is mostly land based. There are a number of dive operators and dive resorts on the three main tourist destination islands: Providenciales (Provo), Grand Turk and Salt Cay. There are also a few operators on the other inhabited islands. Each of the islands offer something different to the tourist and Scuba divers visiting them. However, all offer outstanding diving.
There is a small number of liveaboard departures from Turks & Caicos Islands. They spend a portion of their time at the more remote banks.
Cruise ship passengers make up a large portion of the visitors to the islands. Divers arriving for a day on a cruise ship will find there is outstanding diving in Grand Turks just minutes away from the ship.
Best time to dive in Turks & Caicos
When is it best time to visit Turks & Caicos Islands is highly subjective.
The weather has little impact on when you should visit. The islands are blessed with an average of 350 days of sunshine each year.
The average temperature from June to October ranges between 85° and 90°F (29°-32°C), with a few days the mid-90s (35°C) in the late summer months. The cooler months of November to May still has an average temperature range of 80° to 84°F (27°-29°C).
Water temperature in the summer is 82° to 84°F (28°-29°C) and in winter is still about 74° to 78°F (23°-26°C).
Peak season for tourist is mid-December to mid-April. Tourism numbers drop sharply after Easter.
The Caribbean hurricane season officially runs from June 1 to November 30, however, the islands are outside of the main belt. The last strong hurricane to strike the islands was the category 4 Hurricane Ike in 2008. The Turks & Caicos Islands on average gets hit by a hurricane every seven years and has one passing near enough to impact the weather every two years. The last hurricane to make land fall in the islands was the category 1 Hurricane Irene in 2011.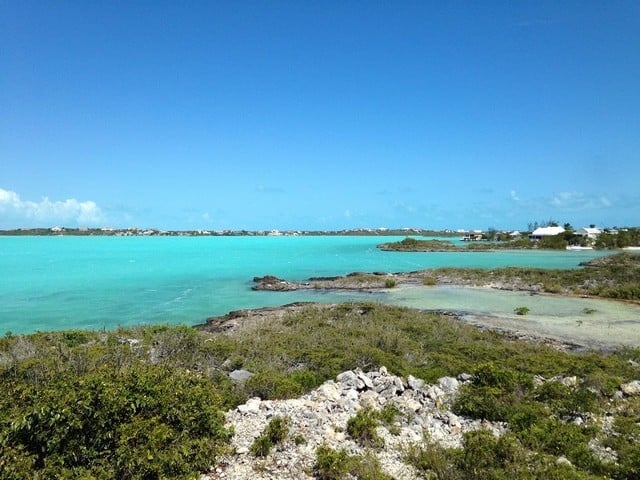 Top liveaboards in Turks & Caicos according to divers reviews
Dive courses
This is a great location for Open Water Diver training. The rich shallow coral reef and the massive amount of marine life makes this a great place to learn. The wall diving can best be experienced by Advance open water divers and Deep divers. Adding those courses to your accreditation here is a great suggestion. If you are not a diver and not sure you want to become certified, there are many options for discover dives.
Scuba Diving conditions
The water conditions are excellence year round for diving.
Water temperatures do not drop below 74 degrees (23 Celsius) and in the summer are in around 82-84 degrees (27-29 degrees Celsius).
Visibility often is beyond 100 feet/30 meters.
Some dive sites may have mild currents. Some dive sites are on the leeward side of an island so surface conditions are always calm.
Snorkelling in Turks & Caicos
The snorkeling is outstanding. There are many locations that snorkeling on a reef is a short swim away from a beach. In February and April humpback whales are often close to shore around Grand Turk and Salt Cay and tour operators will take snorkelers to them.
Fishes and Coral
This is a great place to see a wide range of marine life. Large groupers, sharks and rays are commonly seen as are turtles. Seasonally you will see massive numbers of humpback whales and nurse sharks. Most of the dive sites are pristine with large corals and sponges.
Diving Safety
If you are planning an upcoming dive trip or travelling to Turks & Caicos, it is a really good idea to invest in travel insurance for scuba diving, because you never know what could happen and when you might need it (because accidents do happen!). I recommend this diving insurance as they offer worldwide coverage and focus on providing scuba divers a quality insurance and medical assistance service.
If you like your dive vacations laid back and uncomplicated while exploring pristine reefs and walls this is the place for you.
Travel Guide
Now that you know all about the underwater world, you might want to start planning your scuba holiday! Check out our Turks & Caicos Travel Review for information about how to get there, activities and excursions, where to stay, and more.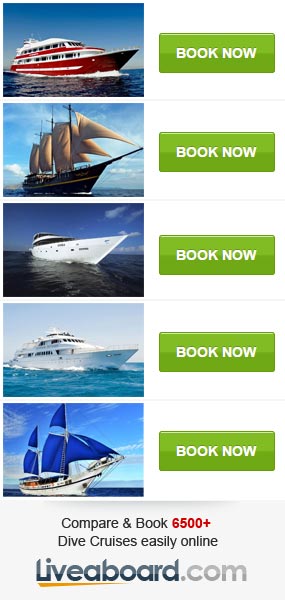 Diving Reviews for this region
Dive spots reviews in Turks & Caicos
No dive sites reviews found
Liveaboard Reviews in Turks & Caicos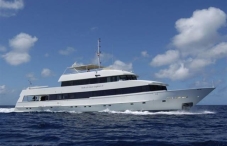 The MV Turks & Caicos Explorer II is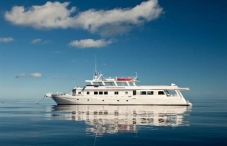 The MV Turks and Caicos Aggressor II is
Diving centers in Turks & Caicos