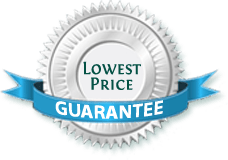 Lowest Price Guarantee: If you can book the same package any cheaper then you will get 100% of the price difference, guaranteed!

Liveaboard Diving in the Maldives
Maldives is a remarkable paradise right here on Earth, located in the Indian Ocean. It comprises of 1,190 islands, beautifully spread around more than 20 atolls. This mesmerizing island is absolutely teeming with rich biodiversity, beautiful sandy shores and surrounded by pristine waters.

The beauty and charm of the Maldives islands and the panoramic underwater sceneries has managed to steal many a heart of those who've had the opportunity to set foot on this little piece of paradise.
I usually use this website to book in advance my liveaboards in the Maldives as they usually have the lowest rates I find. I like it because they have an easy booking system.
Cheap / Low Budget Liveaboards
⇒See all the Budget Maldives Liveaboards here
 Luxury Liveaboards in the Maldives
⇒See all the Luxury Liveaboard in the Maldives
Scuba Divers are enticed into diving in the Maldives because of the regular sightings of pelagic species like dolphins and whale sharks. Manta rays, eagle rays, schools of colourful fish and more than 3,000 coral reefs are also abound.
Due to its unique geography, a moderate to strong current may prevail in most of the dive sites. Therefore, diving in Maldives is not really ideal for absolute beginner divers.
Liveaboard diving is the best way to fully explore the captivating islands only found in the Maldives. It's easier to tour the atolls and discover the best dive spots without being anchored at one particular resort. Most of the liveaboards offer guests a wide range of itineraries designed to get the most out of the popular atolls of the archipelago.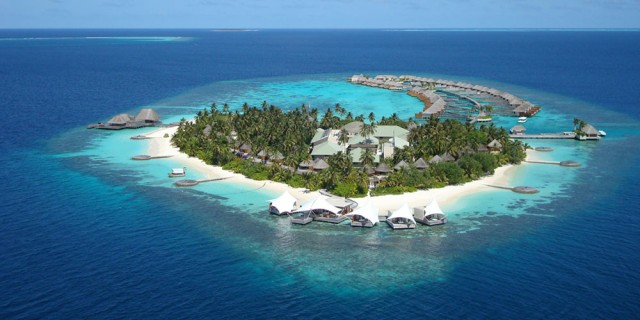 Photo credit: https://www.mymaldives.com/
From a 7 night tour to a 14 night tour, Male Atoll to Ari atoll, Rasdhoo, Baa atoll and so many other different atolls can be covered depending on the duration of the tour.
Maldives Liveaboard routes
There are several liveaboard itineraries in the Maldives that are available all year round and there to suit every different budget.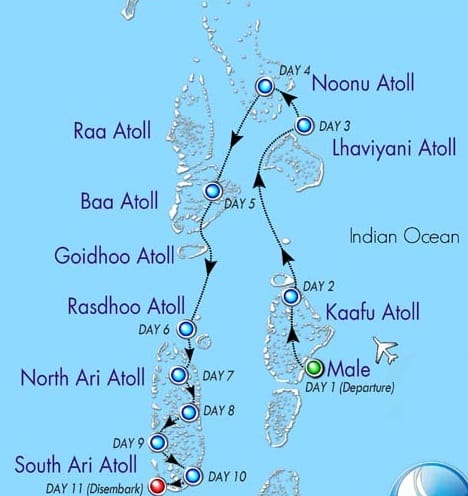 Map credit: http://www.trollada.net/
To give divers enough time to revel in the magnificence of the Maldives, most liveaboards offer four diving itineraries ranging from 7 -14 nights. The classic route departs from Male and starts with scouring the big fish, manta rays and then heads on to explore more areas around Ari and Male atolls.
If you take the central & southern route, the itinerary takes you from Male to the atolls of Felidhe, Mulaku, Thaa and Huvadhoo. Deep channels can be found here which offer scuba divers the opportunity to observe large pelagics such as White Tip Sharks and Hammerhead Sharks.
Taking the central route will bring you to Rasdhoo, Ari, Mulaku, Thaa and Laamu atolls. Several scalloped hammerheads, grey reef and white tip sharks are spotted here. Whale sharks, manta and eagle rays are also frequently seen especially in Laamu atoll. Sometimes an occasional blue whale also surprise divers along the way if you're really lucky!
The Southern route will let you explore the Huvadhoo Atoll in more detail. Reefs found in this atoll are teeming with colourful fish life and interesting marine creatures. Eagle rays are some of the main residents in these atolls.
Or why not head further north? The Northern route provides divers the opportunity to dive around Male, Rasdhoo, Baa, Lahviyani, Noonu and Ari atolls. You will have the chance to snorkel with manta rays at Hanifaru Bay, as well as expect to see a lot of trevallies, jacks, eagle rays and grey reef sharks. Frogfish and the Maldivian sponge snail can also be spotted here. The Baa, Raa and Noonu atolls has become a favorite among underwater photographers since these atolls present a wide array of beautiful marine creatures. Maldives, without a doubt has all the ingredients needed to satisfy even the most adventurous spirits!

Other Destinations you may like