If you have dived in Bunaken, Manado before, please share your experiences: Dive spots you would recommend, which Dive Center you used, Fishes & Diving, Visibility, Currents, etc. Please post your comments in the section below, by doing so you will help fellow divers to plan their next trip

Scuba diving around the Bunaken islands is terrific. The waters around the park are as deep as 1600 meters which gives you the opportunity to experience some of the best wall diving experiences in the world!
Moreover there are a lot of fishes. You can find some rare macro species and maybe spot a manta ray gliding gracefully into the blue. School of eagle rays is also quite common as well as whitetip, blacktip reef sharks and turtles. You can also spot larger sharks like Silvertip shark on some dives sites like Mike's Point.
Photo Credit: http://www.flickr.com/photos/mattkieffer/5287993734/
For the macro lovers, you will find many nudibranchs along the walls, as well as rare species of crabs and plenty of shrimps, perfect for underwater macro photography.
There are more than 30 dive sites so you will not get bored here even if you dive there for two weeks!
In this page you will find more detailed information about scuba diving in Bunaken, Manado.
Best Dive Review
Bunaken is a destination suitable for all level of divers but the steep wall going down to the abyss offers a great opportunity to dive deeper and it is better to be an advanced diver to fully enjoy the dive sites.
On the shallow part of the reef you will always find a superb and colourful coral garden around 4 meters deep and it is a great way to make your safety stop and get last underwater shots. These coral gardens are regarded as the best in the world making it a great playground for snorkelers too.
All of the diving centres are affiliated with a resort so choose carefully your accommodation.
You can also explore this underwater world on a Liveaboard trip that generally combines Bunaken National Park, The Bangka Island and the Lembeh Strait. I usually use this website to book in advance my Liveaboards in Indonesia as they usually have the lowest rates I find. I like it because they have an easy booking system.
The best dive sites are:
See the map below.
Bunaken Sites Map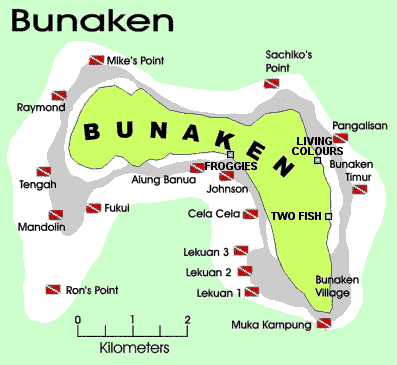 Where to stay?
I usually use this website to book in advance my hotels in Bunaken, Manado as they usually have the lowest rates I find. I like it because it's free to cancel and change the dates.
Best time to dive in Bunaken, Manado
It is possible to enjoy the Komodo marine reserve all year round.
Dry season runs from May to October, average temperature of 30°C. The water visibility is at its maximum and just fantastic up to 50 meters!
Rainy season from November to April, but the monsoon is much less pronounced here than in other parts of Southeast Asia. The temperature is very nice (not too hot) but the water visibility can be affected by the heavy rains.
The best season would be from May to October during the dry season but good diving all year round is possible.
Top liveaboards in Bunaken, Manado according to divers reviews
Scuba Diving conditions
Conditions are most of the time excellent with just a gentle current (but always be careful as it can rapidly change) and an astonishing visibility; It can go to 50 meters and it really something to see! Water temperature ranges all year round from 27 to 29 °C so no need to dive with a full wet suit.
Snorkelling in Bunaken, Manado
Bunaken offers excellent Snorkelling! There are huge Shallow Coral Garden perfect to to observe the teeming reef life. Your resort can arrange for you Snorkelling Day tours to explore the best spots around the Islands. Snorkelling is also most of the time possible directly from the beach but watch out for the current. You can also ask to diving centers if they can take you with them.
Diving Safety
If you are planning an upcoming dive trip or travelling to Bunaken, Manado, it is a really good idea to invest in travel insurance for scuba diving, because you never know what could happen and when you might need it (because accidents do happen!). I recommend this diving insurance as they offer worldwide coverage and focus on providing scuba divers a quality insurance and medical assistance service.
Photos Bunaken, Manado
Travel Guide
Now that you know all about the underwater world, you might want to start planning your scuba holiday! Check out our Bunaken, Manado Travel Review for information about how to get there, activities and excursions, where to stay, and more.

Diving Reviews for this region
Dive spots reviews in Bunaken, Manado
Liveaboard Reviews in Bunaken, Manado
Diving centers in Bunaken, Manado