If you have dived in Anilao, Batangas before, please share your experiences: Dive spots you would recommend, which Dive Center you used, Fishes & Diving, Visibility, Currents, etc. Please post your comments in the section below, by doing so you will help fellow divers to plan their next trip

Anilao is a Marine Protected Sanctuary. It is the best spot in the Philippines for underwater macro photography. Compared to the rest of the world, it is normally ranked for Muck Diving in the top 3 at Third position after the Lembeh Strait in Indonesia and Mabul Island in Malaysia.
Here you will find vibrant and colourful Nudibranchs and a huge variety of Critters like Crabs, Shrimps and Cuttlefish. It is not rare to observe the rather strange looking Hairy Frogfish, Blue-Ringed Octopus as well as Mimic Octopus and Rhinopias. Mantis Shrimp, several species of Gobies and Bobbit Worms are also common encounters. The best place for muck diving is Secret Bay also known as Mainit Muck. This is also a great spot for an exhilirating night dive ;-).

The reef life is thriving and usually quite shallow allowing longer bottom time for Photographers and a perfect spot for Snorkellers to explore. You can have a look to these wonderful underwaters pictures taken in Anilao.
You can also observe Pelagic fishes such as Barracudas, Jacks and Trevallies as well as Reef Sharks which can be spotted in dive sites like Mainit Point.
There is a great variety of wonderful hard and soft Coral too and the conservation efforts are proving to be working well!
There about 40 dive sites around Anilao with the most famous being Sombrero Island, Maricaban Island, Cathedral and Mapating. They are all reachable by a short boat ride.
You can also explore this underwater world on a Liveaboard trip that generally combines the Coron Wrecks, Apo Reef and Anilao. I usually use this website to book in advance my Liveaboards in the Philippines as they usually have the lowest rates I find. I like it because they have an easy booking system.
If you like, there are also day trips available from Anilao to Verde Island for great Wall Diving and even to Puerto Galera.
In this page you will find more detailed information about scuba diving in Anilao, Batangas.
Photos Anilao, Batangas
Where to stay?
I usually use this website to book in advance my hotels in Anilao, Batangas as they usually have the lowest rates I find. I like it because it's free to cancel and change the dates.
Best time to dive in Anilao, Batangas
Diving Season
It is technically possible to dive all year round. However there are certainly better periods than others:
The main diving season in Anilao runs from early November to May.
In July, August and September it is the rainy season and there can even be Typhoons! The sea is usually choppy and the visibility quite poor.
The Water is colder in January and February with temperatures going down to 22°C and 24°C on average.
The peak season and also the best time to dive is during April and May. Dive sites can get crowded during weekends at this time of the year. November is also a very good time to explore Anilao.
The visibility is about the same from November to May and you can expect about 15m and even 20m in a good day ;-).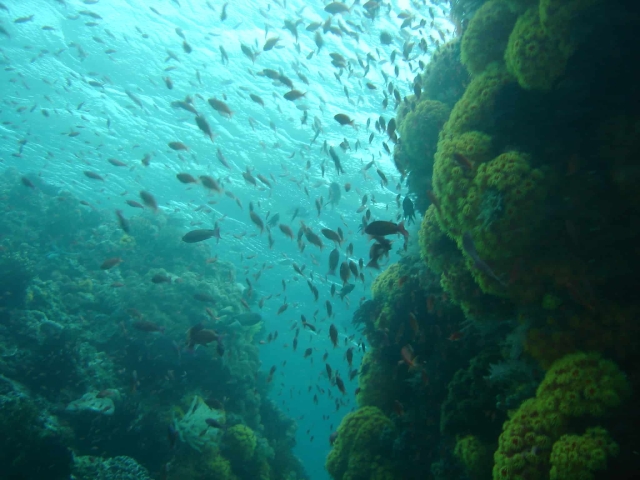 Top liveaboards in Anilao, Batangas according to divers reviews
Scuba Diving conditions
The conditions on many dive sites are easy and ideal to learn scuba diving. However, there can be strong currents at several places like Mainit Point.
Water Temperature: A chilly 24°C on average from November to February and 27°C from March to May.
Currents: Gentle in most of the local dive sites ideal for training – can be strong in certain places.
Visibility: The visibility ranges from 3m to 20m depending on the season and the tide. During the Rainy season (July to September), the visibility is usually poor.
Photo credit: http://www.flickr.com/photos/jayvee/5567326508/
Snorkelling in Anilao, Batangas
It is easy to snorkel off the shore right in front of most of the resorts. The resorts can also arrange a Snorkelling Day tour for you on a boat to show you the best spots around Batangas.
Diving Safety
If you are planning an upcoming dive trip or travelling to Anilao, Batangas, it is a really good idea to invest in travel insurance for scuba diving, because you never know what could happen and when you might need it (because accidents do happen!). I recommend this diving insurance as they offer worldwide coverage and focus on providing scuba divers a quality insurance and medical assistance service.
Travel Guide
Now that you know all about the underwater world, you might want to start planning your scuba holiday! Check out our Anilao, Batangas Travel Review for information about how to get there, activities and excursions, where to stay, and more.

Diving Reviews for this region
Dive spots reviews in Anilao, Batangas
No dive sites reviews found
Liveaboard Reviews in Anilao, Batangas
Diving centers in Anilao, Batangas