If you have dived in Hawaii before, please share your experiences: Dive spots you would recommend, which Dive Center you used, Fishes & Diving, Visibility, Currents, etc. Please post your comments in the section below, by doing so you will help fellow divers to plan their next trip

Hawaii is a dream destination. The white sand beaches, the lush jungles, snow topped mountains and mountains of fire are all a part of the contrast and natural beauty that is Hawaii.
For the diver, wrecks, reefs, pelagic and macro life are just a portion of the wonders. Hawaiian diving is known for its outstanding visibility, warm waters and abundant marine life. There are dive sites perfect for new divers and learning to dive. Other dive sites are strictly for experienced divers and for those looking for a challenge. Hawaii is a destination that is best dived with an experienced local given that at some dive sites the conditions can change rapidly.
In this page you will find more detailed information about scuba diving in Hawaii.
Photos Hawaii
Best Dive Review
The diving around Hawaii is always great, however, some dive sites are seasonal. What may be a perfectly calm dive site in the late summer, might be a world class surfing location in the winter. Trade winds will also impact dive sites with the island protecting one side and not the other.
Kailua-Kona is referred to both as "Kailua" or "Kona" by locals. The weather on this side of the Big Island is almost always dry and sunny. For scuba divers it is known for its magic. There are dozens of dive sites near this west coast city on the Big Island. Each worthy of being on a best of the world list. However, it is the "Blackwater" diving that gives divers a once in a lifetime kind of experience. There is a dive site called "Blackwater" and it is a shallow dive of just about 60 feet. Imagine, you are 3 miles off shore in waters over 400 feet deep and it is at night. So, not only at twilight, but when it's pitch black near midnight, with no man made lights. You are tethered to the dive boat so that you do not get lost or go too deep. Here you will see that the ocean at night is not dark. Marine life with biollumination will appear around you.
Golden Arches – Another dive site on Big Island, this one features lava arches. A short swim through accompanied by schools of fish. Dolphins are also found here frequently.
The Cathedrals, Lanai – There are two dive sites Cathedral 1 and Cathedral 2. These sites have been called both dual pinnacles and lava tubes. The depth of the dives range from 15 to 65 feet. Outside of the pinnacles are great wall dives, but the main attraction are the lava tubes. The roofs collapsed, allowing light and access from the top. There is a 20 foot difference between the top of the lava tube and the bottom. The two sites get their names from the way the light plays through holes and the high ceiling creating a feeling of stain glass windows and cathedral ceilings. Sections of the site can be classified as caverns, and some experience could be required to dive these sections. While just off Lanai, this site is often dived from Lahaina, Maui.
Molokini Wall: Molokini Crater is a protected area about 40 minute boat ride from Maui. There are a few different dive sites at the crater. The Molokini Wall is a world class wall and drift dive for certified divers only. The Wall is approximately 280ft in depth, however, divers will level off at 80 ft or less. Currents are generally mild just enough to made a great drift. Sharks are common, with plenty of black tip, white tip, and gray reef sharks. Manta rays, turtles, dolphins, and schooling fish are also normally seen.
Black Rock: The Black Rock point in Maui is a popular tourist attraction. It's color and sheer face is breathtaking. It is also considered one of the top five shore dives in the United states and one of the best snorkeling sites as well.
How to dive Hawaii?
Hawaii has a rather limited liveaboard industry with only one major liveaboard, the MV Kona Aggressor. At first glance this seems strange as there are so many islands to choose from and traveling by boat seem just the perfect way to travel between them.
However, each tourist island offers such a variety of dive sites and thrills, you can stay a week and not even repeat any dive site. Also, the land based activities are totally worth your time while you visit Hawaii.
Best time to dive in Hawaii
Diving is available year round in Hawaii. However, the surface conditions in winter will make some dive sites closed.
Peak Season (December – March): December through March is Hawaii's peak/high season, especially around the Christmas and New Years holidays. Couple and retirees dominate this time of year except for the holidays. The surf is highest in the winter months so some dive sites may be unavailable. However, this is the best time to interact with whales.
Low Season (April through mid-June, September through mid-December): Spring and fall are the best time to travel in Hawaii from the cost viewpoint. For the scuba diver, the water is calmer at this time and the weather is great. Visibility is also at its best. Avoid Easter week and Thanksgiving week, as these are often crowded and prices tends to be higher.
Summer (Mid-June through August): From mid-June through the end of August, Schools are out in the US so many families travel. While hotels and attractions will be less crowded and a better value then the high season, there will be more beach goers as more families travel during peak season.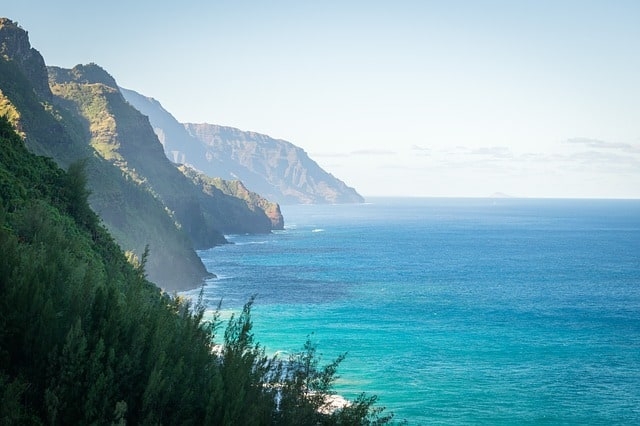 Top liveaboards in Hawaii according to divers reviews
Dive courses
Hawaii is a great place to get your Open Water level, or to add to your current certifications. Most of the dive sites are reached by boat so the Boat Diver specialty is a good choice if you are not experienced diving from a boat.
PADI Deep Diver and PADI Wreck Diver courses for diving on the deeper wrecks. You might be overwhelmed with the different types of marine life you will encounters so consider taking the AWARE, which is a fish identification course.
Scuba Diving conditions
While this is a tropical destination, the deep waters do not allow the surface water temperatures to rise as much as you would expect. Still, you will find a comfortable average of 23-27°C/74-80°F during the year.
Also, the nearby deep waters means good visibility. You will seldom find dive sites with less than 10 meters/30 feet of visibility. Many sites are known for having an outstanding visibility going beyond the 30 meters/ 100 feet.
Currents are fairly well known, and predictable. You will rarely encounter a current that a local dive guide could not predict.
Snorkelling in Hawaii
The Hawaiian Islands are surrounded by fringing reefs and the coast line forms many protected bays. These conditions lead to some great snorkeling. The beautiful beaches are great for sun bathing and most are equally great for snorkeling. Indeed, with shallow waters and a good visibility, you're all set for some fun.
Fishes and Coral
In Hawaii, you can experience the Manta Ray night dives, which are among the best dives in the world. Also, humpback whales migrate here in the winter to calf their young. Plus, as there are fringing reefs around volcanic mountain tops, the waters are deep and this means that large pelagics are nearby. The reefs are healthy, so they support a wide range of tropical marine life.
Diving Safety
If you are planning an upcoming dive trip or travelling to Hawaii, it is a really good idea to invest in travel insurance for scuba diving, because you never know what could happen and when you might need it (because accidents do happen!). I recommend this diving insurance as they offer worldwide coverage and focus on providing scuba divers a quality insurance and medical assistance service.
Since the time of the first contact by western man, the Islands of Hawaii have become a land of awe and attractions. Indeed, it's definitely one of the most popular tourist destination in the world, and it is equally a well sought after destination for scuba diving. Indeed, beginners and experts will both find the dives sites of Hawaii to be great and full of new thrills.
Travel Guide
Now that you know all about the underwater world, you might want to start planning your scuba holiday! Check out our Hawaii Travel Review for information about how to get there, activities and excursions, where to stay, and more.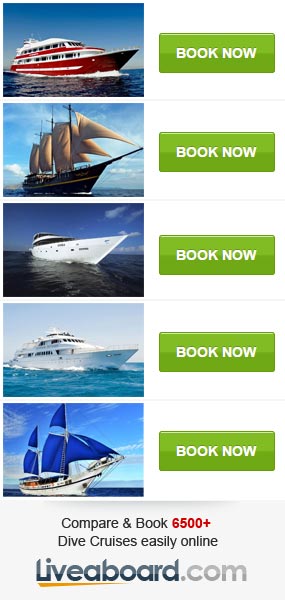 Diving Reviews for this region
Dive spots reviews in Hawaii
No dive sites reviews found
Liveaboard Reviews in Hawaii