If you have dived in Baja California, Mexico before, please share your experiences: Dive spots you would recommend, which Dive Center you used, Fishes & Diving, Visibility, Currents, etc. Please post your comments in the section below, by doing so you will help fellow divers to plan their next trip

The Baja California Peninsula stretches north to south some 1250 kilometres/775 miles from near the US-Mexico border to Cabo San Lucas at its southernmost tip. There are three distinct regions: in the north, winter cold fronts bring fog and higher precipitation, the central zone is arid desert and the south experiences late summer tropical rains.
The waters of the Baja Peninsula are full of life and scuba diving opportunities abound. Diving is available on the Pacific Ocean side and within the Gulf of California, also called the Sea of Cortez. There are over a dozen dive destinations in the Baja Peninsula, some only accessible by liveaboards. Some of the destinations are focused primarily on scuba diving and maybe some fishing.
Many divers head to the southern reaches especially La Paz and Cabo San Lucas which are very active destinations. Having a strong tourism infrastructure, visitors will find it easy to enjoy the diving and other activities of this destination.
In this page you will find more detailed information about scuba diving in Baja California, Mexico.
Photos Baja California, Mexico
Best Dive Review
The Baja California Peninsula has a wide range of dive destinations. To select your diving destination it helps to decide if a liveaboard experience is to be a part of your plan. You can of course have the best of both worlds, take a liveaboard one week and stay land based for another.
Guadalupe: Isla Guadalupe is a volcanic island located 241 kilometres (150 mi) off the west coast of Mexico's Baja California Peninsula and some 400 kilometres (250 mi) southwest of the city of Ensenada. The island has no tourism infrastructure and only a couple hundred fisherman who make the island their home most of the year. This island is past the continental shelf so it is surrounded by deep water. The draw her are the Great White Sharks. The diving here is cage diving. Some of the cages are available on the surface, while others are lowered to 30 feet. North Elephant seal and Guadalupe Fur seals, Are also common in the water here. Ensenada is the most common departure point for liveaboards traveling to Isla Guadalupe. Some companies do meet their guest in San Diego and provide land transportation to the liveaboard.
Ensenada: Located just 70 miles from the American Mexican border at San Diego, Ensenada is a diving and tourism destination in its own right. Along the coast to the north and south are some smaller towns with outstanding diving.

Puerto Peñasco (aka Rocky Point): It is on the mainland side of the Gulf of California. It is about 70 miles from the American Mexican border near Arizona. The closeness to cities in Arizona make this a popular tourism destination as well as a dive destination. While many will say that the diving is not as good here as in the lower portions of the gulf, the area does have those who love it. You will find a goo variety of marine life and a wide range of conditions. There are also a number of good quality shore dive sites.

Bahia de Los Angeles: Is not a huge tourism destination. In reality it is a small fishing village of 1000 people that lies nestled between the rugged Sierra San Borja Mountains and the sparkling waters of the Gulf of California. Those sparkling waters hold a magnitude of marine life, and from June to November whale wharks are found in large numbers.
The Socorro Islands: Also called Revillagigedos Islands is a liveaboard destination generally reached by way of Cabo San Lucas. Sharks and mantas along with outstanding underwater seascapes are the draw here. Vast schools of hammerhead sharks and Giant mantas many with wingspans up to 6 metre/20 feet are seen on most dives. Galapagos and whitetip sharks are also common. Humpback whale and whale sharks are seasonal visitors. Expect visibility of over 100 feet.
La Paz: Located just a few hours drive from Cabo San Lucas, La Paz is both an exciting tourism destination and an outstanding dive destination. Along with a number of smaller dive destinations near to it, it has outstanding diving year round. This is one of the most popular tourism and diving destinations in the southern Baja California.
Cabo San Lucas: Cabo is one of the leading tourism destinations in Mexico. Located at the very tip of the Baja Peninsula where the Pacific Ocean and the Sea of Cortez meet it offers an interesting range of diving for divers of all skill levels.
How to dive Baja California, Mexico?
Baja California is a dive destination that deserves extra time. The locations that are reached only by liveaboards is some of the best diving in the world. That said, the land based diving is also outstanding. So if at all possible, plan on doing both.
Best time to dive in Baja California, Mexico
There is diving along the coast of the Baja Peninsula year round however, the conditions can vary greatly between locations. Surface conditions in the winter months in the northern sections are best for experienced cold water divers.
Around the southern portion of the Sea of Cortez, you can pretty much dive year-round. The months between June and November are the very best time of the year to visit the area. September and October brings seas that are flat and visibility peaks at 60 feet or more. The surface temperature is often around 85°F, but beware, the region is known to have a thermocline. It's advised to wear at least a full 3 millimeters wet suit, even the the sea surface water seems warm enough not to.
Furthermore, if you dive there in winter, even the surface water temperatures will be much cooler (65 to 70°F), so you'll need a 5 mm or 6 mm full wet-suit with hood and gloves.
The visibility also drops to an average of 30 to 50 feet during the winter months. This is due to plankton blooms, which is what brings gray whales and whale sharks around!
As for the Guadalupe season, it's mostly between the months of August to October. Indeed, the ocean is then calmer and sea temperatures are colder, around 66 to 72°F (19°C to 22°C). October is the month which has higher chances of rain. The focus diving here is cage diving with Great Whites. The Great Whites, tuna, Guadalupe fur seals and sea lions are most frequently sighted during this period.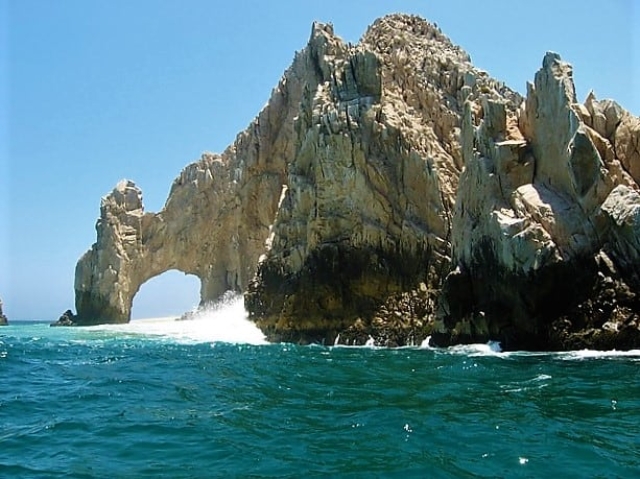 Top liveaboards in Baja California & Mexico according to divers reviews
Dive courses
This area is great for all skill levels making it also a great place to learn to dive and advance your diving knowledge. If you are not an underwater photographer, here would be a great place to learn. The marine life will often come close to see what you are doing.
Scuba Diving conditions
The section on the weather does tell you a great deal about the diving conditions as well.
Water temperature stays fairly steady, averaging 55°F to 75°F in Baja Norte, and 70°F to 84°F along the Sea of Cortez) and there is excellent water visibility in the summer and autumn months between July and October.
Thermoclimes may be present so a little heavier exposure suit may be needed at some dive locations. Even in the winter months, the visibility is still very good most of the time. Conditions along the Pacific Coast are more unpredictable and it would be best to consult with a local dive center to get information about seasonal local conditions.
Snorkelling in Baja California, Mexico
If you exclude the liveaboard destinations you will find that each of the dive destinations has outstanding snorkeling opportunities. Snorkeling with whale sharks and the sea lions are very exciting outings.
Fishes and Coral
Both the Pacific Ocean and the Sea of Cortez offers an astonishing assortment of marine life. Both areas excel in pelagic offerings. Whales Sharks, humpback whales, seals and sea lions are highlights for most divers.
Diving Safety
If you are planning an upcoming dive trip or travelling to Baja California, Mexico, it is a really good idea to invest in travel insurance for scuba diving, because you never know what could happen and when you might need it (because accidents do happen!). I recommend this diving insurance as they offer worldwide coverage and focus on providing scuba divers a quality insurance and medical assistance service.
Both the Yucatan Peninsula, on the east coast, and the west coast of Mexico offer outstanding diving. The Baja experience is often more rustic with a wider range of challenges. Still it has great diving for novice divers as well. The liveaboard experience is different then what you will find in the Caribbean: more isolated and a great thrill level.
Travel Guide
Now that you know all about the underwater world, you might want to start planning your scuba holiday! Check out our Baja California, Mexico Travel Review for information about how to get there, activities and excursions, where to stay, and more.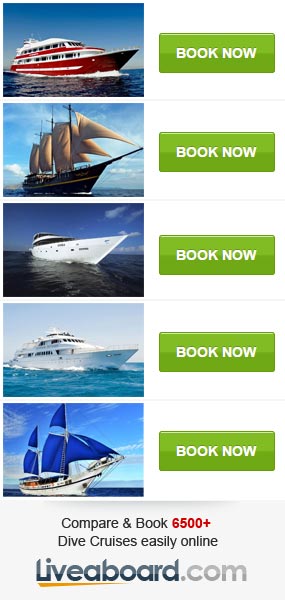 Diving Reviews for this region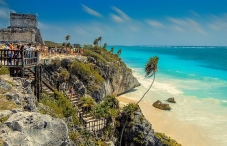 Mexico's Yucatán offers outstanding reef diving, wall dives, drift dives and the largest underwater art museum in the world.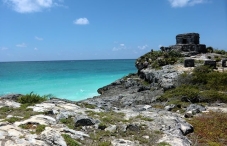 Mexico offers divers choices, Great liveaboards and large marine life encounters in the west, great reefs and cenotes in the east
Dive spots reviews in Baja California & Mexico
No dive sites reviews found
Liveaboard Reviews in Baja California & Mexico
Diving centers in Baja California & Mexico