If you have dived in Fiji before, please share your experiences: Dive spots you would recommend, which Dive Center you used, Fishes & Diving, Visibility, Currents, etc. Please post your comments in the section below, by doing so you will help fellow divers to plan their next trip

Scuba Diving in Fiji is outstanding. Jean-Michel Cousteau has been quoted as calling Fiji the "Soft Coral Capital of the World" and it is here that he created his first dive resort.
Three hundred and ninety species of soft and hard corals plus over 1200 fish species have created what may be the most colorful reefs in the world. An underwater topography that has caverns, canyons, swim-through, incredible wall dives, and frequent shark encounters entices divers from the palm lined beaches of white sand. Fiji is the perfect pacific island getaway.
In this page you will find more detailed information about scuba diving in Fiji.
Photos Fiji
Best Dive Review
Fiji, just the name brings forth visions of tropical perfection. The crystal clear waters, palm trees, a slow relaxed atmosphere, it is truly one of the last spots of paradise on earth.
The reality is that there is much more to Fiji than the movies have revealed to us. Fiji is a vast archipelago centered around the Fiji Platform and the Lau Ridge. These two geological features shape the islands of Fiji. It is a country with a rich culture and an amazing amount of diversity.
The majority of the country's population reside on the two main island, Vitu Levu and Vanua Levu. Both are large and mountainous. The other islands, generally referred to as the outer islands are smaller often just sand splits or coral cayes.
The Fijian archipelago is host to a number of barrier reefs with their lagoons, fringing reefs and patch reefs. Viti Levu has a fringing reef that is 100 kilometers long along its southern coral coast. The Coral Coast represents one of the premier diving destinations within Fiji. The Yasawa island Group sits on the Great Sea Reef which continues on to near Vanua Levu. At 200 kilometers long the Great Sea Reef is Fiji's largest Barrier Reef and is the third largest barrier reef in the world. Some other areas of interest to scuba divers include:
Bligh Waters: This area between the two main islands is what gives Fiji the reputation of the soft coral capital of the world. The current flow from the depths bring nutrient rich waters to the barrier and fringing reefs. This is a great location that is visited by the liveaboards frequently.
Great Astrolabe Reef, Kadavu: This barrier reef is also renown for the soft coral gardens and the tropical fish that lives there. Channels and passages create awe inspiring dive sites. Manta Ray encounters are common.
Beqa Barrier Reef: Beqa Island and the lagoon it is in is a very popular dive destination. Often called "The Mecca of Pacific Diving", Beqa Lagoon (pronounced Benga), lies just south of Viti Levu, it can be dived from Beqa island, Viti Levu or liveaboards. The lagoon is formed behind the barrier reef.
Shark Reef Marine Reserve, Pacific Harbour. Consider by many as the best location in the world for shark encounters.
Somosomo Strait, Taveuni: Another destination known for its soft corals. Great wall dives are supplemented by coral tunnels and large pelagics.
How to dive Fiji?
One of the hardest items about planning a diving trip to Fiji is settling on where you want to dive. While many people think of Fiji as one destinations, there are over a dozen different destinations within the Fiji islands and many of those offer a number of different islands.
If you took the time to count all of the known dive sites the numbers would be in the thousands, and that is not counting dives that are just, "hey this look good let's dive" places which are everywhere.
You also have a range of choices based on comfort level. Fiji has a number of excellent budget accommodations and is known to have some of the best luxury resorts in the world. Adding to that is the choice that a liveaboard offers you.
The liveaboards that sails in Fiji rate as some of the best in the world. They can bring you to a range of dive sites that are beyond the range of a single resort, however, you may miss out on some of the unique cultural aspects of the Fijian people. This is one destination that I would highly recommend an extended vacation that included both land based resort diving with a far ranging liveaboard.
Where to stay?
I usually use this website to book in advance my hotels in Fiji as they usually have the lowest rates I find. I like it because it's free to cancel and change the dates.
Best time to dive in Fiji
As you read about Fiji, the question of when the best time to visit is always mentioned. The answers are always about the same, whenever and as often as you can.
November to late March is considered the rainy season/ typhoon or cyclone season/ winter. However, many divers enjoy diving at this time of the year. The air and water temperatures are still very warm and on most days the rain is short lived and does not make much of an impact. Typhoons do happen but are not long lasting. This is the low season and resorts may offer much better rates and be nearly empty. This is not a reflection on the desirability of visiting Fiji, more a reflection of the vacation seasons of Aussie's who make up much of the summer crowd.
May to October is seen as the summer season and is also the peak season for tourism.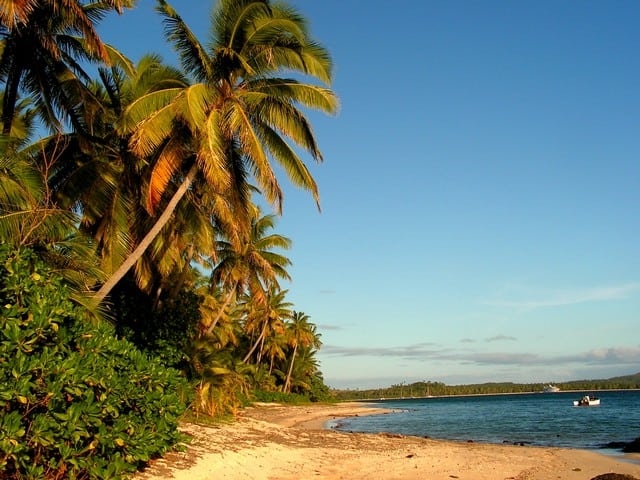 Top liveaboards in Fiji according to divers reviews
Dive courses
Fiji is a great place to learn how to dive. There are many dive sites that are well suited for Open Water Diver training. The currents are what open up the soft coral giving the vibrant  colors, so this is also a great place to take your drift diver certification.
Scuba Diving conditions
The waters remain a warm bathwater temperature of 77 to 82 degrees year round. The wet season brings "poor" visibility, poor here means around 60 feet. In the dry season visibility is over 100 feet. Certain areas with deep currents such as Blight passage has visibility over 100 feet all year round.
Snorkelling in Fiji
Snorkeling site abound around the Fiji islands. Most resorts will have reefs off their beaches that will be perfect for snorkeling. With the great visibility, many of the calm water dive sites are also available for snorkelers.
Fishes and Coral
Three hundred and ninety species of soft and hard corals plus over 1200 fish species are found in the waters around Fiji. This backdrop plus the large pelagics that are attracted to them is wht divers come to see
Many species of sharks – the most common seen on most dives are white-tip reef, black-tip reef, silvertip, bull, tiger,and leopard
Dolphins
Turtles
Smaller marine life: While Fiji is known for it's great visibility, there are places that draw muck divers. These divers and macro photographers are looking for the smaller marine life which is also found here in abundance.
Diving Safety
If you are planning an upcoming dive trip or travelling to Fiji, it is a really good idea to invest in travel insurance for scuba diving, because you never know what could happen and when you might need it (because accidents do happen!). I recommend this diving insurance as they offer worldwide coverage and focus on providing scuba divers a quality insurance and medical assistance service.
Fiji is most people's idolized version of paradise on earth. Here scuba divers will find great visibility and extensive soft and hard coral gardens along with thousands of reef fish.
Lovers of large pelagics will not be disappointed as many consider Fiji the best place in the world for shark diving. Whether you do your diving from a land based resort or from a liveaboard, you are looking at some of the best dive sites in the world.
Travel Guide
Now that you know all about the underwater world, you might want to start planning your scuba holiday! Check out our Fiji Travel Review for information about how to get there, activities and excursions, where to stay, and more.
Diving Reviews for this region
Dive spots reviews in Fiji
No dive sites reviews found
Liveaboard Reviews in Fiji