If you have dived in Costa Rica before, please share your experiences: Dive spots you would recommend, which Dive Center you used, Fishes & Diving, Visibility, Currents, etc. Please post your comments in the section below, by doing so you will help fellow divers to plan their next trip

Costa Rica is a nature lovers paradise. The country is one of the leading Eco-tourism destinations in the world. The county's jungles is one of highest bio-diversity area on the Planet. While the mountains and the seashore attract many, the undersea world is not forgotten either. The majority of Costa Rica scuba diving industry is located on the Pacific coast or around off shore islands in the Pacific Ocean. This Pacific diving attracts divers to some of the best diving in the world.
In this page you will find more detailed information about scuba diving in Costa Rica.
Photos Costa Rica
previous
Huge Hammerhead Shark patrolling the reef in French Polynesia

Flying Ray Manta in Bali!

Turtle Playing With Divers

Photo by Matthieu Billaud

Turtle Swimming Back View

Photo by Matthieu Billaud

Turtle Swimming Or Flying

Photo by Matthieu Billaud

Manta Ray Flying Viewed From Side

Manta Ray Closeby

Photo by Matthieu Billaud
next
Best Dive Review
The West coast of Costa Rica is separated into three main areas. These are Guanacaste province in Northwestern corner of the country and Puntarenas which is separated into North Puntarenas which is the central western coast and South Puntarenas the southwest coast.
Cocos Island which is some 36 hours away by boat from the coastline is the fourth area that attracts divers.
Cocos Island National Marine Park. The Cocos Island National Park is located 550 km (342 mi) off the coast of Costa Rica. It became a National Park in 1978 and a UNESCO World Heritage Site in 2002. The island is uninhabited except for a few Park Rangers and there are no accommodations for visitors and no airport. Access to the island is at the discretion of the Park Rangers. Such conditions mean it is mostly just a few diving liveaboards that travel here. The waters around the islands are very deep rising up to a seamount that Coco Island and other nearby islands and outcrops are a part of. These conditions bring nutrient rich cold water to the surface supporting abundant marine life. It also brings a wide variety of sharks and other pelagic species. Scientist use a term called biomass to evaluate the concentration of marine life. It is an evaluation of the weight of the marine life in a column of water. So the bigger they are and the more there are the higher the biomass. The area around Cocos Islands has the second biomass in the world. It is over 5 times higher than the Caribbean Sea, and second only to the region around Wolf and Darwin islands in the Galapagos Islands. You will find massive schools of sharks and other marine life.

Caño Island – Many people call Caño Island the mini Coco Islands, as it offers some of the same diving thrills that the distant Coco Islands provides, however, on a smaller scale. Isla del Caño is a protected marine park about 10 miles from Punta Llorona on Península de Osa in South Puntarenas. Some of the dive centers operate from Drake Bay just 13 miles the island. Being off shore of a lightly developed area the visibility is not impacted by run offs or pollution. Visibility that extends beyond 80 feet is common. Turtles and dolphins are some of the most friendly species you will find in these waters often joining divers to see what is going on. A number of different species of sharks including the seasonal whale sharks can be found here along with different marine mammals. The coral reefs are teeming with life. Divers can also enjoy other nearby sites including wrecks and those site in Drake Bay itself.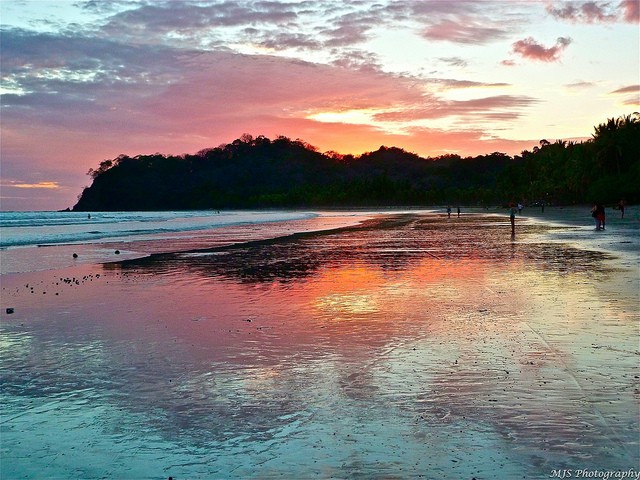 Sunset on the Nicoya Peninsula. Photo by Marissa Strniste
Nicoya Peninsula– Located in the far north of North Puntarenas, the Nicoya Peninsula offers divers the chance to dive the Pacific or in the Gulf of Nicoya. Scuba diving is centered around Mal Pais and Santa Theresa area and near Montezuma. The Tambor airport serves this area.

Catalina Islands – This off shore group of islands are reached from Playas del Coco in the Guanacaste region of Costa Rica in about 30 minutes. There is a great deal to draw divers to the area, but, it is the underwater landscape that gets the most attention. Scuba Divers will find arches, caverns and caves among the coral covered volcanic rock formations. The marine life is plentiful and sharks and marine mammals are in abundance. Currents can at time make this an area for only experienced divers. While the Catalina Islands provides outstanding diving, the local diving along the coast is also note worthy.

Bat Island – Also in the Guanacaste region of Costa Rica, Bat Island is a little more isolated about an hour boat ride from the dive shops nearby. Currents make this site more suitable for advance divers and mostly done with drift dives.
How to dive Costa Rica?
Land based resorts and scuba diving liveaboards both have their place in Costa Rica.
Coco Islands is strictly liveaboard diving. While the Bat Islands can be dived from land base resorts, a liveaboard may be a better choice if you wish to dive there more than one day.
The Catalina Islands do have a few liveaboards, mostly as a segment of vessels going to the Bat Islands, but most of the diving is done from land based operators. Nicoya Peninsula offers great land based diving and has a number of shore dive sites.
Where to stay?
I usually use this website to book in advance my hotels in Costa Rica as they usually have the lowest rates I find. I like it because it's free to cancel and change the dates.
Best time to dive in Costa Rica
Scuba Diving is available year round with air temperatures around 27°C/82°F in winter and 33°C/92°F in summer. The diving is great all year.
The country has a dry season from December to April and the wet season is from May to November.
The Rainy season is not constant rain. The mornings are usually sunny and rain can be expected in the afternoons. Serious divers find that the rainy season is generally better. Bull sharks are found in large numbers around Bat Islands then.
Along the Pacific side the wet season also brings any migratory pelagic to the area. Also there are fewer general tourist, so shops are not as crowded and accommodations have lower prices.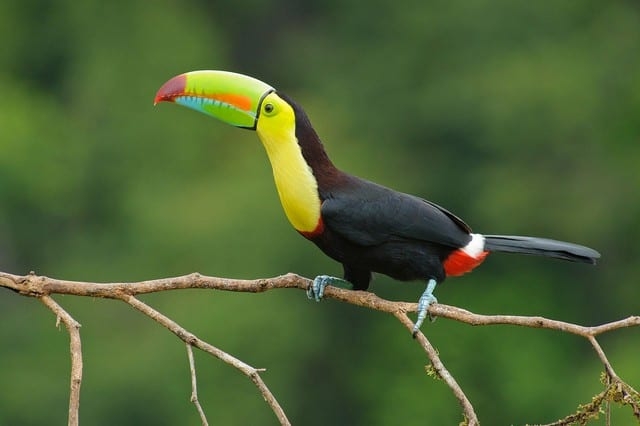 Top liveaboards in Costa Rica according to divers reviews
Dive courses
The dive centers around the Guanacaste mainland and the Nicoya Peninsula are best for Open Water Diver Training. Those wishing to learn drift dives and cavern diving can find that training around both Catalina and Bat Islands. Cocos and Caño Islands trip only offer specialties for experienced divers.
Scuba Diving conditions
The water temperatures hover around 26-29ºC/78-84ºF most of the year. Cooler currents, from December through March, may bring water temperatures down as low as 19ºC/68ºF. This cooler water however does bring humpback and pilot whales, manta rays, whale sharks, and many more migratory animals.
Visibility is 15-30 meters/50-100 feet with better visibility in the remote islands and from June through September.
Currents are also stronger at the islands.
Snorkelling in Costa Rica
There are many dive sites on the Nicoya Peninsula and the Guanacaste coast line that are great for snorkeling. The off shore islands have conditions that are not as well suited for snorkeling.
Fishes and Coral
Year round you will find manta and eagle rays, bull sharks, turtles, white-tipped reef sharks, grunts jacks, dolphin and other marine mammals. January, February and March you can hear often hear the calls of humpback and pilot whales while diving and may see a few. Humpbacks are also found in June and July as they migrate from the southern hemisphere.
Diving Safety
If you are planning an upcoming dive trip or travelling to Costa Rica, it is a really good idea to invest in travel insurance for scuba diving, because you never know what could happen and when you might need it (because accidents do happen!). I recommend this diving insurance as they offer worldwide coverage and focus on providing scuba divers a quality insurance and medical assistance service.
The diving in Costa Rica is outstanding and offer something for everyone. A few destinations within the country are best for experienced divers and these are best dived with a liveaboard.
Travel Guide
Now that you know all about the underwater world, you might want to start planning your scuba holiday! Check out our Costa Rica Travel Review for information about how to get there, activities and excursions, where to stay, and more.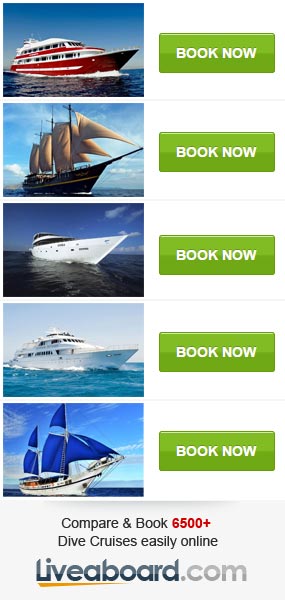 Diving Reviews for this region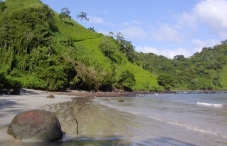 "The most beautiful island in the world." and The world's most remote diving destination with regular liveaboard service.
Dive spots reviews in Costa Rica
No dive sites reviews found
Liveaboard Reviews in Costa Rica
Diving centers in Costa Rica