If you have dived in Eilat before, please share your experiences: Dive spots you would recommend, which Dive Center you used, Fishes & Diving, Visibility, Currents, etc. Please post your comments in the section below, by doing so you will help fellow divers to plan their next trip

Most of the Dive sites are reef sites and all recreational diving spots are reachable right off the shore. There are practically little to no boat dives in Eilat as the dive territory is quite small and the slope drops off so close from the shore meaning that in a few minutes you can reach depths between 20 to 40 meters.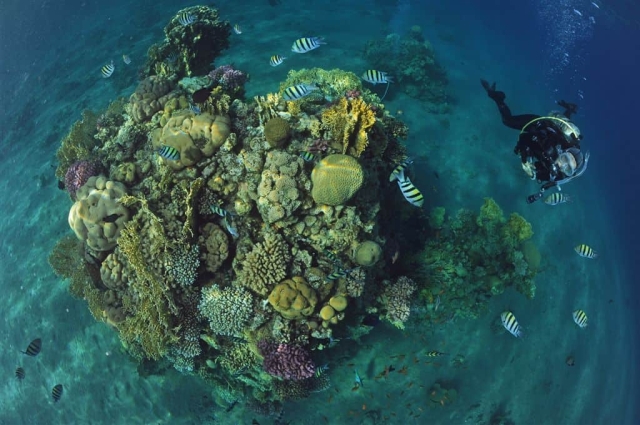 Coral Reef © Nicolas Barraque
A very interesting dive site is the Nature Reserve where Joshua and Moses Rocks are located. Moses rock is a big coral head: it's a magnificent reef containing an exceptional bio-diversity.
At the end of the Nature Reserve starts the Japanese Gardens that you are only allowed to access by boat. It's a really beautiful site, well preserved with a slope going to 50 meters and more. The visibility is usually great and only a few people are usually diving this site.
There is also the site of Neptune Tables where you can see very old tables of Acropora corals ranging between 15 to 40 meters depth with abundant aquatic life.
There are few wrecks in Eilat. The top one is the Satil, a former "Vedette of Cherbourg", very well preserved. This missile boat is about 45 meters long and lies between 20 and 25 meters depth with a lot of soft corals around.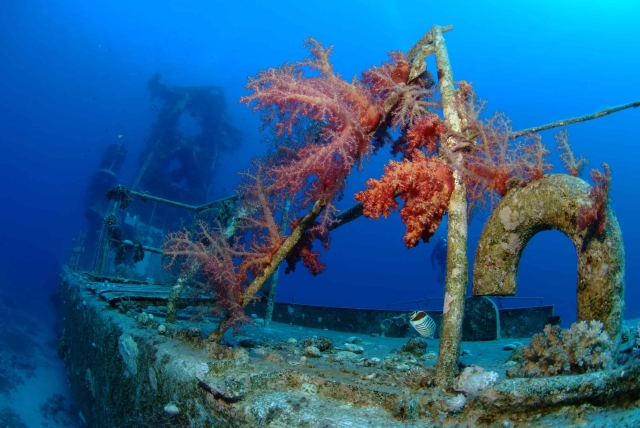 Satil Wreck © Geraldine Pahaut
At all of the different spots, you could come across turtles, eagle rays, stingrays, blue spotted rays, all kinds of coral reef fishes, many clown fishes, butterfly fishes, parrot fishes and gracious lionfishes, scorpion fishes, stonefishes, frogfishes, groupers, sea snakes, crocodilefishes, barracudas, trigger fishes, puffer fishes, eels and all kinds of moray eels, also octopus, sometimes dolphins and exceptionally whale sharks (during the summer only but every summer). So there is plenty to see!
The Red Sea coral reefs are the northernmost tropical coral reefs in the world.
Most of the Red Sea coast is rimmed by extensive shallow submarine shelves that support fringing reef systems, which are the major coral reef type found in the area. These reefs are mainly covered by branching corals of the genera Acropora and Porites.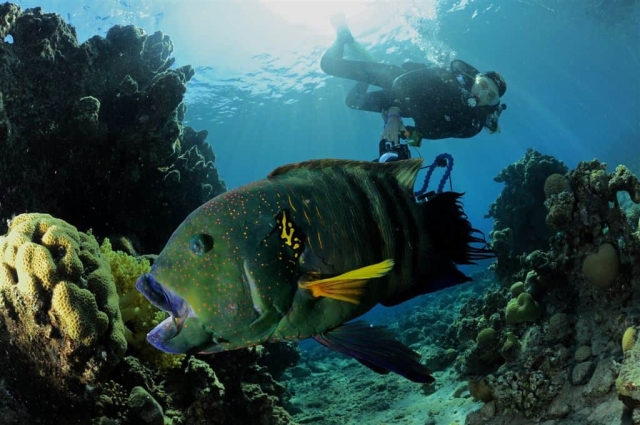 © Nicolas Barraque
The coral reefs and corals are a very diverse and beautiful living world in the Red Sea. You will find a huge variety of corals: reef-building corals or stony, brain, table, branching corals, also many kind of soft corals, sea fans, gorgonians, fire corals… You also have anemones and sponges.
In Eilat, all levels of divers can participate as the sites are ideal for both beginners and experienced divers. The sea conditions and the weather are good all year long.
The new divers can learn in quiet and preserved environments while more experienced divers can enjoy deep dives and/or technical dives. Almost all of the dive sites are reachable from the shore which limits the logistics of organising a boat trip and allows a more flexible schedule.
The average price for a guided dive is 125 NIS.
The average price of Open water is 1400 NIS.
In this page you will find more detailed information about scuba diving in Eilat.
Where to stay?
I usually use this website to book in advance my hotels in Eilat as they usually have the lowest rates I find. I like it because it's free to cancel and change the dates.
Best time to dive in Eilat
Eilat welcomes divers all year long with the very high season in July and August. Eilat is then completely crowded when the water can get to 29 degrees Celsius.
September and October is the best time to come diving as Eilat is quieter and the water is still really warm. January and February are usually the low season and the coldest water temperature with a minimum of 19 degrees Celsius.
During the summer, you might have the chance to approach a Whale Shark that comes every year, usually a female with her baby.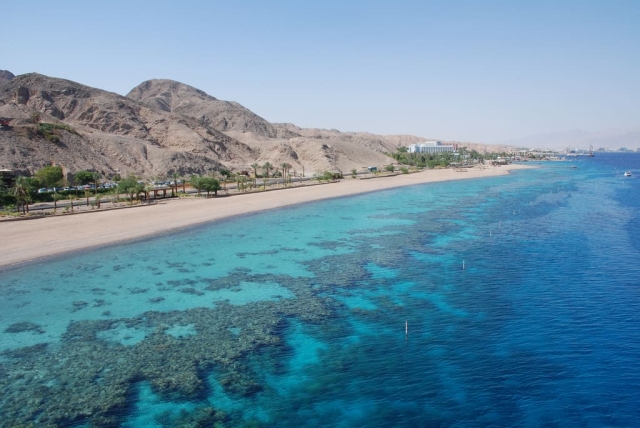 Top liveaboards in Eilat according to divers reviews
Scuba Diving conditions
Eilat is an ideal place for scuba diving: warm and calm water with few or no currents, excellent visibility all year round.
Current: few or no current
Average Visibility: 40 meters
Average water temperature: 24, 25 °C
Depth range: from the shore between until 65 meters
Snorkelling in Eilat
Eilat is a paradise for snorkelers. All the coast from Coral Beach until the Egyptian border is covered by corals and directly from the shore, at a few meters depth, you can snorkel and see as much as scuba divers do.
The Nature Reserve beach is specially organized for snorkelers with snorkelling equipment rental and 2 pontoons from where you can jump directly in the sea. One of them is located just in front of Moses Rock a huge and magnificent coral head with a reef containing an exceptional bio-diversity.
Diving Safety
If you are planning an upcoming dive trip or travelling to Eilat, it is a really good idea to invest in travel insurance for scuba diving, because you never know what could happen and when you might need it (because accidents do happen!). I recommend this diving insurance as they offer worldwide coverage and focus on providing scuba divers a quality insurance and medical assistance service.
Review written with the great help of Claire from U Dive Eilat.
Photos Eilat
Travel Guide
Now that you know all about the underwater world, you might want to start planning your scuba holiday! Check out our Eilat Travel Review for information about how to get there, activities and excursions, where to stay, and more.

Diving Reviews for this region
Dive spots reviews in Eilat
No dive sites reviews found
Liveaboard Reviews in Eilat