If you have dived in Bali before, please share your experiences: Dive spots you would recommend, which Dive Center you used, Fishes & Diving, Visibility, Currents, etc. Please post your comments in the section below, by doing so you will help fellow divers to plan their next trip

Every scuba diver of all levels can enjoy the magnificent diving in Bali. The best dive sites for beginners are around Amed, Padang Bay, and Pulau Menjangan which have very light or often no current at all.
Bali offers even more opportunities to those advanced divers, with many drift dives such as around Nusa Penida, Nusa Lembongan and Candidasa.
The current can sometimes be very strong and several dive sites around Bali should be treated with care and respect.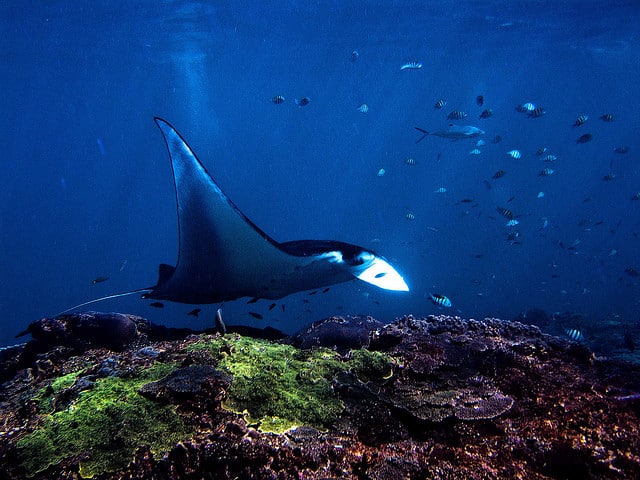 Credit Photo: http://www.flickr.com/photos/39891373@N07/4163929100/
Macro Lovers and critter hunters will be delighted to dive in Secret Bay and Seraya Secret. Amed has also many fantastic spots for Muck Diving. These diving spots are like heaven for underwater macro photography!
Many Places around Bali are also VERY good for snorkelling especially on the East Coast from Padang Bay to Amed.
The visibility is usually very good and ranges from 10 to 50 meters. Best visibility is usually found around Nusa Penida and Pulau Menjangan.
Dive Prices in Bali
Please find below a summary of the dive prices around Bali:
Price Discover Scuba:  60 to 70 US Dollars / 55 to 60 Euros
One Dive cost: 25 to 35 US Dollars / 20 to 25 Euros
Price Padi Open Water Course:  275 to 290 US Dollars / 250 to 260 Euros
Price Padi Open Water Advanced Course: 265 to 275 US Dollars / 240 to 250 Euros
Price Recue Diver Course: 290 to 310 US Dollars / 270 to 280 Euros
Divemaster Course price: starts from 800 US Dollars / 700 Euros
I advise you not to always go to the cheapest dive center but to visit a few and ask questions before chosing. It is always better to pay a bit more and to feel comfortable with your Divemaster!
In this page you will find more detailed information about scuba diving in Bali.
How to dive Bali?
There are 3 scuba diving zones around Bali:
The best dive sites in Bali are:
From Bali, you can also start a Liveaboard trip to explore the best spots around North Lombok and the famous Komodo Islands. Trips range from a few days  up to 2 weeks.
I usually use this website to book in advance my Liveaboards in Indonesia as they usually have the lowest rates I find. I like it because they have an easy booking system.
Where to stay?
I usually use this website to book in advance my hotels in Bali as they usually have the lowest rates I find. I like it because it's free to cancel and change the dates.
Best time to dive in Bali
Bali is a year round diving destination with warm temperatures. During the colder months, the water is around 29°C, so you don't have to worry too much about getting chilly!
It is recommended to wear 3mm shorty or a full length suit depending on where you plan to dive. The coldest water is around Nusa Penida and Secret Bay with temperatures as low as 24°C! The dry season in Bali runs from April to October however:
The best diving season is from May to November (May, June, July, September, October, November).
The best time to see Manta Rays is April and May
The best time or season to see the famous Mola Mola, Oceanic sunfish is from August to October.
The worst season to dive is during the monsoon from December to February (December, January, February and sometimes March) when heavy rain makes the visibility not so good on the East and North coasts Bali dive sites. During this period, consider going diving in Komodo National Park as this is the Manta Ray season!
Top liveaboards in Bali according to divers reviews
Fishes and Coral
The waters around Bali are very rich and colourful with an amazing diversity of fish and coral species. The marine life is teeming and the coral reefs are very healthy. The hard and soft coral is magnificent and mostly untouched with numerous sea fans and sponges.
The big stars in Bali are the world famous Mola Mola and the Manta Ray.
The Mola Mola also called oceanic sunfish can be found all year round but the best moment to spot it is from August to October around the Island of Nusa Penida and particularly at the dive site Crystal Bay.
Manta Rays are present all year round around Bali but THE place to admire these gentle giants is the dive site Manta Point located at Nusa Penida.
You will also have the chance to spot plenty of pelagic fishes such as Barracuda, Giant trevally, Whitetip Reef Shark and Blacktip Reef Shark. Turtles are also very common around the island.
It is also very rich in the small and strange creatures such as Ornate Ghost Pipefish, Mimic Octopus, Leaf fish, Frogfish, pygmy seahorse, Flamboyant cuttlefish, rare nudibranchs and so much more!
The best diving locations around Bali for macro and muck diving are Secret Bay in Gilimanuk, Menjangan Island and Seraya Secret close to Tulamben.
Diving Safety
If you are planning an upcoming dive trip or travelling to Bali, it is a really good idea to invest in travel insurance for scuba diving, because you never know what could happen and when you might need it (because accidents do happen!). I recommend this diving insurance as they offer worldwide coverage and focus on providing scuba divers a quality insurance and medical assistance service.
Author: Julien, creator of blog plongée sous marine
Photos Bali
previous
Mola Mola And Moorish Idol

Clown fishes waiting in front of their blue anemone house

Flying Ray Manta in Bali!

School Yellow Line Fusilier

Dori Regal Blue Tang Fish
next
Travel Guide
Now that you know all about the underwater world, you might want to start planning your scuba holiday! Check out our Bali Travel Review for information about how to get there, activities and excursions, where to stay, and more.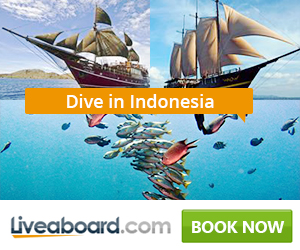 Diving Reviews for this region
Liveaboard Reviews in Bali