If you have dived in Aqaba before, please share your experiences: Dive spots you would recommend, which Dive Center you used, Fishes & Diving, Visibility, Currents, etc. Please post your comments in the section below, by doing so you will help fellow divers to plan their next trip

Although Jordan only has a small coast line, Aqaba has approx. 25 dives sites to choose from, most of which are inside the Aqaba Marine Park. Each one is different from the next, from shallow coral gardens and pinnacles to deep canyons and ship wrecks.
Aqaba has year round warm water and great visibility. With its wide variations of dive sites it is a great place for first timer's right up to experienced technical enthusiasts. Aqaba is also great for wreck diving with the Cedar Pride as you can see on this video:
In this page you will find more detailed information about scuba diving in Aqaba.
Best Dive Review
This Eastern side of the Gulf of Aqaba is teeming with marine life thanks to the cool, rich up-welling waters from the depths. The coral is healthy and vast, and slowly improving each year since the opening of the Marine Park.
Not a lot in the way of 'big fish', occasionally we get Eagle Rays, Sting rays, Hawksbill turtles, and in the late spring 1 or 2 whale sharks following the plankton bloom. Aqaba is best for it's fantastic macro – shrimps, nudibranchs, pipefish, frogfish etc – A photographer's paradise.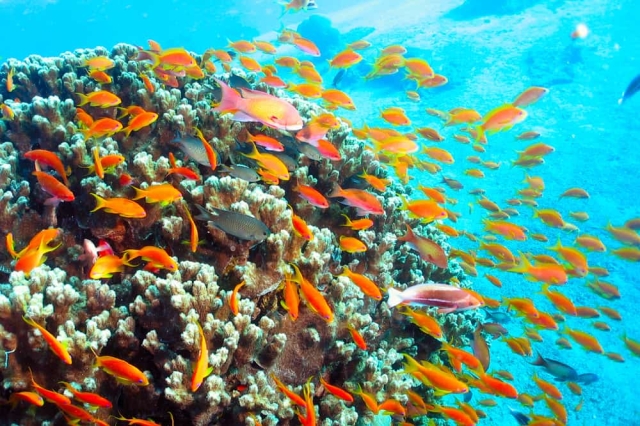 The current is usually none to moderate, but never challenging, unfortunately this means swimming is necessary on many of the 'drift' dives.
How to dive Aqaba?
As the gulf is so narrow and so deep there are no 'off-shore' reefs. All the sites accessible from the boat are also possible form the shore, with a few exceptions due to recent development in the area.
Most dive centres in Aqaba offer shore based diving, and boat diving on request. But there are a few that do only boat diving. As all dive sites are in the Marine Park you will always dive with a registered Marine Park Guide.
All the dive masters and Instructors in Aqaba have to be registered with the marine park in order to work. Even if you are very experienced yourself, you will still have to go with a guide, to ensure the protection of the coral and of course the safety of all divers. The Dive centres usually aim to keep numbers of divers per guide to a minimum, to ensure a better diving experience, after all you go diving to see the marine life, not other divers!
Not all of the dive centres here in Aqaba have the same standards of equipment, facilities or safety. Always choose carefully, remember, the cheapest is not always the best option.
Majority of dive centres are based in the South Beach area, 10km outside of Aqaba, this means that they are all very close to the dive sites. A max of 15min bus ride from dive centre to furthest dive site. By boat it takes approximately an hour to reach the marine park. 2 hours to furthest dive site.
Average cost:
PADI Open water course in Aqaba – prices range from approx. 250-350 JD
Aqaba Dive centres:
There are currently 12 dive centres in Aqaba, most of which are based down in the South Beach area, but have booking offices in the down town area. Also ask at your hotel as most hotels work with a particular diving centre and can usually help you to arrange pick ups and transfers to and from the centre.
There are also tourist information centres and travel agents around the town that can also help you book.
There are some dive centres in the south that are part of a Bedouin style village or hostel, and do good package deals on diving and accommodation. At the other end of the price scale most of the 5 star hotels have their own dive centre in side the resort.
All the dive centres have websites and internet bookings, although some dive centres reply quicker than others.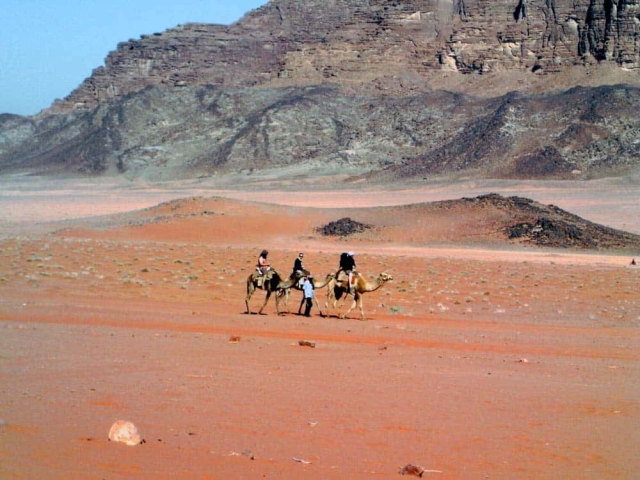 Where to stay?
I usually use this website to book in advance my hotels in Aqaba as they usually have the lowest rates I find. I like it because it's free to cancel and change the dates.
Best time to dive in Aqaba
Aqaba offers year round diving in the Red Sea, with water temperatures never dropping below 18C in the winter.
There are usually two high seasons a year for tourism, the first is around April-June and the second is September-November. But even in the high season the crowds are no where near the size of Egypt and Israel.
In Egypt in high season you are more likely to see more divers than fish, but here it is very rare that you have more than 2 dive centres at the same dive site at any one time. And then each dive centre will have at the most 10 divers. Most dive centres try to keep the guided dives as small as possible so even these numbers will be split between smaller groups spread over the site.
The winter months are usually quiet for diving but are perfect for the other excursions around the country such as Wadi Rum and Petra, as you don't have the heat the same as in the summer.
The best time of year for diving is September /October, the water is a warm 26C and the air temp has dropped to a more comfortable 35C (compared to 50+ in July/August). The fish life is more abundant at this time, and a great time to spot the Eagle Rays and turtles. The visibility is normally a good 30m+ for most of the year, can reach even 40m+ on a calm summer's day!
On very windy days, most common at the beginning of the year, the visibility drops to only a few meters in shallow water, but once you reach 10m depth, its still beautiful and clear. During March/April we have the plankton bloom, which also reduces the visibility slightly, but still never less than 15m.
Top liveaboards in Aqaba according to divers reviews
Dive courses
Most dive centres in Jordan offer PADI courses, a few offering SSI. Both teach from first time Discover Scubas right up to professional levels.
There are also 4 PADI 5 stars IDC centres offering further training past instructor level. Technical training is available too from both PADI Tec Rec centres and TDI facilities, offering courses up to advanced trimix. Most dive centres now also offer the PADI E-learning system, where you can complete all of your course theory online before arriving at the centre. Meaning less time in the classroom and more time in the water!
Prices for courses range from centre to centre, but the general rule is you get what you pay for, some of the smaller centres will offer very low prices but you may not get the best of rental gear or as high teaching and safety standards compared to the bigger centres that cost slightly more.
Scuba Diving conditions
Current – none to moderate
Average Visibility – 30m
Average water temperature – 18C in winter to 26C in summer
Depth range – Most sites are slopping reefs from the shore, so 0m – 40m for recreational divers. Current local record for technical diving is 167m.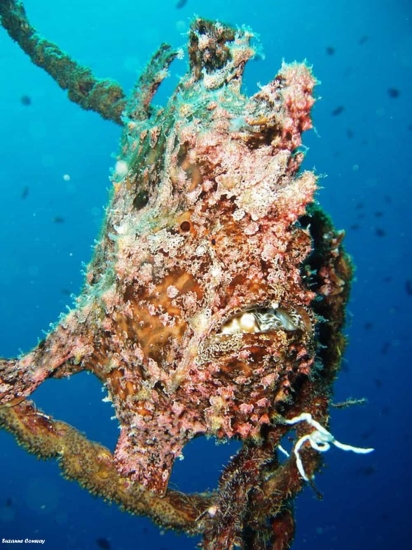 Snorkelling in Aqaba
As mentioned before, most diving is shore based so it is good for snorkellers too. A lot of the marine park areas also have buoyed off sections to protect the swimmers from any passing boat traffic. Also most snorkellers are welcome on the dive boats. Or there are small glass bottom boats usually tied up to the jetties in the marine park that will take out small groups. Prices for glass boats can usually be bartered.
The best places for snorkelling from the shore are the First Bay area and the Tank. The first Bay, so called as it is the first bay after the port, has a beautiful shallow fringing reef right around the bay. The area is surrounded by buoys so no problems with passing boats. It has a small shop on the beach, for snacks and drinks, and 2 dive centres with private beach clubs. Any one can enter and use the facilities of the clubs for a small entrance fee approx. 7 JD for the day. These clubs have restaurant/bars; shower/changing facilities and swimming pools. The dive centres also provide rental gear and snorkelling guides on request. The area of the Tank does not have the same amount of facilities available as the First Bay, but again a beautiful fringing reef and of course the Tank sitting at 5m just 20m from the shore. As the tank is so shallow, it gives even non-diver a chance to see a wreck under the water! Toilet and shower blocks are dotted up and down the marine park so you are normally only a short walk from them.
From the boat, snorkelling around the Japanese Gardens is a must. A large area of coral and marine life is a beautiful site. A lot of the area is only shallow max of 6m, with pinnacles reaching up to the surface, so snorkellers have a chance to see so much marine life. It is possible from the shore but it is quite a long swim out from the beach, and the area you cross is usually a busy area with the glass bottom boats, so always better to go from the boat.
A few dive centres will offer half day boat trips for snorkelling while others only do full day on the same boat as the divers.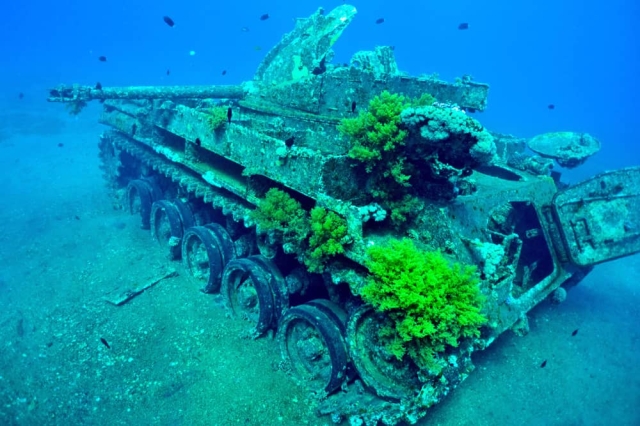 Diving Safety
If you are planning an upcoming dive trip or travelling to Aqaba, it is a really good idea to invest in travel insurance for scuba diving, because you never know what could happen and when you might need it (because accidents do happen!). I recommend this diving insurance as they offer worldwide coverage and focus on providing scuba divers a quality insurance and medical assistance service.
Review by Suzie Conway from Seastar watersports Aqaba.
Photos Aqaba
Travel Guide
Now that you know all about the underwater world, you might want to start planning your scuba holiday! Check out our Aqaba Travel Review for information about how to get there, activities and excursions, where to stay, and more.

Diving Reviews for this region
Dive spots reviews in Aqaba
No dive sites reviews found
Liveaboard Reviews in Aqaba