If you have dived in Dahab before, please share your experiences: Dive spots you would recommend, which Dive Center you used, Fishes & Diving, Visibility, Currents, etc. Please post your comments in the section below, by doing so you will help fellow divers to plan their next trip

Dahab offers great scuba diving opportunities and is world famous for the Dahab Blue Hole dive site. It is mostly coral reef gently slopping down as well as shallow coral gardens. Most of the dive sites are easy, making Dahab a great place to learn scuba diving. In fact, there are over 50 dive centres just in Dahab so you have plenty of choice!!!
Photo Credit: http://www.flickr.com/photos/mattkieffer/2375663872/
They all offer various Padi and CMAS courses from beginners to very experienced divers with Tech and deep diving courses. However they don't have the same standards on quality and safety and you should choose carefully your dive centre!
In this page you will find more detailed information about scuba diving in Dahab.
Best Dive Review
The marine life is fantastic with all the usual reef fishes of the Red Sea and pelagic fishes like barracudas and jacks. Turtles can also be spotted. However it is rare to spot Sharks in this part of Red Sea.
The coral is beautiful but has been heavily damaged in the shallow parts of the reef by mass diving and by careless divers (tut tut!)… However if you go to protected areas such as Ras Mumlach or Ras Abu Galum, you can still find superb and vibrant hard and soft coral.
But what really makes famous Dahab, is the world famous Blue Hole dive site! It is a large 70 m wide hole within the coral reef going down to 80 m and with a 30 m long arch going to the open sea on its bottom. It is a great dive site for all divers with nice coral and reef life but Deep divers and Tech divers from all over the world come to Dahab to dive under the Blue Hole Arch.
Unfortunately some divers who are less experienced also try to dive this very difficult spot, hence why the Blue Hole is now known as the "Most Dangerous Dive Site in the World!". There are about 28 divers killed each year on this single spot!
So please DO NOT attempt to dive the Blue Hole if you are not a very experienced diver with Deep Diving and Mix gas training experience!!! You can watch this Video on the Blue Hole Tragedy:
Freedivers also come to the Blue hole to try to swim through the Arch.
Another fantastic dive site in Dahab is called the Canyon and consists of a kind of underwater tube going down to 30 meters. This site is reserved to experienced divers as well. This spot, along with the Blue Hole, can become VERY crowded with dozens of divers underwater at the same time!
Dahab doesn't have any wrecks to dive and it is not the best place if you like underwater macro photography. If you are looking for incredible Macro and Muck Diving, try the Lembeh Strait or Wakatobi in Indonesia and Mabul Island in Malaysia!
There are about 20 dive sites around Daha. The best ones are:
Dahab Blue Hole
The Bell
The Canyon
Eel Garden
Lighthouse reef
The Islands
Where to stay?
I usually use this website to book in advance my hotels in Dahab as they usually have the lowest rates I find. I like it because it's free to cancel and change the dates.
Best time to dive in Dahab
It is possible to dive all year round. However the water temperature does vary a lot.
From July to September, it is the hottest month with a water temperature of about 28°C.
The coldest month is February with a water temperature of about 21°C.
From October to November, you can expect from 25°C to 27°C.
From March to June, the water is warming up with temperatures ranging between 22°C to 25°C.
Hot Tip
There is not really one single "best diving season" in the Red Sea but if you don't like crowded dive sites, try to avoid the high season from July to December! If you do go during the busy period, you should book your hotel well in advance.
Top liveaboards in Dahab according to divers reviews
Scuba Diving conditions
The sea conditions are generally excellent in the North of Red Sea.
Visibility: You can expect very good visibility all year round. It usually ranges from 20 m to 30 m depending on the dive site. At some places you can have up to 60 meters!
Water temperature: Varies a lot around Dahab. The coldest month is February where you can experience a rather chilly 21°C. December and January also have water temperatures around 22°C. From October to November and from March to June, you can expect around 26 °C. If you prefer warmer water, between June and September has an average water temrperature of 28°C.
Current: Generally gentle but there are also great drift dives!
Snorkelling in Dahab
The best snorkelling spot in Dahab and maybe in the whole of Egypt is at Blue Hole. Many operators offer snorkelling tours to Blue Hole so the site can get VERY crowded!
The Lighthouse Reef and Eel Garden are also popular snorkelling spots. You can also directly jump in the water on the sea shore and follow the reef but entry and exit can be a problem!
The coral and the reef life is beautiful. However on many spots, the coral is unfortunately damaged.
Be careful, due to the wind, it can be dangerous to snorkel by your own and there can be strong currents! And always be careful of the windsurfers passing by!
Dahab is also famous for freediving and now lots of dive operators offer freediving courses.
Photo Credit: http://www.flickr.com/photos/yours_truly/3061430338/
Diving Safety
If you are planning an upcoming dive trip or travelling to Dahab, it is a really good idea to invest in travel insurance for scuba diving, because you never know what could happen and when you might need it (because accidents do happen!). I recommend this diving insurance as they offer worldwide coverage and focus on providing scuba divers a quality insurance and medical assistance service.
Photos Dahab
Travel Guide
Now that you know all about the underwater world, you might want to start planning your scuba holiday! Check out our Dahab Travel Review for information about how to get there, activities and excursions, where to stay, and more.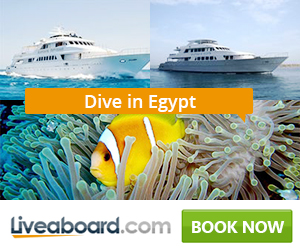 Diving Reviews for this region
Dive spots reviews in Dahab
Liveaboard Reviews in Dahab