If you have dived in Great Barrier Reef before, please share your experiences: Dive spots you would recommend, which Dive Center you used, Fishes & Diving, Visibility, Currents, etc. Please post your comments in the section below, by doing so you will help fellow divers to plan their next trip

In this page you will find more detailed information about scuba diving in Great Barrier Reef.
Best Dive Review
Diving on the Great Barrier Reef is excellent for many reasons:
Great visibility all year round, can be outstanding with up to 60 meters in the Coral Sea.
Superb and healthy Coral, no sign of bleaching.
Lots of big pelagic fishes like Barracudas, Giant trevallies, Giant Groupers and Dogtooth Tunas.
Teeming reef life with many Parrot fishes, Trigger fishes, Blue spotted Rays and 6 species of Sea Turtles!
Great place to see various species of Sharks like the Grey Shark, the Silvertip, the Whitetip, the Bull Shark (Yongala Wreck) and even the rare Tiger Shark (Osprey Reef and Yongala Wreck). Shark feeding is commonly done on the Osprey Reef and will give you a tough adrenaline rush! Manta Rays and the very rare Dugongs can also be spotted too
Huge number of dive sites and so less divers underwater. There are easy and relaxing spots perfect to learn scuba diving as well as challenging open water dive sites for experienced divers!
Good chances to see Dolphins and Whales (June to August).
The Yongala Wreck, maybe the best Wreck dive in the World!
Now you understand why Queensland has the biggest dive industry in the entire World!
How to dive Great Barrier Reef?
Liveaboard:
I usually use this website to book in advance my Liveaboards in Australia as they usually have the lowest rates I find. I like it because they have an easy booking system.
The main and some of the best parts of the Great Barrier Reef is located quite far away from the mainland. These spots are only reachable on a day trip if you dive from Port Douglas with famous dive sites like Cod hole where you can dive with friendly giant groupers! Otherwise, you will need to take a liveaboard trip to the Ribbon Reef for at least 3 or 4 days.

If you want to dive the remote and excellent Osprey Reef and other famous spots like the Bougainville reef in the Coral Sea you need to take a liveaboard for at least one week. The best spot of the Osprey Reef is called North Horn, and is famous for its resident population of Sharks. The dive operators often feature shark feeding and you can have the chance to spot Whitetip Reef Sharks, Silvertip Sharks or the rare Tiger Shark!
Photo Credit: http://www.flickr.com/photos/sackerman519/4251357083/

Local Dive centers:
If you dive on a day trip, you will mainly dive on the closer part of the Great Barrier Reef called the Outer Barrier Reef. Diving the Outer reef is very good but not quite as amazing as the further Ribbon Reef and Osprey Reef (coral sea). The visibility is also less around 15 to 25 meters compared to the excellent visibility on more remote places.
The Outer Reef is located about 60 km from Cairns. It offers easy and relaxing dive sites perfect for learning to scuba dive. From Cairns you can also dive the Inner Barrier Reef on day tours but diving is not as good as on the Great Barrier Reef and visibility is generally not great.
Many people come to Cairns to learn scuba diving and the city is now where there is the highest number of Padi Open Water certifications every year! Cairns is also the main starting point of the liveaboard cruises.
.
---
Important Notice
The Great Barrier Reef's current condition, and why we should all be concerned! 
The Great Barrier Reef is all over scientific news paper around the world for the sad reason that the world's largest coral reef system is not doing so good. Indeed, thanks to global warming, the reef is bleaching and deteriorating.
The page below reflects the GBR as it was years ago. Unfortunately, the reef's condition it's changing quickly. That's why we advise all the travelers and divers to get up to date information from the relevant authorities. In this case, the Australian Governement and the Great Barrier Reef Marine Park Authority have set up both a page and a program / app to keep everybody up to date.
You might also be moved, like we are, when reading these lines stating that one of the greatest living structure in the world is severely endangered because of us, humans. We can all make changes and become responsible scuba divers, and human beings. Changes in our everyday habits and moving toward an environment friendly lifestyle can only help the situation. Also, share the information and raise awareness around you.
Thank you for reading DiveZone!
2018-01-18
---
Where to stay?
I usually use this website to book in advance my hotels in Great Barrier Reef as they usually have the lowest rates I find. I like it because it's free to cancel and change the dates.
Best time to dive in Great Barrier Reef
It is possible to dive the Great Barrier Reef all year long. Please visit the dedicated pages of Cairns, Port Douglas, Townsville and the Whitsundays if you want more accurate information. The general seasons are:
Best scuba diving season on the Great Barrier Reef runs from mid-August to mid-December.
Winter runs from April to September with dry, sunny and warm weather. However the wind can be blowing quite strong.
Summer season is from October to May with the monsoon running from January to March but the heavy rains usually don't last for more than 2 hours, leaving the rest of the day sunny!
Coral Spawning occurs in October and November but the exact date varies from year to year so it can be very hard to predict.
The Minke Whales and the humpback whales season runs from May/June to August and November for the humpbacks. Whales are commonly spotted from the boat and even sometimes underwater during a dive. Snorkelling with these amazing creatures is also possible.
Best visibility is from September to November on the Ribbon Reef, and from June to September in the Coral Sea, at the famous Osprey Reef.
The air temperature ranges year round from 22°C to 30°C and the water temperature is always around 27°C. Generally speaking diving conditions are good all year round

Top liveaboards in Great Barrier Reef according to divers reviews
Scuba Diving conditions
The water temperature on the Great Barrier Reef usually ranges from 24°C to 30°C.
The current is generally gentle close to the shore on the local dive sites but can be very strong if you go on the Ribbon and Osprey Reef.
The visibility on the local dive sites is not excellent and ranges from 5 to 25 meters. However if you take a liveaboard dive trip you can expect very good to excellent visibility up to 60 meters.
The depth ranges from 5 to 30 meters but most of the dive sites are suitable for beginner divers and don't go below 25 meters deep.
Snorkelling in Great Barrier Reef
The Great Barrier Reef has outstanding snorkelling possibilities. There are shallow coral gardens worth exploring in so many places. The local dive centers offer Great Barrier snorkelling day tours and cruises. The Whitsundays also have amazing snorkelling to offer with Kilometres of pristine Reefs!
Lizard Island and Heron Island are popular and great snorkelling locations too. Island tours can be easily arranged in all the travel agencies in Queensland.
Like the divers you will need to pay a "reef tax" of $20.00 per person in addition to the tour price.
Hot tip:
When Snorkelling on the Great Barrier Reef, don't forget your sunscreen and a T-shirt to protect from sunburn!
Box jellyfish are sometimes present (mostly from November to May) around the Great Barrier Reef. So always swim in protected areas or ask the local people before snorkelling. A Box jellyfish sting can be fatal!
Photo Credit: http://www.flickr.com/photos/boedker/3104682093/
Diving Safety
If you are planning an upcoming dive trip or travelling to Great Barrier Reef, it is a really good idea to invest in travel insurance for scuba diving, because you never know what could happen and when you might need it (because accidents do happen!). I recommend this diving insurance as they offer worldwide coverage and focus on providing scuba divers a quality insurance and medical assistance service.
Photos Great Barrier Reef
Travel Guide
Now that you know all about the underwater world, you might want to start planning your scuba holiday! Check out our Great Barrier Reef Travel Review for information about how to get there, activities and excursions, where to stay, and more.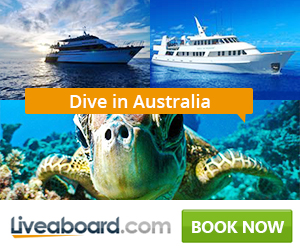 Diving Reviews for this region
Dive spots reviews in Great Barrier Reef
Liveaboard Reviews in Great Barrier Reef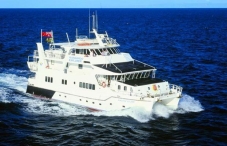 MV Kangaroo Explorer was originally buil
Diving centers in Great Barrier Reef