If you have dived in French Polynesia before, please share your experiences: Dive spots you would recommend, which Dive Center you used, Fishes & Diving, Visibility, Currents, etc. Please post your comments in the section below, by doing so you will help fellow divers to plan their next trip


French Polynesia, also called the Islands of Tahiti, is a destination of many wonders. The beauty of the islands, the culture, and the people make a lasting impression on travelers from everywhere. Plus, the scuba diving is outstanding, and it makes Tahiti a dream destination for divers of all skill levels.
French Polynesia is isolated in the South Pacific Ocean, and it's islands are spread on over 3,200 kilometers (2,000 miles). Also, Tahiti is located midway between Australia and South America. This fact confirms the remoteness of the islands and implies that high airfares are to be expected.
The islands of Tahiti are known for their luxury resorts and five-star service. However, the islands do have some smaller resorts that are very reasonably priced. To make the best of the airfare expense visitors should be considered an extended vacation visiting more than one island.
In this page you will find more detailed information about scuba diving in French Polynesia.
Photos French Polynesia
previous
Blacktip Shark patrolling the crystal clear water... EPIC photo!

Dolphin and scuba diver side by side...

Huge Hammerhead Shark patrolling the reef in French Polynesia

Huge Fish Napoleon Wrasse

Blue Eel

Photo by Matthieu Billaud

Sunset Maldives

Photo by Matthieu Billaud

Typical Diving Village

Photo by Matthieu Billaud

Small Island French Polynesia

Island Maldives

Photo by Matthieu Billaud

Whitetip

Photo by Matthieu Billaud
next
Best Dive Review
There are about a dozen dive operators in French Polynesia, plus at least three liveaboards. Indeed, this leaves every one of them with a large number of dive sites to select from when planning a diving route. The reefs are amazing, teeming with a diverse array of marine life. Plus, among the best dive sites of French Polynesia, you will find amazing drift dives and a selection of wrecks to explore.
Here are a few of the best scuba diving destinations within French Polynesia:
Rangiroa Atoll: Rangiroa is the second largest atoll in the world. Unless you see it from the air, you will have to take everyone's word that you are in an enclosed lagoon because it is so large you can not see the other side. Also, at one time an atoll was an island surrounded by a fringing reef. Over the centuries, the island sunk as sea levels rose, but the reef continued to grow. Therefore, we now have a reef around a sunk island, which makes it a shallow lagoon. Plus, on the outside of the reef are drop off walls, heading into deep waters. The lagoon of Rangiroa has rich coral reefs and abundant marine life. Plus, divers will usually find excellent conditions and love their experience just like Julien, the founder of Divezone, did. Indeed, you can read his Rangiroa Dive Review and let him speak for himself!

The reef has two breaks in it, creating passes that water can flow through. Then, twice a day, the tides creates currents into and out of the lagoon. Of course, these passes make great drift dive sites when the tide changes. They are also great to watch the passing of sharks and rays who come up from the deep water outside of the atoll into the lagoon to feed.
Fakarava Atoll: It's the second largest atoll in French Polynesia, and it's lagoon includes two channels. First, the north channel, called Passe Nord Garuae, is 1,600 meters /1 mile wide. The channel offers a range of dive sites during the slack current and becomes an exciting drift dive on inbound current. Indeed, experienced divers will see hundreds of sharks riding the current, thus it is a great dive to hook up on a reef.

Secondly, the south channel, Passe Sud Tumakohua, is located 60 kilometers from the north channel. It is only 200 meters wide, gets less current flow and is more shallow, making it safe for divers that are new to drift diving.

Bora Bora: Perhaps the most Famous island after Tahiti itself, Bora Bora sits in the lagoon of an atoll. The diver will find a number of great dive sites, some in the lagoon and a number of them outside in deeper waters.

Moorea: Unlike the other destinations just mentioned, Moorea is an island surrounded by a fringing reef. Inside the fringing reef, the water averages 18 meters/ 60 feet. Crystal clear waters, no currents, and abundant marine life makes this the perfect place for a beginner diver and exciting enough for even the most experienced divers. Outside of the reef will bring an encounter with large species especially sharks and marine mammals.
How to dive French Polynesia?
Visiting and diving Tahiti is a once in a life time adventure for most divers that travel here. Indeed, the cost of the airfare can be daunting, but everyone will tell you that the experience is well worth the expense!
This is one of those locations where both a resort and a liveaboard are great options  to consider. First, the liveaboard will give you a wider range of dive sites and will visit more than one island chain. Indeed, this can be very much worth it as each destination within Tahiti's islands has unique features for diving. Plus, the liveaboard diving cruises also visit small villages, allowing you a glance at the real way of life of the locals.
Secondly, the dive resort option will get you a closer look and a humble feel of the true island life. Indeed, on both smaller and larger islands, you'll get a genuine feel of the local culture. Whether you stay in a scuba diving resort or else, there will be plenty of diving opportunities for you to enjoy!
Of course, the very optimal use of your airfare cost would be to do both a liveaboard diving cruise, and stay at a resort. Indeed, when based on an island, you will find dive centers almost everywhere. For exemple, dive operators are found on Tahiti, Moorea, Bora Bora, Rangiroa, , Fakarava, Raiatea, Taha'a, Huahine, Manihi, Tikehau, Nuku Hiva, and Rurutu.
Best time to dive in French Polynesia
The best time to visit French Polynesia for scuba diving depends on what you like to do and see. Generally, the peak season for tourist goes from May to October. Indeed, that is when you will find dry weather and outstanding diving.
Moreover, from November to April is considered to be the rainy season. Underwater visibility is not as great then, but still not terrible either. Actually, the poorer visibility that you might get is caused by plankton, which draws more pelagic into shallower water, and thus makes scuba diving just as interesting! Also, November is the best time to see whales.
Top liveaboards in French Polynesia according to divers reviews
Dive courses
The Polynesian islands are definitely a great place to learn to dive. Also, if you are not a drift diver already, the different passes make a unique motivation and opportunity to learn drift diving. Plus, French Polynesia is one of the worlds best destinations for underwater photography, so a class in that might be of interest.
Scuba Diving conditions
You can expect visibility of 100 feet inside of he lagoons and up to 130 feet or more in open water. Also, water temperatures average the 79°F (26°C) in the winter season, and 84°F (29°C) during the summer. Indeed, a dive skin, or 3 mm wet suit, will be all that you need to experiment the best scuba diving of Tahiti. Most noteworthy is that thanks to the crystal clear water, you will not find any temperature change at depths within recreational limits.
Snorkelling in French Polynesia
Snorkeling is widely enjoyed in French Polynesia. The warm clear waters allow snorkelers to view many of the same sights as divers do.
Fishes and Coral
The biomass and variety of marine life is very high. Hundreds of different reef fish species, corals and pelagic will be with you each dive.
Diving Safety
If you are planning an upcoming dive trip or travelling to French Polynesia, it is a really good idea to invest in travel insurance for scuba diving, because you never know what could happen and when you might need it (because accidents do happen!). I recommend this diving insurance as they offer worldwide coverage and focus on providing scuba divers a quality insurance and medical assistance service.
Other destinations try to mimic what French Polynesia has naturally. Some of the best diving in the world, at an unhurried setting under the best natural conditions. Temper that with the local lifestyle and the genuinely friendly natives and you have the perfect vacation.
Travel Guide
Now that you know all about the underwater world, you might want to start planning your scuba holiday! Check out our French Polynesia Travel Review for information about how to get there, activities and excursions, where to stay, and more.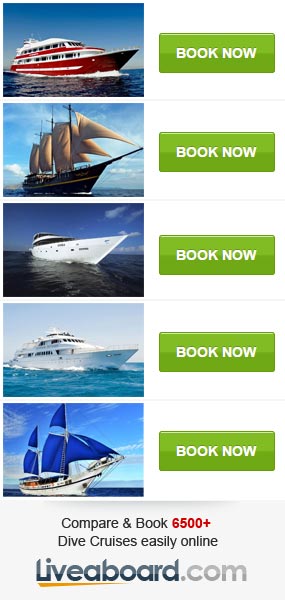 Diving Reviews for this region
Dive spots reviews in French Polynesia
No dive sites reviews found
Liveaboard Reviews in French Polynesia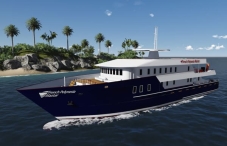 The French Polynesia Master is almost 43
Diving centers in French Polynesia