If you have dived in Sipadan before, please share your experiences: Dive spots you would recommend, which Dive Center you used, Fishes & Diving, Visibility, Currents, etc. Please post your comments in the section below, by doing so you will help fellow divers to plan their next trip

Scuba Diving in Sipadan is just outstanding. The fish life is teeming and you have the possibility to encounter everything you've ever dreamed of under the sea. Turtles and Reef Sharks are very common around the island. It is also possible to spot Leopard sharks, Grey sharks and even Hammerhead sharks if you are lucky! Manta rays are also flying around, however they are not as common. The waters around Sipadan reach as far down as 600 meters deeps and attract all the pelagic species. Check out this video to see how it looks like underwater!
For macro fans, there is also great varieties of nudibranchs, frog fishes, leaf fishes, pygmy seahorses, just name it!
The coral is pristine. The coral gardens are shallow and very colourful and will make your safety stop a special moment to enjoy. Deeper, you will find great sea gorgonians fans and barrel sponges along the steep walls. Sipadan is also a world major destination for underwater photography with great shot opportunities on every dive sites.
The island was first explored by Jacques-Yves Cousteau who described it: "I have seen other places like Sipadan… 45 years ago. Now we have found again an untouched piece of art." You can watch its film! Crazy!
In this page you will find more detailed information about scuba diving in Sipadan.
Best Dive Review
All dive sites are excellent so it is hard to choose! Let's say the best spots are:
How to dive Sipadan?
Diving rules are strict:
Only 120 divers per day
Obligatory diving permit
No gloves policy
No diving below 40 meters
On a typical diving week on Mabul or Kapalai, you will dive not more than four times in Sipadan. The rest of the dives will be on other dive sites.
They are many dive operators and the competition among them is strong. However prices are still high. Many diving resorts propose all inclusive packages that can be interesting.
When not diving around Sipadan you will still found excellent dive sites such as around the Island of Mabul and Kapalai especially for muck and wreck diving.
You can also explore this underwater world on a Liveaboard trip that generally combines Kapalai Island, Mabul Island and Sipadan. I usually use this website to book in advance my Liveaboards in Malaysia as they usually have the lowest rates I find. I like it because they have an easy booking system.
Where to stay?
I usually use this website to book in advance my hotels in Sipadan as they usually have the lowest rates I find. I like it because it's free to cancel and change the dates.
Best time to dive in Sipadan
The Diving is excellent all year round.
The best time runs from April to December with excellent sea conditions. April until early of June being the perfect time but this is also the High season and you should book your permit and your resort well in advance!
From January to March, there can be heavy rainfall and therefore, the visibility can be reduced.
However the weather nowadays keep changing every year and it is really hard to predict the seasons in advance!
Top liveaboards in Sipadan according to divers reviews
Scuba Diving conditions
The visibility ranges from 15 meters to 40 meters depending on the season and where you dive. Diving around Sipadan is mostly easy and current is not really an issue. However, on certain dives sites like the very popular Barracuda Point the current can be very strong. On this dive site you can spot the famous huge tornado of thousands of barracudas!
Scuba diving there is suitable for all divers but many sites are reserved to advanced divers. There are even dive sites reserved specifically to divemasters such as as the turtle cavern and turtle tomb dive sites. The caverns are located below the Island where you can see skeletons of turtles that couldn't find their way out and drowned. Cave diving should be undertaken only by very experimented divers with special material.
Snorkelling in Sipadan
The snorkelling is excellent around the Island. The coral gardens are magnificent and very colourful. You can join a dive boat that will take you to the island for snorkelling. However as the number of seat is limited it is not always possible.
Diving Safety
If you are planning an upcoming dive trip or travelling to Sipadan, it is a really good idea to invest in travel insurance for scuba diving, because you never know what could happen and when you might need it (because accidents do happen!). I recommend this diving insurance as they offer worldwide coverage and focus on providing scuba divers a quality insurance and medical assistance service.
Photos Sipadan
Travel Guide
Now that you know all about the underwater world, you might want to start planning your scuba holiday! Check out our Sipadan Travel Review for information about how to get there, activities and excursions, where to stay, and more.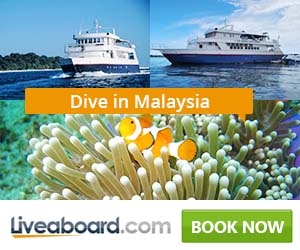 Diving Reviews for this region
Dive spots reviews in Sipadan
Liveaboard Reviews in Sipadan
Diving centers in Sipadan