If you have dived in Koh Phi Phi before, please share your experiences: Dive spots you would recommend, which Dive Center you used, Fishes & Diving, Visibility, Currents, etc. Please post your comments in the section below, by doing so you will help fellow divers to plan their next trip

Koh Phi Phi offers great diving opportunities. It is a good base to explore the best diving sites of the Andaman Sea. Moreover diving is quite cheap and it is a good place to take diving lessons and pass your Padi Open water.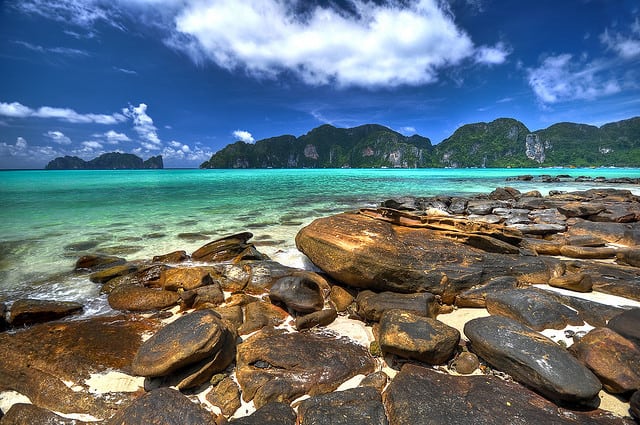 Photo Credit: http://www.flickr.com/photos/g4egk/3960191884/
In this page you will find more detailed information about scuba diving in Koh Phi Phi.
Best Dive Review
More experienced divers will prefer to go diving further on a day trip. They can for example go to Hin Daeng and Hin Muang dive sites. They are both listed among the best dive spots in Thailand and in the world. Hin Daeng is famous for its fantastic marine life on a steep wall and Hin Muang for the superb violet coral.
Both sites are among the best places in the world for Whale Shark sightings

You can expect to spot grey reef sharks, leopard sharks and large schools of pelagic!
There is also good wreck diving with the King Cruiser wreck to explore. This spot can be combined in a day trip with the two other excellent dive sites of Anemone Reef and Shark Point.
Maya Bay on Phi Phi Le island is also a very good spot for experienced divers with beautiful soft coral and teeming marine life!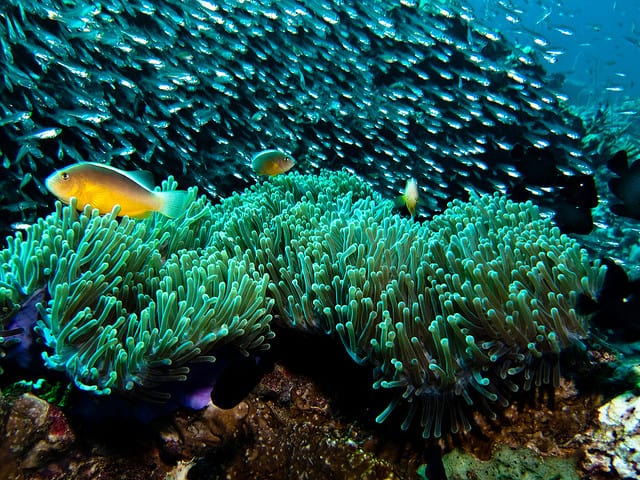 Photo Credit: http://www.flickr.com/photos/39891373@N07/4399717862/
Most of the dives are steep walls with many cracks. There are also numerous small caverns to explore and even caves but this is only for very experienced divers. You will spot turtles, blacktip and Whitetip reef sharks. Leopard sharks are common too.
Macro lovers will also be delighted with many seahorses and various species of pipefish with great opportunities for underwater photography.
How to dive Koh Phi Phi?
You will find many dive centres around Ton Sai bay. Always visit several places and ask questions before choosing as they don't all the same standards. Prices are regulated and about the same standard price in all of the dive shops.
Where to stay?
I usually use this website to book in advance my hotels in Koh Phi Phi, Thailand as they usually have the lowest rates I find. I like it because it's free to cancel and change the dates.
Best time to dive in Koh Phi Phi
There are 2 seasons on Koh Phi Phi:
The wet season runs from May to December. From June to October, there is heavy rainfall and about. Activity on the island is greatly reduced. Water visibility is reduced but it is still possible to dive.
The dry and hot season runs from January to April and is the best time to visit PhiPhi.
The air temperature ranges from 25 °C to 32 °C and water temperature is about 29 °C all year round.
It is possible to dive all year round. However, the best diving time is from February to May when the visibility is very good. Liveaboards are running all year round.
Top liveaboards in Koh Phi Phi according to divers reviews
No liveaboard found
Scuba Diving conditions
Diving conditions in the Phi Phi Marine Park are mostly good but depend a lot on the season.
Visibility ranges from 10m to 20m and can be reduced after heavy rains.
Current is usually gentle and most of the dives are quite easy.
Snorkelling in Koh Phi Phi
Snorkelling around Koh Phi Phi is very good. Snorkelling day trips can be easily arranged. It will take you to the best spots around the islands. It is a very good way to explore hidden places.
Snorkellers can also join a diving boat to go for example to Bamboo or Mosquito Island. Snorkellers can often spot harmless blacktip sharks at shark point on long beach. You will be charmed by the clear water and the amazing reef life

Diving Safety
If you are planning an upcoming dive trip or travelling to Koh Phi Phi, it is a really good idea to invest in travel insurance for scuba diving, because you never know what could happen and when you might need it (because accidents do happen!). I recommend this diving insurance as they offer worldwide coverage and focus on providing scuba divers a quality insurance and medical assistance service.
Photos Koh Phi Phi
Travel Guide
Now that you know all about the underwater world, you might want to start planning your scuba holiday! Check out our Koh Phi Phi Travel Review for information about how to get there, activities and excursions, where to stay, and more.

Diving Reviews for this region
Dive spots reviews in Koh Phi Phi
Liveaboard Reviews in Koh Phi Phi
Diving centers in Koh Phi Phi