If you have dived in Japan before, please share your experiences: Dive spots you would recommend, which Dive Center you used, Fishes & Diving, Visibility, Currents, etc. Please post your comments in the section below, by doing so you will help fellow divers to plan their next trip


Japan is not known for scuba diving, and it's a good thing for the local divers who like it this way! The Asian country is interesting because of its geographical position as from the north to south, Japan covers 3,008 km (1,869 mi). This means that scuba diving conditions of the northern portion of Japan have nothing to see with the conditions in the south. More specifically, the north offers dry suit diving and ice diving in the winter. As for the south, it offers year-round subtropical diving. The center of the country offers something in between but still with over a thousand species of marine life.
In this page you will find more detailed information about scuba diving in Japan.
Photos Japan
Best Dive Review
It has been estimated that there are over 2,000 dive sites in Japan, that is not counting "secret" sites that individual divers or dive centers may have. The diving in Japan is diverse, offering three distinct ecosystems.
First, cold water diving is found in the colder Hokkaido island. Most of the island is subject to the Oyashio Current. This is a counter-clockwise current that brings cold water from the Arctic to this northern island. The cold water is rich in nutrients. Ice diving is possible in the winter and cold water divers in the ocean will often encounter king crabs.
Secondly, the islands of Honshu and Shikoku have temperate conditions and the waters are influenced by the Kuroshio Current that originates in the South China and Yellow Seas. Kelp forests and a mix of warm water and cold water marine life are found here. The strength of the Kuroshio and Oyashio Currents are seasonal. There are parts of Honshu island that will feel the Oyashio current in the winter.
Thirdly, the Ryukyu Islands are in the south and comprised of 160 islands, 49 of which are inhabited. Spreading on 1000 kilometers/620 miles from east to west and 400 kilometers/250 miles from north to south, the islands are a must!
Okinawa Island is the largest island within the Ryukyu Islands. The island has scuba diving conditions which are typical of an Indo-Pacific location. Indeed, here you will find tropical diving conditions year round.
Here are some of the best diving locations in Japan:
Shiretoko Peninsula: The Shiretoko Peninsula of Hokkaido island is on the eastern portion of the island across the strait from Russia. In the winter, there are many opportunities for ice diving. In fact, from January to March, holes will be cut in the ice near the shore and divers enter the water. These dives are in the water at or just below the freezing point, so around 0 to -4°c. Dives can be as deep as 10 meters and last as long as 30 minutes depending on the diver's skills and experiences. Divers can also dive further offshore and experience diving with ice flows. Lake Shikotsu is a caldera lake noted for the clearest water in Japan. This lake can be dived year round as it does not freeze over. The area does also have some hot springs to enjoy.
Izu Ocean Park: The Izu Ocean Park is on the Izu Peninsula of Honshu Island about 100 kilometers from Tokyo. The Izu Peninsula is mountainous and is well known for its coastal resorts and mountain retreats. The Izu Ocean Park is one of the most popular destinations for divers from Tokyo, taking about an hour to get to from the city.
Okinawa Island has about 80 dive sites to offer in her surrounding, plus hundreds more in the smaller islands nearby. Being subtropical and in the current flow from the South China Sea, the waters are warmer than expected. Also the marine biodiversity is very high. Visibility is generally very good. Plus, some dive sites are known for strong currents, and qualified divers will find drifts dives to be very exciting.
How to dive Japan?
Scuba diving in Japan is mostly done with land resorts affiliated to a dive center. You will catch daily boats to go diving. Plus, in some destinations like the Okinawa island, shore dive is often possible as the dive sites are closer to the land.
Best time to dive in Japan
Japan can be dived year round. However, some of the best diving can be during the most challenging times of the year. For example, the ice diving on Hokkaido is best in the dead of winter, and most divers will dive in dry suits year round.
Honshu Island diving is best during the summer and can be dived with wetsuits. However, when the weather gets colder and the southern current weakens, dry suits are needed.
Okinawa is subtropical can be dived in a wetsuit year round. July to October is the season for tropical storms. Conditions during a storm will cancel diving, however, conditions improve rapidly after a storm passes.
Top liveaboards in Japan according to divers reviews
No liveaboard found
Dive courses
Dive centers in Japan cover a wide range of dive courses. In any part of the country, you can become an open water diver. Plus, if you are diving in the north and have not been trained in dry suit diving, you may want to take a course. In Okinawa, training in drift diving would certainly be beneficial at many of the dive sites.
Scuba Diving conditions
As discussed with the different destinations, diving conditions vary based on the location. Most visiting divers do travel to Okinawa where diving conditions are good year-round, except when there's a storm. Visibility is good and the water temperatures stay warm. Also, currents can appear on some sites, however, a local guide should be able to advise you about the conditions.
Snorkelling in Japan
There are many great snorkeling opportunities in Okinawa. In other parts of the country, snorkeling may be limited due to water temperatures and rocky shorelines.
Fishes and Coral
Okinawa being a subtropical zone has the greatest variety of marine life, about equal to what is at the Great Barrier Reef. For example, sharks and rays live and migrate in these seas.
Honshu Island will have fewer species of marine life and much of what they do have are larger cold water species.
Diving Safety
If you are planning an upcoming dive trip or travelling to Japan, it is a really good idea to invest in travel insurance for scuba diving, because you never know what could happen and when you might need it (because accidents do happen!). I recommend this diving insurance as they offer worldwide coverage and focus on providing scuba divers a quality insurance and medical assistance service.
Japan is about contrast, and that extends to diving as well. It is a great destination for both cold water diving and tropical diving… the choice is yours!
Travel Guide
Now that you know all about the underwater world, you might want to start planning your scuba holiday! Check out our Japan Travel Review for information about how to get there, activities and excursions, where to stay, and more.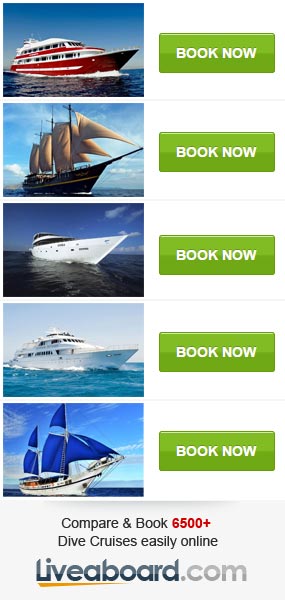 Diving Reviews for this region
Dive spots reviews in Japan
No dive sites reviews found
Liveaboard Reviews in Japan