If you have dived in South Africa before, please share your experiences: Dive spots you would recommend, which Dive Center you used, Fishes & Diving, Visibility, Currents, etc. Please post your comments in the section below, by doing so you will help fellow divers to plan their next trip


Upon mentioning South Africa in a conversation, you'll notice that most people know the country, each for a different reason! Lots will have heard about the sardine run scuba diving and others will tell you about the great white sharks, either positively, or negatively! Of course, South Africa is also about dramatic landscapes, safaris, and surfing!
Indeed, while the sardines run is one of the best diving adventures in the world, there is much more to know about scuba diving in South Africa! The country has over 2735 kilometers / 1700 miles of coastline, divided between the Atlantic and Indian Oceans. Additionally, you will find many diving opportunities in the inland areas as well.
In this page you will find more detailed information about scuba diving in South Africa.
Photos South Africa
Best Dive Review
You will find the best scuba diving opportunities in South Africa to be both on the south and the east coast. First, the KwaZulu Natal province is on the east coast. The area is known for beaches, mountains, and its beautiful Savannah, home to many famous animals! Plus, for scuba divers, the province is on the path of the annual sardine run!
Many of the best dive sites of South Africa are located in the province. Indeed, the whole area between Cape Town and Port Elizabeth is well known for scuba diving. Here are some examples of dive sites that you shouldn't miss!
Aliwal Shoal in KwaZulu Natal province is often listed as one of the top dive destinations in the world. The starting point to dive there is 50km south of Durban, located off the small town of Umkomaas on the south coast of KwaZulu-Natal. Among others, the Ragged-tooth sharks are known to mate on the shoal between June and November. Indeed, sightings of more than 100 of these sharks on a single dive are not uncommon in season. The shoal also has two wrecks near it, the Produce and the Nebo. Visibility is excellent and the area is now a marine reserve.
The video below shows the sardine run! The text continues below!
Sodwana Bay, also located in KwaZulu Natal, but about 500 kilometers north of Durban. Also called the Sordies, this bay has something for everyone. Indeed, the bay has dive sites suitable to those wanting their open water diver certification, but also sites that are for experts and technical divers. The bay is sheltered and thus, offers a calm environment with excellent visibility. Plus, Sodwana Bay has one of the greatest biodiversity in the world, roughly similar to the coral triangle.
Protea Banks is located near the town of Shelly Beach, approximately 160km south of Durban. Located about 7.5 kilometers offshore and at a depth of between 27 and 40 meters, the bank has some of the best shark and game fish diving in the world. Indeed, the bank is about 800 meters by 6 kilometers long of excellent visibility, often beyond 40 meters! Plus, shark mating also occurs there, are it's not uncommon to see hundreds of hammerheads. Large rays and whale sharks are also among the main draws to dive on the Protea Banks.
Port Elizabeth's East Cape offers more challenging diving conditions, but is an outstanding experience! The water in the area is far colder but offers a great opportunity for the experienced diver. Best known for great wall dives and massive schools of game fish.
How to dive South Africa?
Scuba diving in South Africa is best done with a local dive center. The diving goes on either from shore or from a dive boat. Also, note that given the distances involved between the different dive destinations, divers should likely concentrate on one dive destination. If it is a multi-week trip then a second destination can be considered.
Moreover, the road conditions are very good so self-drive trips are possible. However, pay attention if you are driving to higher grounds. Indeed, many of the dive destinations are surrounded by mountains of considerable altitude, enough to create a decompression risk.
Best time to dive in South Africa
Scuba diving in South Africa is available year round. The KwaZulu Natal province has great conditions year round especially Sodwana Bay. East Cape and Atlantic coast are subject to colder waters and rough weather so the summer months may be better.
Top liveaboards in South Africa according to divers reviews
No liveaboard found
Dive courses
The dive centers in the country offer a full range of dive courses. Those wishing to learn to dive will find ideal conditions at Sodwana Bay. Divers wanting to learn cold water diving or learn to dive in dry suits will find the best conditions along the East Cape.
Scuba Diving conditions
KwaZulu Natal province dive sites will have warm water conditions and great visibility, from 20-30 meters and up! The East Cape dive sites will also have great visibility but the surface conditions can be a challenge. Thicker wetsuits or drysuits may be needed on the East Cape.
Snorkelling in South Africa
Snorkeling is a common activity in KwaZulu Natal province's resorts. Most of the beaches have snorkeling available.
Fishes and Coral
South Africa has possibly the highest number of different marine life species in the world. That can be a surprise to many as we tend to think of Indonesia since it's located in the middle of the coral triangle. South Africa has the marine life found in the Indo-Pacific region, but it also has Atlantic marine life.
Furthermore, a warm current on the east coast allows a greater expansion of tropical fish, while a cold current on the west coast does the same for cold-water marine life. Plus, put this together with the migratory factors, and you get a marine life variety that is unmatched!
Most of your shark species including the Great whites, hammerheads and whale sharks are found here as well as most marine mammals.
Diving Safety
If you are planning an upcoming dive trip or travelling to South Africa, it is a really good idea to invest in travel insurance for scuba diving, because you never know what could happen and when you might need it (because accidents do happen!). I recommend this diving insurance as they offer worldwide coverage and focus on providing scuba divers a quality insurance and medical assistance service.
The attractions of the sardine run and diving with the Great White sharks may have put South Africa on the diving map, but the other diving destinations are worth your time as well! The diving is unforgettable and, when combined with some of the land-based attractions, provides a once in a lifetime vacation!
Travel Guide
Now that you know all about the underwater world, you might want to start planning your scuba holiday! Check out our South Africa Travel Review for information about how to get there, activities and excursions, where to stay, and more.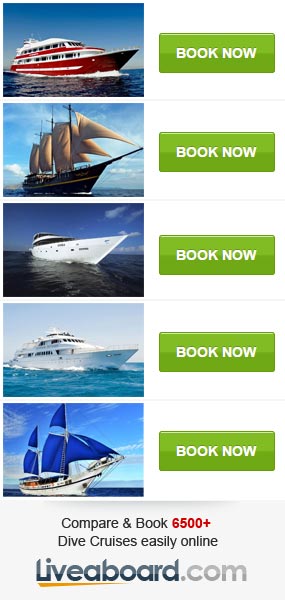 Diving Reviews for this region
Dive spots reviews in South Africa
No dive sites reviews found
Liveaboard Reviews in South Africa
Diving centers in South Africa