If you have dived in Malta before, please share your experiences: Dive spots you would recommend, which Dive Center you used, Fishes & Diving, Visibility, Currents, etc. Please post your comments in the section below, by doing so you will help fellow divers to plan their next trip


Malta is an island paradise in the Mediterranean Sea. A history dating back over 5,000 years, a rugged coast line and reefs described in the bible, historical cities and modern cites all make Malta special. The diving here is varied and remarkable. The island nation has often been voted as one of the top European travel destination! Plus, it has been voted as high as the second and third best diving location in the world for a few years!
In this page you will find more detailed information about scuba diving in Malta.
Photos Malta
Best Dive Review
Malta has over a hundred dive sites making it difficult to pick the best. There are many wreck sites as well as reefs. Cave diving is also very popular. Here are some places to consider:
Um El Faroud is an oil tanker that was scuttle in 1998 and today many consider it the best wreck dive in the Mediterranean Sea.
The Blue Hole of Gozo is suitable for all divers. Indeed, there are a number of different ways to dive this spot. The blue hole starts in shallow water and drops to 60 meters (197 feet ). The average depth is 15 meters (49 feet). There is a large arch that opens out to the open sea between 8 meters and 15 meters.
Cirkewwa is the port in the north of Malta Island and is where you get the ferry to Gozo and Comino islands. It has a collection of dive sites very close together. They include a reef, a statue of Madonna, the P-29 patrol boat wreck and the MV Rozi tugboat wreck.
The majestic Blue Lagoon of Comino Island is a well sheltered and shallow dive site with a maximum depth of 15 meters (50 feet).
The Santa Maria Caves are great for divers of all skill levels. These caves are not caves in the diving definition. In fact, divers are not in an overhead environment and can always make a direct ascent to the surface.
Imperial Eagle and Jesus Statue: The Imperial Eagle is 45 meters long, 9.2 meters at its beam and sits upright in 40 meters of water. The ship had at one time been a passenger and car ferry, then a general cargo ship. A statue of Jesus sits nearby.
Gozo Wrecks: Just off the shores of Gozo are three wrecks: the MV Xlendi, the MV Karwella, and the MV Cominoland. These wrecks are shore dives from the same entry point.
How to dive Malta?
Malta displays over 100 dive sites around the islands, of which the half are accessible from the shore. Otherwise, a quick boat ride will take you there. Also, Malta Island is about 27 km long by about 15 km wide and offers a great public bus system that will get you pretty much anywhere. Thus, you will be able to reach the shore in any village, and perhaps your boat's departure point if needed.
Furthermore, a ferry to Gozo is only about 25 minutes, and the island is about ¼ the size of Malta. Thus, everything is even more accessible! Gozo has 15 boat dive sites and 27 shore dive sites.
Overall, there are over 50 dive centers in the country of Malta. Considering the small size of the islands, it might make it the highest concentration of dive centers per square mile of anywhere in the world!
Best time to dive in Malta
Diving in Malta is available year round as there is very little change in diving conditions. However, some resorts do close in the winter. The summer months, June to September, are the best time for diving. September has an extra edge in that most of the tourist have already left, so it's less crowded everywhere!
Top liveaboards in Malta according to divers reviews
No liveaboard found
Dive courses
Malta is an outstanding destination to learn how to scuba dive. If you are not deep or wreck certified, this is an excellent location to pick up those skills.
Scuba Diving conditions
The air temperatures will range from a daily average of 12°C/54°F in January and February up to a daily average of 26°C/79.4°F in August.
As for the water temperatures, they will range from a daily average of 15°C (59.4°F) in January to 26°C (79°F) in August.
Visibility is often over 40 meters (130 feet). The tidal change is so small and the current is so weak that it is barely noticeable. There are some currents on some deep wrecks dive sites, but they only range to the mild category.
Snorkelling in Malta
Snorkelers will find many places to enjoy themselves in Malta. Many of the shore diving sites are great for snorkeling. Places like the Blue Lagoon on Comino, Paradise Bay at Cirkewwa and the Blue Hole on Gozo are rated among the best snorkeling locations in the world.
Fishes and Coral
The waters around Malta have a good variety of marine life, however, it does not have a large population of game fish or sharks.
Diving Safety
If you are planning an upcoming dive trip or travelling to Malta, it is a really good idea to invest in travel insurance for scuba diving, because you never know what could happen and when you might need it (because accidents do happen!). I recommend this diving insurance as they offer worldwide coverage and focus on providing scuba divers a quality insurance and medical assistance service.
Malta offers the diver dive sites that are pristine, available year-round and without standing dive conditions. The extensive air connections to this tiny nation, make it very easy to travel too.
Travel Guide
Now that you know all about the underwater world, you might want to start planning your scuba holiday! Check out our Malta Travel Review for information about how to get there, activities and excursions, where to stay, and more.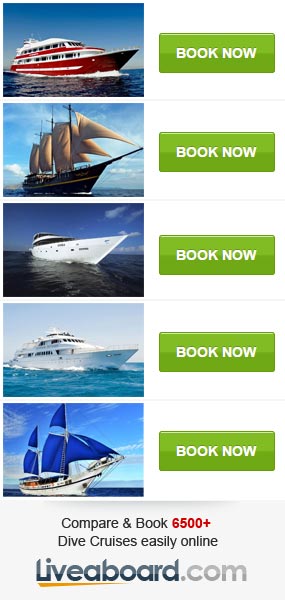 Diving Reviews for this region
Dive spots reviews in Malta
No dive sites reviews found
Liveaboard Reviews in Malta