If you have dived in Similan Islands before, please share your experiences: Dive spots you would recommend, which Dive Center you used, Fishes & Diving, Visibility, Currents, etc. Please post your comments in the section below, by doing so you will help fellow divers to plan their next trip

Scuba Diving inside the Similan National park is the best diving in Thailand and one of the best in the world. There are numerous excellent dive sites. The fauna is very rich and you will spot, in addition to the usual reef fishes, many blacktip and Whitetip reef sharks. Leopard sharks are also very common in the marine reserve. The reef life is teeming with trigger fishes, unicornfishes and many other colourful fishes. Always keep an eye out for the pelagic fishes like barracudas and giant trevallies patrolling the area.
If you are lucky you can spot Manta rays flying around and even the biggest fish in the world the mythical Whale Shark!
The coral is also in great shape with a lot of table corals and staghorn coral. Soft coral is everywhere and very colourful. Most of the dive sites are filled with huge granite boulders which offer a fantastic playground for divers.
The most famous dive sites of the Similans are Elephant head rock and Christmas point. They both offer amazing underwater topography with many swim-through and very rich fauna.
In addition, the Similans are very popular for underwater photography. The clear water, superb coral, rich fauna and the interesting topography will give you great photo opportunities on every dive site! Moreover you will find many macro subjects like Nudibranchs are all kind of small creatures.
Update September 2011: the dive site East of Eden is closed for coral regeneration as well as Islands number one, two and three.
In this page you will find more detailed information about scuba diving in Similan Islands.
How to dive Similan Islands?
Similan Islands are only accessible by liveaboard. You will cruise for 4 days to two weeks around this superb marine national park.
Read our article about the best Liveaboards in the Similan Archipelago.
It is possible in the same trip to also explore the Surin Islands marine reserve and the world famous dive site Richelieu Rock located a bit further North. Most of the Liveaboard leave from the city of Khao Lak situated North of Phuket. The Similan archipelago is situated only 50 km west. There are also Liveaboard leaving directly from Phuket and Ko Lanta. There are many liveboard options suitable for all budgets from the backpacker style to the luxury ones with private suite.
It is also possible to reach the Similans during a day trip from Khao Lak or Phuket but it will be a big day with more than 90 km to cover!
Another option is to camp on the islands. In some places tents and bungalow can be rented. You have to ask first to the National park headquarters in Taplamu or in a travel agency.
Hot tips
These islands are a very popular diving destination, so be sure to book your trip in advance!
In addition to your trip, you will also have to pay a national park entry fee of 400 Baht per person plus 200 Baht diving fee per day.
Photo Credit: http://www.flickr.com/photos/mattmangum/3416076485/
Where to stay?
I usually use this website to book in advance my hotels in Similan Islands as they usually have the lowest rates I find. I like it because it's free to cancel and change the dates.
Best time to dive in Similan Islands
The national park is open from November 1st to April 30 but most of the liveaboards operate only from October to May. The best diving conditions occur in March with the best visibility and almost no wind.
Hot tip
The peak diving season runs during the dry season from December to April. During this period you should book your Liveaboard well in advance!
Top liveaboards in Similan Islands according to divers reviews
Scuba Diving conditions
Diving conditions are usually very good with moderate current and good to very good visibility. Depending on the season it can range from 20 to 40 meters.
Water temperature is between 27°C to 30°C and you normally don't even need a full wet suit.
Dive sites around the archipelago are suitable for divers from open water to divemasters and most of the diving is easy and quite shallow.
Diving Safety
If you are planning an upcoming dive trip or travelling to Similan Islands, it is a really good idea to invest in travel insurance for scuba diving, because you never know what could happen and when you might need it (because accidents do happen!). I recommend this diving insurance as they offer worldwide coverage and focus on providing scuba divers a quality insurance and medical assistance service.
Photos Similan Islands
Travel Guide
Now that you know all about the underwater world, you might want to start planning your scuba holiday! Check out our Similan Islands Travel Review for information about how to get there, activities and excursions, where to stay, and more.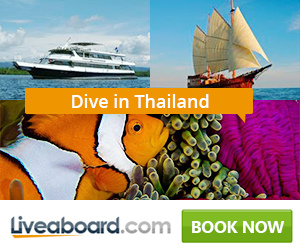 Diving Reviews for this region
Dive spots reviews in Similan Islands
Liveaboard Reviews in Similan Islands
Diving centers in Similan Islands