If you have dived in Whitsunday Islands before, please share your experiences: Dive spots you would recommend, which Dive Center you used, Fishes & Diving, Visibility, Currents, etc. Please post your comments in the section below, by doing so you will help fellow divers to plan their next trip

In this page you will find more detailed information about scuba diving in Whitsunday Islands.
Best Dive Review
When diving in the Whitsunday Islands you have two possibilities: the local spots or going further out on the Great Barrier Reef. Most of the dive centers are located on Hamilton Island but there are also good dive operators in many of the isolated resorts.
Photo Credit: http://www.flickr.com/photos/luckyrob/3242638010/

Whitsundays Local dive sites
Here you can spot turtles, Whitetip Reef Sharks, Blacktip Reef Sharks, dolphins, all the superb Reef fishes, big cods and many Green Sea Turtles. It is also possible to spot the rare and strange Wobbegong Shark. Pelagic fishes are not rare too so look to the blue for the Barracudas and trevallies patrolling the area.
The dives are mostly easy with good conditions and the Whitsundays are a good place to take Padi scuba diving courses.
Great Barrier Reef
You can dive the Great Barrier Reef on a day trip but as it is quite far away the best may be to take a short liveaboard for 2 or 3 nights. You can also take a longer Liveaboard to explore remote areas of the reef. I usually use this website to book in advance my Liveaboards in Australia as they usually have the lowest rates I find. I like it because they have an easy booking system.

Due to the remoteness, diving there is more suitable for experienced divers. The main attractions are the superb coral formations, the big fishes action with lots of pelagic hunting around and the many species of Sharks you can encounter! The gentle giants of the sea, Manta Rays, are commonly spotted too.
During the right season you might even spot a majestic Humpback Whale, a Minke Whale or a whole pod of dolphins. Dugongs are a possible encounter too.
Where to stay?
I usually use this website to book in advance my hotels in Whitsunday Islands, Australia as they usually have the lowest rates I find. I like it because it's free to cancel and change the dates.
Best time to dive in Whitsunday Islands
The Weather in the Whitsundays is great all year round. During Summer, it is hot weather with the air temperature around 30°C. During the winter, the weather is warm with air temperature being around 23°C. The water Temperature is generally the same year round with 25°C. It is possible to dive all year round in the Whitsundays.
The Wet season runs from January to March with heavy rain short episodes
The Minke Whales season runs from June to August.
The humpback whales season is from June to November.
The Coral Spawning occurs in October and November
The best scuba diving season on the Great Barrier Reef runs from mid-August to mid-December with excellent conditions.
Hot Tip:
The Peak Season is in September and October as well as December and January. During these periods, accommodation prices tend to increase meaning you should book well in advance!
Top liveaboards in Whitsunday Islands according to divers reviews
No liveaboard found
Scuba Diving conditions
Conditions are good all year round around the Whitsundays.
The water temperature on the Great Barrier Reef usually ranges from 24°C to 29°C and around 25°C on the local dive sites.
The current is generally gentle on the local dive sites but can be strong if you dive on the Great Barrier Reef.
The visibility on the local dive sites is good and ranges from 8 to 30 meters. However if you take a Liveaboard dive trip to the Great Barrier Reef you can expect very good to excellent visibility up to 50 meters.
The depth ranges from 5 to 30 meters but most of the dive sites are suitable for beginner divers and don't go below 20 meters deep.
Snorkelling in Whitsunday Islands
The Whitsundays Islands features dozens of kilometres of healthy and beautiful shallow coral reef which is easily explored from the beach in front of your resort or your campsite. However, if you want to explore the best of the best of the reefs on offer, it is better to book a snorkelling day tour. It can be around the Whitsundays or even on the Great Barrier Reef.
Warning:
The Box jellyfish is sometimes present around the islands. A Box Jellyfish sting can be fatal! All the resorts and dive centres will provide full wet suit to avoid any danger!
Photo Credit: http://www.flickr.com/photos/krossbow/467524045/
Diving Safety
If you are planning an upcoming dive trip or travelling to Whitsunday Islands, it is a really good idea to invest in travel insurance for scuba diving, because you never know what could happen and when you might need it (because accidents do happen!). I recommend this diving insurance as they offer worldwide coverage and focus on providing scuba divers a quality insurance and medical assistance service.
Photos Whitsunday Islands
Travel Guide
Now that you know all about the underwater world, you might want to start planning your scuba holiday! Check out our Whitsunday Islands Travel Review for information about how to get there, activities and excursions, where to stay, and more.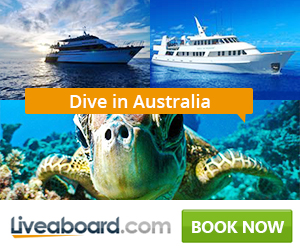 Diving Reviews for this region
Dive spots reviews in Whitsunday Islands
No dive sites reviews found
Liveaboard Reviews in Whitsunday Islands
Diving centers in Whitsunday Islands