If you have dived in Palau before, please share your experiences: Dive spots you would recommend, which Dive Center you used, Fishes & Diving, Visibility, Currents, etc. Please post your comments in the section below, by doing so you will help fellow divers to plan their next trip

Palau is a diving destination in a class of its own. Located at the westernmost island group of the Caroline Islands of Micronesia in the Pacific Ocean, the small country is known for its outstanding Scuba diving and marine conservation.
Three major ocean currents converge around the islands creating conditions that are perfect for marine growth. Palau is within the coral triangle and is one of the "Seven Underseas Wonders of the World". Their coral reefs have both high species diversity and high habitat diversity, having over 1,300 species of reef fish and 550 species of coral.
Palau dive sites, such as Blue Corner and German channel often make list of the world's best dive sites.
Palau offers some of the best drift dives in the world, however, it also offers some of the best Manta Ray and shark encounters as well, and let's not forget it range of WWII shipwrecks among others.
The converging currents do restrict some dives to the experienced diver, new divers as well as casual divers will find many dive sites within their experience level or preference profiles.
The Palau's culture has always respected the environment. Palau has taken it a step further. They have declared its entire Exclusive Economic Zone a protected area. About 90% of the waters are protected as a marine sanctuary, the rest is still a protected zone.
In this page you will find more detailed information about scuba diving in Palau.
Photos Palau
Best Dive Review
Palau has a small but growing tourism industry. That growth has been well managed, growing only when the environmental impact is managed. In early 2015, like many Asian countries, Palau saw a sudden increase in tourism mainly because of an "invasion" of Chinese tourist.
Locals complained that the influx of tourist was having a negative impact on the environment and local lifestyles. The government responded with a program that limited the number of flights into the country from Asian cities. This slowdown help reestablish the environment balance. The majority of visitors to the islands are scuba divers, with bird watchers and other naturalist making up the balance.
Here are some of the best dive sites:
Blue Corner: this is one of the top dive sites in the world. It is the top of a coral reef in about 11 to 18 meters of water. It jute out over a deep drop off. Current here are mostly strong. It is said that the reef hook was developed for this site. The reef hook is a strong blunted hook that is inserted into the rock outcroppings. Attached to it is a line that the diver lets out. The diver adds a little air to their BCD to become slightly buoyant. This gives the impression of flying over the reef but staying in one location. The divers can see down into the deep and watch the sharks as they ascent to the reef.
Blue Hole: in one section of the reef is four openings to a cavern below. The cavern drops to 120 feet/35 meters. The walls of the cavern are alive with sponges, corals and reef fish. One portion there is a "window", a opening that leads outside of the hole. Divers exiting by the "window" will be able to follow the wall to Blue Corner. When conditions are proper, the diver can do a drift dive then hook in at the Blue corner to enjoy the rest of the dive suspended over the deep.
German Channel: The German Channel was created over 100 years ago to serve as a shipping lane between mines and the shipping port. It created an opening between the inner lagoon and outer. The currents going thru the channel helps nutrients get in and waste getting out. Sharks and Manta rays will cruise the channel or wait at one of the openings to take advantage of the currents. Cleaner fish have set up shop in the channel.
How to dive Palau?
Palau's tourism industry is primary focused on Scuba diving. Kayaking, bird watching and snorkeling are also components of this small country's tourism industry.
Koror is the center of the tourism and almost all tourism facilities are located here. Unlike most tourist destinations, The nightlife is not geared towards the tourist and there is no all night parties. Scuba Divers will find that there are outstanding local dive operators as well as Palau liveaboards. The dive operators generally use smaller dive boats and can offer a more personalized service when compared to other international dive destinations.
Divers can choose between land base resorts/dive operators or liveaboards. In Palau, both visit the same sites. However, the liveaboards have the advantage of visiting the busy sites before the other dive boats arrive. Also The liveaboards will do more dives over the course of a week.
Where to stay?
I usually use this website to book in advance my hotels in Palau as they usually have the lowest rates I find. I like it because it's free to cancel and change the dates.
Best time to dive in Palau
Being outside of the main typhoon belt of the region, Palau is an outstanding destination year round.
The best diving is between November and April. These months have the greatest number of pelagics, and has incredible visibility.
June and September brings rough sea conditions at times and the possibility of lower visibility.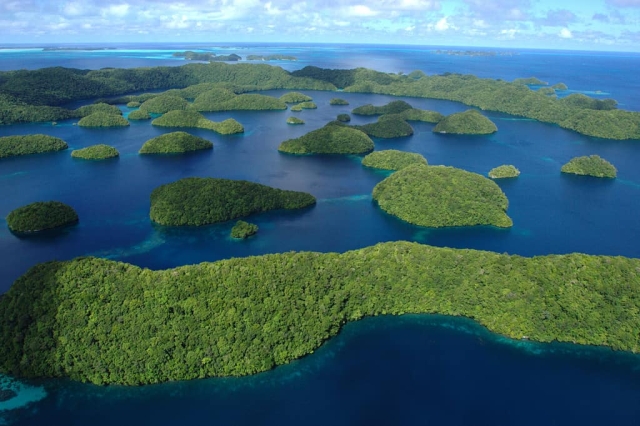 Top liveaboards in Micronesia & Palau according to divers reviews
Dive courses
The variety of dive sites geared to most divers means that it is also an outstanding destinations to learn how to dive or to expand your skill base.
Open Water Diver Training is available from most of the dive operator and liveaboards. If you are not a EAN or Advance Open Water Diver these courses are highly recommended to fully enjoy the Palau experience.
Scuba Diving conditions
Historical data place June as the warmest month with sea temperatures around 29 to 30°C (84 to 86°F). The end of January gives the chillest waters at 27 to 29°C (81 to 84°F)
Snorkelling in Palau
There are a number of outstanding snorkeling sites. Many snorkelers will use kayaks to get to isolated coves for snorkeling. Jellyfish lake is an outstanding snorkel only spot with millions of safe jellyfish.
Fishes and Coral
Palau is blessed with a high biodiversity. Sharks and other large pelagics are seen on most dives. 350 species of hard coral and 200 soft coral species feed by the three converging ocean currents give outstanding marine life.
Sharks the most common being: gray reef, black tip, white tip, and the occasional bull shark, leopard shark and hammerhead. Whale sharks seasonally.

Manta and Eagle Rays

Turtles including leatherback, hawksbill, olive ridley, green and loggerhead.

Napoleon wrasses

1,300 species of reef fish

Whales

Dolphins

Dugong, Sea Cows

saltwater crocodile
Diving Safety
If you are planning an upcoming dive trip or travelling to Palau, it is a really good idea to invest in travel insurance for scuba diving, because you never know what could happen and when you might need it (because accidents do happen!). I recommend this diving insurance as they offer worldwide coverage and focus on providing scuba divers a quality insurance and medical assistance service.
Palau offers some of the best dive sites in the world. It is a low key destination with a simple lifestyle.
Travel Guide
Now that you know all about the underwater world, you might want to start planning your scuba holiday! Check out our Palau Travel Review for information about how to get there, activities and excursions, where to stay, and more.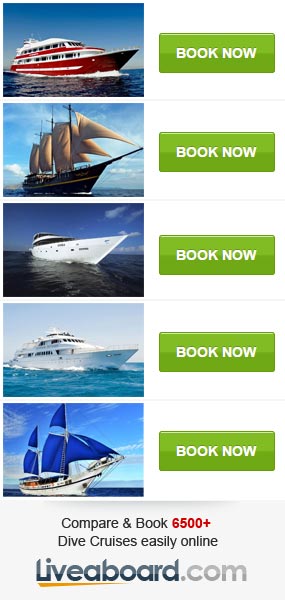 Diving Reviews for this region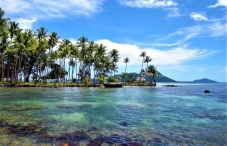 Yap for the Manta Rays or Chuuk for the shipwrecks? So hard too choose!
Dive spots reviews in Micronesia & Palau
No dive sites reviews found
Liveaboard Reviews in Micronesia & Palau
The MV Palau Aggressor II is one of the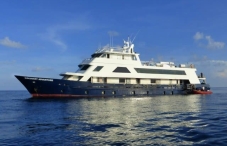 The MV Discovery Adventure is a liveaboa
The 'Rock Islands Aggressor' is one of t
Diving centers in Micronesia & Palau