If you have dived in New Zealand before, please share your experiences: Dive spots you would recommend, which Dive Center you used, Fishes & Diving, Visibility, Currents, etc. Please post your comments in the section below, by doing so you will help fellow divers to plan their next trip


New Zealand may be the premier and most enchanting bucket list destination in the world. People that have a varied array of interests look to New Zealand as something outstanding and magical. Indeed, the rugged landscapes, snow-capped mountains, endless highlands and rocky coast lines add to the cities and memorable beaches.
Scuba divers will find outstanding diving here. In fact, there both sub-tropical diving and temperate climate diving that  you can experience in New-Zealand. Plus, divers will have the opportunity to dive wrecks, do drift dives and much more.
In this page you will find more detailed information about scuba diving in New Zealand.
Best Dive Review
New Zealand offers some great diving for scuba divers of all skill levels, and to those who enjoy different types of diving. The novice diver and even those who are wanting to learn how to dive will find hundreds of dive sites that will fit their needs.
The North Islands offer great subtropical diving, while the South Island will appeal more to divers who favor temperate diving. Also, during the summer there are dive sites in the South Islands that are warmer. Plus, some of the offshore islands are influenced by warm water currents offering tropical diving. Here is a sample of some of the diving available:
Poor Knights Islands: Located off New Zealand's Tutukaka Coast, the Poor Knights Islands often find themselves on the worlds best list. The islands are volcanic in nature and underneath the surface, currents have eroded many caves and passages. You will find many shallow coral gardens just as you will also find stunning wall dives. The prevailing current here is coming from the tropical Coral Sea, adding to the variety of marine life and ensuring a more stable water temperature. Poor Knights Islands is the second oldest marine reserve in New Zealand. There is no place to stay in the marine reserve, dive boats come from North Island.
The Bay of Islands is located on the east coast of North Island. The bay contains about 150 small islands and is one of the most popular summer tourist destination in New Zealand. The primary attractions are any water sports and the beaches themselves! The area is lightly developed and preserves much of the natural state. Scuba diving is very popular here. The area is subtropical and the Poor Knights Islands are influenced by the current from the Coral Sea. However, strong currents are not generally a concern in the area. The Greenpeace ship the Rainbow Warrior, and the HMNZS Canterbury are two notable wreck dive sites in the bay.
Wellington: If you are heading to Wellington, the capital of New Zealand, for any reason… make sure you bring your diving gear along. The area has some great diving including the Taputeranga Marine Reserve. Wellington's harbor has a number of great dive sites and many are used for night dives. a great way to unwind after a day of work.
Kaikoura, on the southern island, is noted for the New Zealand fur seals that reside in the area. The coastline is rocky and the water shallow which is perfect for these marine mammals. The small dusky dolphin also resides here in large numbers. Diving is mostly in the kelp forests. One item to note is that a strong earthquake in November 2016 caused damage to the area both above and below the surface. Information on dive sites before that date may not be accurate.
Anyway, visibility is often low but still good for interaction with the seals and dolphins. Plus, you could be catching crayfish for dinner while diving! Kaikoura is on the northeast coast of the southern New-Zealand island and within driving distance from Picton and Christchurch. Picton has ferry service to Wellington. Because of the aftermath of the earthquake the road sometimes closes after rains, please check the road conditions before driving.
Milford Sound is a very popular destination for outdoor lovers. Located on the southwestern side of South Island it is a fjord know for majestic mountains, stunning waterfalls, and abundant wildlife. Piopiotahi (Milford Sound) Marine Reserve is just as stunning. There is a layer of fresh water that sits on top of the cold saltwater of the fjord. This layer is said to be dark and absorbs a great deal of light. As a result of that, you will find creatures who normally live at depths of a 100 meters or more at depths of just 30 meters. As an example, 6-meters high black coral trees which are only found beyond 100 meters can be seen by recreational scuba divers. The dramatic landscape above the surface is also found below the surface. Sheer walls and underwater mountain tops are there for you to explore.
How to dive New Zealand?
New Zealand is mostly a land-based diving destination. Because of the unique nature of the different dive destinations as well as the nature of different land activities, this is a great destination for an extended dive and adventure vacation.
Divers do need to remember the dive to flight restrictions. Also, recall that the restriction will also apply to drives taking you to higher altitudes.
Best time to dive in New Zealand
Diving is available year-round in New Zealand. However, the peak diving seasons are not the same between the North and South Islands.
January to June is considered the best time to dive the northern dive sites of North Island. Sites such as the Bay of Islands and Poor Knights Islands fall in this group. Water around the upper North Island averages 15 ºC in winter and 21 ºC in summer.
Diving in the South Island, especially those sites at the southern tip of it, is best from November to April. The diving in the South Island is colder: 8 ºC in winter and up to 18ºC in summer. Thus, drysuits are needed most of the year.
Top liveaboards in New-Zealand according to divers reviews
No liveaboard found
Dive courses
The variety of diving in New Zealand means there is a variety of dive courses as well. Indeed, you can find just about every recreational dive course somewhere in New Zealand. If you are looking to become a certified diver, then you can find many places to learn. Plus, underwater photography courses are popular.
Divers who wish to dive in the south Island may wish to take a drysuit course if they are not already qualified.
Scuba Diving conditions
The variety of dive sites and the difference in the styles of diving between the North and South islands make it difficult to generalize on diving conditions.
First, in the north, diving conditions are semitropical and influenced by tropical currents. This normally gives you warmer waters and great visibility. However, some of the nearshore dives in the kelp forests will have lower visibility.
Furthermore, on the South Island, we are generally talking about colder water which tends to have great visibility. However, diving in fjords often have poor visibility, not so much because of the water quality but due to the sides of the fjords above the surface blocking the light.
Snorkelling in New Zealand
New Zealand has many locations where there are shore dives that are also suitable for snorkeling. Additionally, most of the many popular swimming beaches are perfect for snorkeling. Snorkelers should avoid the surfing beaches.
Fishes and Coral
New Zealand has two different diving zones: the subtropical north and the temperate south. Each of these zones is influenced by currents, which are either tropical warm currents or those from the Antarctic. Thus, the northern dive sites of New-Zealand will have a full range of tropical and subtropical marine life.
As for the southern dive sites, they will have types of marine life that is more often found in temperate waters as well as some visitors from the Antarctic. Also near the east coast of the country is a deep trench. So it is common to have pelagic species in the shallower waters along the coast and outer islands.
Diving Safety
If you are planning an upcoming dive trip or travelling to New Zealand, it is a really good idea to invest in travel insurance for scuba diving, because you never know what could happen and when you might need it (because accidents do happen!). I recommend this diving insurance as they offer worldwide coverage and focus on providing scuba divers a quality insurance and medical assistance service.
You could almost dive the world with just one long trip to New Zealand. Tropical marine life in the Subtropical north, with great drift dives, walls, wrecks and coral gardens. To Antarctic whales and other cold water marine life in the temperate south, where you can also dive the exciting fjords or kelp forest. Play with seals or turtles. There is even altitude diving in alpine lakes.
Photos New Zealand
Travel Guide
Now that you know all about the underwater world, you might want to start planning your scuba holiday! Check out our New Zealand Travel Review for information about how to get there, activities and excursions, where to stay, and more.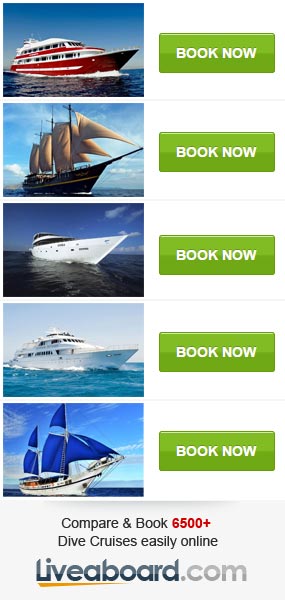 Diving Reviews for this region
Dive spots reviews in New-Zealand
No dive sites reviews found
Liveaboard Reviews in New-Zealand
Diving centers in New-Zealand