If you have dived in Wakatobi before, please share your experiences: Dive spots you would recommend, which Dive Center you used, Fishes & Diving, Visibility, Currents, etc. Please post your comments in the section below, by doing so you will help fellow divers to plan their next trip

Wakatobi offers excellent Scuba Diving on some of the most pristine Reefs on the planet. The resort is located in the Wakatobi National Park (also known as Tukang Besi National Marine Park) in the Banda Sea.
The main attractions here are the outstanding Coral and the amazing Biodiversity. This place is famous for the high density and variety of small creatures and critters you can find. Several new species have been found around Wakatobi.
Serious macro Underwater Photographers come here from all over the world to get excellent pictures opportunities. You can spot Pygmy Seahorse on a superb Sea Fan, rare and colourful species of Nudibranchs and newly discovered species of the Ghost Pipefish.
Credit Photo: http://www.flickr.com/photos/diverslog/215817070/
Wakatobi is not really the best spot for big fishes and action, not like diving in the Komodo National Park for example, but you can still spot many Blacktip Reef Sharks, Whitetip Reef Sharks as well as Grey Sharks on several dive sites. Eagle Rays and Turtles are common encounters too.
The house reef just in front of the Bungalows is known to be as one of the best dive site in the world and you will have unlimited shore diving! Moreover, this is an excellent place for night diving.
You can also explore this underwater world on a Liveaboard trip (Pelagian Liveaboard). I usually use this website to book in advance my liveaboards in Indonesia as they usually have the lowest rates I find. I like it because they have an easy booking system.
In this page you will find more detailed information about scuba diving in Wakatobi.
Best Dive Review
There are over 40 dive sites in Wakatobi. The best ones are:
House Reef
Cornucopia
Coral Garden
Roma
Where to stay?
I usually use this website to book in advance my hotels in Wakatobi as they usually have the lowest rates I find. I like it because it's free to cancel and change the dates.
Best time to dive in Wakatobi
It is possible to dive all year in Wakatobi. The climate is tropical with the sun shining year round and air temperature ranges from 26 °C to 30 °C. This area is much drier than other parts of Indonesia and in particular Sulawesi.
Rainy season is in January and February but nothing too bad to avoid diving.
Peak Season runs in April and May and in September and November and you should book well in advance during these periods.
The best diving season runs between March and December as well as July and August. The water temperature ranges all year between 26°C to 30°C.
Hot tip
If you want to spot pilot Whales, the best period is from November to April!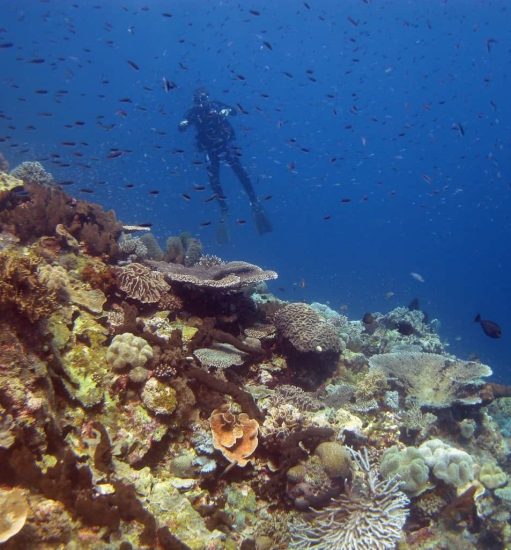 Top liveaboards in Wakatobi according to divers reviews
Scuba Diving conditions
The current is usually gentle around Wakatobi. However it can sometimes be very strong on certain dive sites.
The water temperature ranges from 26°C to 30°C all year round. There are no rivers in the area and so the visibility is not affected by rains. It is generally excellent and ranges from a good 20 meters to an outstanding 60 meters!
Snorkelling in Wakatobi
Wakatobi is a perfect place for Snorkelling. With kilometres of pristine reef and shallow coral gardens you can spend your days snorkelling without any boredom.
The House Reef just in front of the bungalows is a superb place to begin! You can also jump on any dive boat as most of the dive sites are suitable for snorkelling. The resort provides a special discount package for Snorkellers.
Credit Photo: http://www.flickr.com/photos/craigd/3902642453/
Diving Safety
If you are planning an upcoming dive trip or travelling to Wakatobi, it is a really good idea to invest in travel insurance for scuba diving, because you never know what could happen and when you might need it (because accidents do happen!). I recommend this diving insurance as they offer worldwide coverage and focus on providing scuba divers a quality insurance and medical assistance service.
Photos Wakatobi
Travel Guide
Now that you know all about the underwater world, you might want to start planning your scuba holiday! Check out our Wakatobi Travel Review for information about how to get there, activities and excursions, where to stay, and more.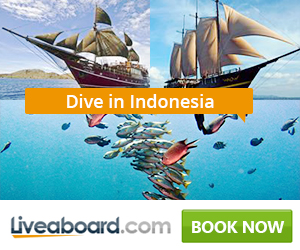 Diving Reviews for this region
Dive spots reviews in Wakatobi
No dive sites reviews found
Liveaboard Reviews in Wakatobi
Diving centers in Wakatobi