If you have dived in Mozambique before, please share your experiences: Dive spots you would recommend, which Dive Center you used, Fishes & Diving, Visibility, Currents, etc. Please post your comments in the section below, by doing so you will help fellow divers to plan their next trip


Mozambique has 1,535 mi (2,470 km) of Indian Ocean coastline and two large archipelagos off the mainland. So, the country does have its fair share of amazing Indian Ocean conditions for scuba diving!
 Diving here is outstanding, with some dive destinations that are easy to reach, while others require some logistics. Still, the latter are the ones that make the effort worth it as they offer an outstanding diving experience. You will be talking about your Mozambique diving for decades to come!
In this page you will find more detailed information about scuba diving in Mozambique.
Photos Mozambique
Best Dive Review
There are many wonderful places to dive in Mozambique. Indeed, there are hundreds of dive sites and everyone has their favorite. The best way to explore this is to talk about the different destinations, so here we go!
Ponta do Ouro is only about 15 km away from the South African border and about 130 km South of Maputo. While the distance seems short, you have to know that, until the new road is completed, the last part of your trip will need a 4×4 vehicle. Indeed, the "road" is just hard-packed sand that the locals follow. In fact, Ponta do Ouro is one of three small villages on the coast in the area. Accommodations are simple but the diving makes the trip worth it. There are twenty reefs in the area. Dive sites such as the Pinnacles are known for sharks and some even for hammerhead sharks! The deep reef makes a great drift dive. Also, the Doodles dive site is a long reef teeming with marine life like the Potato Cod, which is a commonly seen fish in the area.
Inhambane and Tofo are often linked together as they are only 30 kilometers apart. Located about 500 kilometers from Maputo, they are among the leading tourist destinations within the country. The diving is outstanding, with some dive sites listed among the best in the world. For example, many divers consider Mozambique's Manta Reef as the best location in the world to see manta rays. This stunning reef with an average depth is 21 meters has at least three cleaning stations that always seem busy servicing the mantas. The Office is another dive site for ray lovers. The cleaning sites here also attract the manta rays but it is the devil rays that are the star attraction.
Pemba Bay offers some great diving in the south of the peninsula, where the oceanic continental shelf comes close to shore. Indeed, such topography leads to some great wall dives such as the Gap, which is a sheer wall that starts at just 15 meters and drops straight down to over 100 meters. Also, the north side has outstanding diving both for shallow diving and deep diving.
The Quirimbas Archipelago is made up of 32 islands and these are known to be mostly unexplored. In fact, only a few of the islands have inhabitants. So, despite that there are many well-known dive sites in the island chain, some divers will go there to enjoy exploring new sites that nobody talks about. Accommodation wise, the resorts range from very simple to private islands for the elite. Also, part of the Quirimbas Islands is a National Park, which includes about 11 islands of the southern portion of the archipelago.
How to dive Mozambique?
To be practical, you will likely only dive into one destination during a trip to Mozambique. That being said, if you are on an extended vacation, you could spend some time diving in Maputo before moving on to another location, or dive Maputo on your way back.
Maputo is your international gateway if you are flying into the country and is the hub for domestic air travel. Another multiple destinations itinerary could be one that includes both the Quirimbas Archipelago and Pemba Bay. Indeed, both locations offer outstanding diving and the archipelago has more remote and private dive sites.
Best time to dive in Mozambique
Scuba diving is a year-round activity in Mozambique. As to know when is the best time for diving, you will get many different answers. On the other hand, if you ask when is the worst time to dive Mozambique, you will likely hear February, early March, and November. Indeed, February and March is the time when cyclones are most likely to happen.
November is sometimes mentioned because it is the start of the rainy season and the less predictable time of the year. However, it is peak time for whale sharks and migratory whales. So you may still want to consider it. Otherwise, the dry season goes from May to October and is the best time to dive in Mozambique.
Top liveaboards in Mozambique according to divers reviews
No liveaboard found
Dive courses
The full range of diving courses are available in Mozambique. Indeed, you will be able to find many great dive sites for beginner divers. Also, as many of the best dive sites are drift dives, you might want to consider taking the specialization course while in the country!
Scuba Diving conditions
Each destination has slightly different conditions. However, unless there is an algae bloom, visibility is generally over 20 meters and may exceed 40 meters. Also, unless you are in a sheltered area such as a bay, expect to encounter marine currents.
Regarding the water temperatures, it will generally be in the 25°C to 30°C range.
Snorkelling in Mozambique
Many of the beaches offer outstanding snorkeling. dive sites used for open water training are also often used for snorkeling. Be careful as currents can be a concern at other dive sites.
Fishes and Coral
Mozambique is perhaps best known for the larger species of marine life. Indeed, you might encounter a wide range of sharks, including the famous whale sharks. Whales are also very common with some being found year round while others migrate from the Antarctic.
Plus, the currents in the area keep the water warm and allows a wide range of reef life. The reefs are mostly soft coral on which most Indo-Pacific species of reef fish can be found. Marine mammals including the rare Dugong and dolphins are also easy to find.
Diving Safety
If you are planning an upcoming dive trip or travelling to Mozambique, it is a really good idea to invest in travel insurance for scuba diving, because you never know what could happen and when you might need it (because accidents do happen!). I recommend this diving insurance as they offer worldwide coverage and focus on providing scuba divers a quality insurance and medical assistance service.
Most of the diving in Mozambique is not your typical "tropical" resort diving. Getting to your dive destination will take planning and may involve unimproved roads and rough conditions. Accommodations may be less than world class. But the divers that come here find the diving is well worth the extra effort.
Travel Guide
Now that you know all about the underwater world, you might want to start planning your scuba holiday! Check out our Mozambique Travel Review for information about how to get there, activities and excursions, where to stay, and more.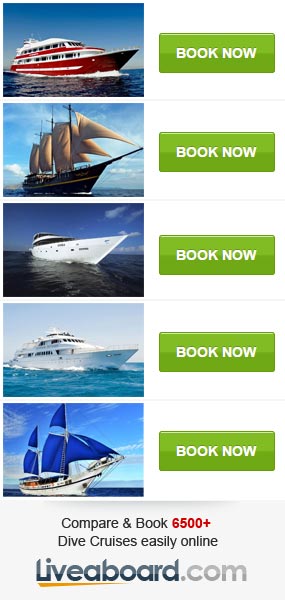 Diving Reviews for this region
Dive spots reviews in Mozambique
No dive sites reviews found
Liveaboard Reviews in Mozambique
Diving centers in Mozambique