If you have dived in Layang Layang before, please share your experiences: Dive spots you would recommend, which Dive Center you used, Fishes & Diving, Visibility, Currents, etc. Please post your comments in the section below, by doing so you will help fellow divers to plan their next trip

Scuba Diving around Layang Layang is just amazing! The marine life is extremely rich with schools of pelagic fishes, lots of reef sharks, Manta rays and sometimes even a Whale Shark cruising by!
In this page you will find more detailed information about scuba diving in Layang Layang.
Photos Layang Layang
Best Dive Review
The great stars of Layang Layang are the famous Hammerhead sharks. They aggregate for mating purposes in the deep waters around the island in April and May. Spotting them out of this period is possible but much rarer.
Spotting the schooling hammerheads is not guaranteed but if you dive there for ten days and during the season you should have a pretty good chance! This is a real adrenaline rush to be in the blue surrounded by hundreds of big sharks slowly swimming around you….
For all the reasons listed above, Layang Layang is one of the best diving spot in the world for underwater photography with an international photo contest run every year, so don't forget your camera!
How to dive Layang Layang?
There are more than 10 dive sites, all easily accessible within a 5 min to 15 min boat ride:
Most of the dives are wall diving. There are 3 dives a day planned.
You can also explore this underwater world on a Liveaboard trip (Celebes Explorer). I usually use this website to book in advance my Liveaboards in Malaysia as they usually have the lowest rates I find. I like it because they have an easy booking system.
Where to stay?
I usually use this website to book in advance my hotels in Layang Layang as they usually have the lowest rates I find. I like it because it's free to cancel and change the dates.
Best time to dive in Layang Layang
The diving season runs from March to August only when the only diving resort called Avillion is open. During the rainy season from November to February, it is not possible to reach Layang Layang.
The best time to go is during the Hammerhead season. The season runs from April to May.
Diving conditions are very good from April to August during the dry season.
Hot tips
During the Hammerhead season it is necessary to book well in advance to get a room!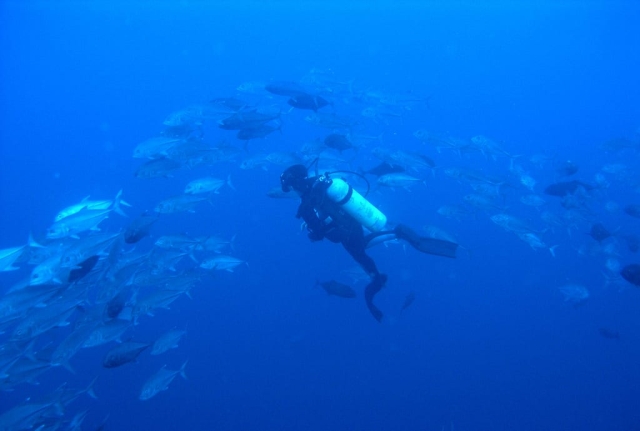 destination of the month
Top liveaboards in Layang Layang according to divers reviews
No liveaboard found
Scuba Diving conditions
The water around the island is extremely deep, around 2000 m and in the middle of the open sea. Visibility is generally very good and can often be outstanding with 60 meters!
Current varies depending on the dive site and the time and ranges from nil to very strong. Water temperature is around 30 °C year round.
As there is no decompression chamber, diving rules are strict:
No dive below 40 meters
No decompression time allowed
No diving after drinking Alcohol
No gloves
Layang Layang is a dive destination for experienced divers but there are also easy dive sites for beginners. It is possible to pass Open Water Advanced on the island.
Diving Safety
If you are planning an upcoming dive trip or travelling to Layang Layang, it is a really good idea to invest in travel insurance for scuba diving, because you never know what could happen and when you might need it (because accidents do happen!). I recommend this diving insurance as they offer worldwide coverage and focus on providing scuba divers a quality insurance and medical assistance service.
Travel Guide
Now that you know all about the underwater world, you might want to start planning your scuba holiday! Check out our Layang Layang Travel Review for information about how to get there, activities and excursions, where to stay, and more.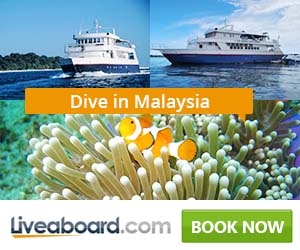 Diving Reviews for this region
Dive spots reviews in Layang Layang
Liveaboard Reviews in Layang Layang
Diving centers in Layang Layang