If you have dived in Madagascar before, please share your experiences: Dive spots you would recommend, which Dive Center you used, Fishes & Diving, Visibility, Currents, etc. Please post your comments in the section below, by doing so you will help fellow divers to plan their next trip


If it was not for the animated movie by the same name, most people would never have heard of Madagascar. The nation is an island located just off the coast of Africa, and it is the fourth largest island in the world. Much like the Galapagos islands and the Australian continent, life on the island is distinctively different from the rest of the world. About 90% of its land animals qualify as separate subspecies with most being found only on the island.
The main island and the nearby archipelagos are all surrounded by healthy reefs. Indeed, Madagascar's coral reefs are home to a great biodiversity and have a high biomass index. Scuba divers will find that there are few divers on each dive site and that visibility is often outstanding. Times of lower visibility brings a trade-off of more pelagics.
In this page you will find more detailed information about scuba diving in Madagascar.
Photos Madagascar
Best Dive Review
The coastline of the main island of Madagascar, just like the outer islands, offer outstanding scuba diving. While there are many places to scuba dive, a few tops the charts. Given the distances involved between the different dive destinations, it is best to plan on just one.
Nosy Be Archipelago: Located off the north coast of the man island, this group of islands is a prime tourism destination. Indeed, beach lovers and scuba divers will be pleased! While this is the top tourist destination, it needs to be noted that the number of tourists is relatively low and the beaches and waters are not overcrowded. Also, the area has a seasonal whale shark population. The visibility and sea conditions are very good. However, it can be impacted by bad weather in the cyclone season.

Ile Sainte Marie and its associated islands are the second largest dive destination in Madagascar. Located just off the east coast of the country, it has wonderful coral reefs and a variety of wreck sites. The area is directly in the humpback whale migratory route and a good percentage of them remaining in the area to give birth and breed. August is the best month for diving with humpbacks and you will frequently see mothers with a calf.
How to dive Madagascar?
The scuba diving industry is well developed in Madagascar but still is considered as having a low impact on the environment. Indeed, even if the tourism industry of the country is doing well, the number of tourists is still very reasonable.
Moreover, the dive centers are catering to a limited number of divers while they have a large number of dive sites to propose. You can either dive from a land-based resort or join a liveaboard for a scuba diving cruise. Indeed, both options are great and will get you to discover the best diving sites of Madagascar.
Here's a dive review of Sakatia, an island just off Nosy Be!
That being said, some of the best diving in Madagascar is reached only by liveaboards, so it might be worth considering! Most diving cruises will depart from Nosy Be, and reach dive sites which are out of range for the dive resorts. Divers will then find pristine dive sites with no other divers around.
Best time to dive in Madagascar
Diving is available year round, however, the cyclone season of December to March can cause diving to be canceled for a few days.
Top liveaboards in Madagascar according to divers reviews
Dive courses
Madagascar is an outstanding location to learn to dive. Indeed, most of the dive centers offer a full range of dive courses. There are dive sites for all level of divers and no special training is needed to have a great time. Still, if you want to take a specialization course while scuba diving in Madagascar, you'll find most of them to be available.
Scuba Diving conditions
The scuba diving conditions are generally excellent year round, except when a cyclone is in the immediate area. Visibility is generally over 30 meters, with occasional algae blooms that will reduce the visibility. However, the blooms also draw large pelagic closer to divers.
Moreover, the water temperatures will range from 25°C / 75°F to 28°C / 83°F. Also, most dive sites have little or no currents.
Snorkelling in Madagascar
On top of having great scuba diving, most of Madagascar's beaches provide outstanding snorkeling opportunities. Indeed, the coral reefs are often near the shore and in shallow waters, giving the snorkeler all the conditions for a great experience.
Fishes and Coral
Madagascar is a typical Indian Ocean location with high biodiversity and large biomass. For example, there are 34 types of whales and dolphins found in Madagascar's waters as well as 5 species of marine turtles and 56 species of sharks.
Also, the 300 species of hard coral plus a number of soft corals provide a home for about 1300 species of reef fish.
Diving Safety
If you are planning an upcoming dive trip or travelling to Madagascar, it is a really good idea to invest in travel insurance for scuba diving, because you never know what could happen and when you might need it (because accidents do happen!). I recommend this diving insurance as they offer worldwide coverage and focus on providing scuba divers a quality insurance and medical assistance service.
Madagascar might not be a common travel destination, but it could definitely be on our bucket list! Indeed, Madagascar does deserve a place on lists such as the "best places to scuba dive in the world". With incredible diving, pristine sites and a low tourism impact, it sure is an interesting dive destination for future trips!
Travel Guide
Now that you know all about the underwater world, you might want to start planning your scuba holiday! Check out our Madagascar Travel Review for information about how to get there, activities and excursions, where to stay, and more.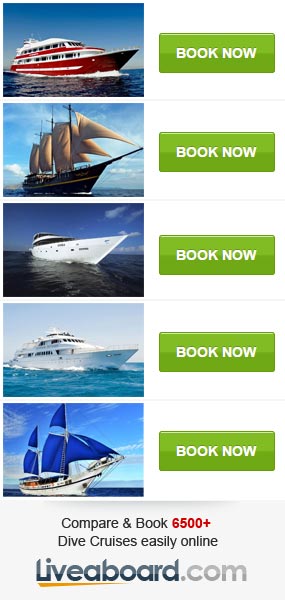 Diving Reviews for this region
Dive spots reviews in Madagascar
No dive sites reviews found
Liveaboard Reviews in Madagascar
Diving centers in Madagascar