If you have dived in Scotland before, please share your experiences: Dive spots you would recommend, which Dive Center you used, Fishes & Diving, Visibility, Currents, etc. Please post your comments in the section below, by doing so you will help fellow divers to plan their next trip


Considering how small Scotland is and the relatively small population, plus the fact that the water never really gets warm, it is really a surprising active scuba destination. Indeed, dive clubs are very active in Scotland. The Scottish Sub Aqua Club (ScotSAC) is recognized and supported by "Sports Scotland" as the national governing body for the sport of diving in Scotland. In fact, they have over 70 clubs running!
In this page you will find more detailed information about scuba diving in Scotland.
Photos Scotland
Best Dive Review
Scotland is a beautiful country to visit, rich with history and diversity. Those traits continue underwater. Scotland offers some remarkable diving for those who come looking for it.
Scapa Flow, Orkney Islands: The German Imperial Navy's High Seas Fleet in World War One was waiting in this bay at the end of the war. Rear Admiral Ludwig von Reuter ordered the fleet scuttled. Many of the ships were saved and many more were salvaged after the war. Still, a number of them remain to this day. The battleships Markgraf, Konig and Kronprinz Wilhelm and the cruisers Coln, Dresden and Karlsruhe are the most notable of those that remain.
St Abbs, Coldingham parish of Berwickshire: St Abbs harbor is considered to have some of the best shore diving in the UK. There are over a half dozen dive sites here but the one best known is Cathedral Rock. The site has a few arches and swim-throughs. The way the light penetrates gives the site its name.
The Isle of Mull is the fourth largest Scottish island. Divers, naturalists, and photographers all find the isle exciting. There are a number of outstanding dive sites with waters uncontaminated by man. Marine wildlife includes minke whales, porpoises, basking sharks, and dolphins.
St Kilda is one of 71 National Nature Reserves (NNRs) in Scotland. It is very isolated and has strict but easy to follow requirements to enter the island. The diving is outstanding and includes a number of caves. There is only a small campground on the island.
How to dive Scotland?
Most of the diving in Scotland is club diving. There are only six PADI dive centers in the country. The biggest complaint that you hear about diving in Scotland is not the cold water, it is that the dive trips fill up too fast. If you are planning a trip to Scotland to dive, ensure you can get on a dive as soon as you can.
Best time to dive in Scotland
The typical dive season is from April to October. Diving is still possible outside of this season but can be subject to harsh conditions and strong currents. Many divers look to the Lochs in the offseason for their diving.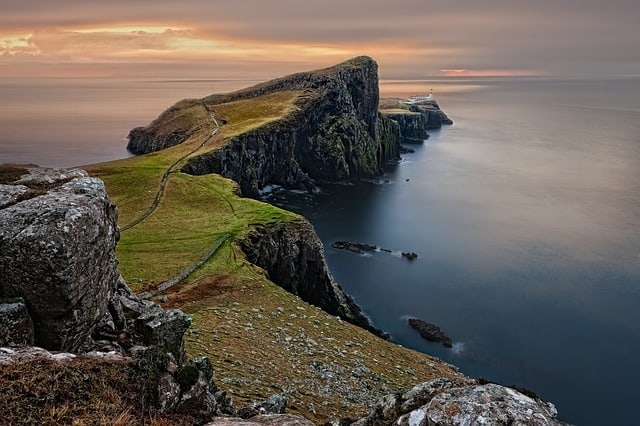 Top liveaboards in Scotland according to divers reviews
No liveaboard found
Dive courses
Even in the summer, you might want to dive many of the sites in a dry suit. Thus, taking a dry suit course is a good option. Also, there are hundreds of wrecks in Scotland, so consider a wreck course if you are not wreck certified.
Scuba Diving conditions
Many divers would want to consider a dry suit year round while diving Scotland. Water temperature ranges from 4°C (39°F) in April to 14°C (57°F) in September.
Regarding the visibility, it's common to have a good 10 to 30 meters (30 to100 feet). However, localized algae blooms may reduce it.
Snorkelling in Scotland
Snorkeling is not widespread due to the cold water.
Fishes and Coral
Marine life is abundant. Larger species frequently found include minke whales, porpoises, basking sharks, and dolphins.
Diving Safety
If you are planning an upcoming dive trip or travelling to Scotland, it is a really good idea to invest in travel insurance for scuba diving, because you never know what could happen and when you might need it (because accidents do happen!). I recommend this diving insurance as they offer worldwide coverage and focus on providing scuba divers a quality insurance and medical assistance service.
Overall, it's a great idea to do diving in Scotland if you are a cold water diver and especially a wreck diver! Indeed, Scotland should be a must do dive destination as it boasts stunning wreck dive sites.
Travel Guide
Now that you know all about the underwater world, you might want to start planning your scuba holiday! Check out our Scotland Travel Review for information about how to get there, activities and excursions, where to stay, and more.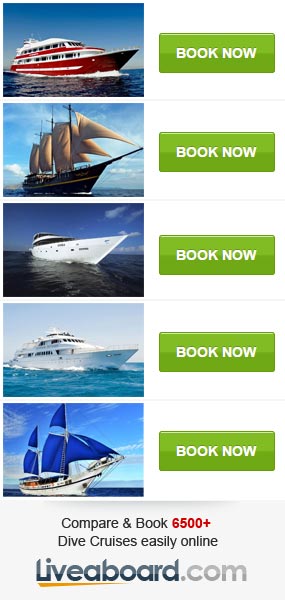 Diving Reviews for this region
Dive spots reviews in Scotland
No dive sites reviews found
Liveaboard Reviews in Scotland
Diving centers in Scotland