If you have dived in Mabul Island before, please share your experiences: Dive spots you would recommend, which Dive Center you used, Fishes & Diving, Visibility, Currents, etc. Please post your comments in the section below, by doing so you will help fellow divers to plan their next trip

Mabul is one of the best places in the world for Muck Diving! You won't find all the big pelagic fishes and crystal clear water here like in the nearby Sipadan, but you will discover a whole new world of small and weird creatures.
Photo Credit: http://www.flickr.com/photos/irwandy/3762247276/
The most famous ones are the giant frog fish, the Mimic Octopus or the rare Flamboyant Cuttlefish! You can also spot a Blue-ringed Octopus and many rare species of Nudibranch. It is also possible to encounter Turtles.
Dive sites for Muck diving are:
In this page you will find more detailed information about scuba diving in Mabul Island.
Best Dive Review
Maybe the most interesting dive site is the Seaventure platform. It is a former oil rig located 500 m offshore from Mabul and has been transformed in a diving resort. It is possible to dive under the platform and you will find there amazing biodiversity and great macro pictures opportunities! This dive site is also really great for Night Diving.
Froggy Lair dive site might be the best for macro underwater photography and is THE place if you want to take snaps of an ornate ghost pipefish or flamboyant cuttlefish!
During your stay you will probably also dive the mythical island of Sipadan one of the best places in the world for Scuba diving and home of the big fishes! From Mabul, the boat ride to go diving to Sipadan is about 25 min (and well worth it!).
You can also explore this underwater world on a Liveaboard trip that generally combines Sipadan Island, Kapalai Island and Mabul. I usually use this website to book in advance my Liveaboards in Malaysia as they usually have the lowest rates I find. I like it because they have an easy booking system.
You can also go diving around Kapalai Island.
Where to stay?
I usually use this website to book in advance my hotels in Mabul Island as they usually have the lowest rates I find. I like it because it's free to cancel and change the dates.
Best time to dive in Mabul Island
Mabul is a year round diving destination. Conditions are very good from April to December and best conditions run in July and August. However from January to March, weather can be unsettled but nothing too bad.
Hot tip
During the peak tourist season, book your accommodation and your Sipadan diving permit well in advance!
From May to August, the turtles lay their eggs on the beaches.
Top liveaboards in Mabul Island according to divers reviews
No liveaboard found
Scuba Diving conditions
Like usually on Muck diving, visibility is poor and ranges from 5 to 8 meters. The diving conditions are easy with shallow dive sites (around 15 meters) and little current. The water temperature ranges from 27 to 29°C. Scuba diving in Mabul is suitable for all level of divers.
Snorkelling in Mabul Island
Snorkelling around Mabul is good. You can snorkel from the shore near the dive site Lobster wall and near the jetties of the diving resorts. The best way is to charter a small fishing boat to take you to the best snorkelling locations around the Island. It can be easily arranged at your accommodation desk.
Diving Safety
If you are planning an upcoming dive trip or travelling to Mabul Island, it is a really good idea to invest in travel insurance for scuba diving, because you never know what could happen and when you might need it (because accidents do happen!). I recommend this diving insurance as they offer worldwide coverage and focus on providing scuba divers a quality insurance and medical assistance service.
Photos Mabul Island
Travel Guide
Now that you know all about the underwater world, you might want to start planning your scuba holiday! Check out our Mabul Island Travel Review for information about how to get there, activities and excursions, where to stay, and more.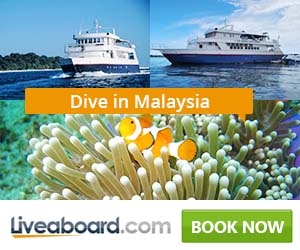 Diving Reviews for this region
Dive spots reviews in Mabul Island
Liveaboard Reviews in Mabul Island
Diving centers in Mabul Island