If you have dived in Panama before, please share your experiences: Dive spots you would recommend, which Dive Center you used, Fishes & Diving, Visibility, Currents, etc. Please post your comments in the section below, by doing so you will help fellow divers to plan their next trip


Thinking of diving the Pacific Ocean this year, or maybe the Caribbean is calling you? How about both in a single trip? Scuba diving in Panama gets you both, plus some freshwater lake diving in between.
The Isthmus of Panama is the southernmost part of the North American continent or the end of what we consider as Central America. Indeed, the country's east coast is on the Caribbean seaside, while the west coast borders the Pacific Ocean. In between is a narrow land strip, which is called an isthmus, featuring hundreds of rivers and dozens of lakes. The latter includes Gatun Lake, the largest man-made lake in North America.
Moreover, Panama has a long history of conservation and protection of the oceans. You will find pristine diving on both coast.
In this page you will find more detailed information about scuba diving in Panama.
Photos Panama
Best Dive Review
You can list a dozen or more dive destinations in Panama. Each providing something different. Plus, Panama has dive sites that are ideal for beginners as well as sites that experienced and technical divers will love. Here is a selection of five out of the best scuba diving sites in Panama; two from each coast and one in the middle:
Bocas del Toro Islands: Located on the Caribbean side, this archipelago offers the visitor a wide selection of dive sites around the different coral-fringed islands. The tourism bureau of the region says this about the islands: "It is difficult to express in a few words what you can feel when you visit the Bocas del Toro archipelago. Only some places around the world keep this particular atmosphere, seductive, primitive and unforgettable." Indeed, the Bocas del Toro archipelago seems to offer a dreamy opportunity for pristine Caribbean diving.
Archipelago de Las Perlas: The Pearl Islands archipelago is on the Pacific side in the Bay of Panama, which is itself within the Gulf of Panama. In fact, it is composed of about 90 islands, and 130 islets and cays, which makes it a paradise for divers! The scuba diving opportunities here are diverse. Indeed, you will find dive sites with calm waters, while other dive sites are exposed to the pacific currents and make great drift dive sites. Humpback whales and other large pelagic species can frequently be found in these waters.
Coiba National Park: It's the largest of Panama's national parks and a UNESCO World Heritage site. Coiba National Park is on the Pacific Ocean side. Humpback whales, orcas and whale sharks are often found here. Plus, the coral reefs are massive.
Portobelo National Park: Near the Caribbean side of the Panama Canal, Portobelo is known for it's perfect dive sites offering crystal clear water and bountiful coral reefs. Also, divers love it for it's mangrove forest and white sand beaches.
Gatun Lake: Gatun lake is a part of the Panama Canal Zone. In fact, it is the largest portion of the canal, with ships traveling 33 km (21 mi) between locks. The lake was created by damming the Chagres River. Anything behind the dam slowly found itself underwater. This included building equipment, towns, and even a train. So, what were once hills are now islands, and most of the land around the lake is a rainforest.
How to dive Panama?
Panama's diving is mostly done from dive resorts or local dive centers. The liveaboard options are rare, if now nonexistent. That being said, there are adventure cruises, thus snorkeling-friendly cruises. Indeed, the main small ship cruises in Panama are on liveaboard boats such as the Safari Voyager, which cruises both Costa-Rica and Panama.
The archipelagos that are off both coasts each offers a unique and vastly different set of diving adventures. Thus, the best way is to dive locally, either with a dive resort, or a dive center. Indeed, this gives you the opportunity to experiment the best dive sites of Panama on your own schedule and rhythm with a few days on the Pacific Coast, then hop on the Caribbeans side, maybe with a stop in between!
Best time to dive in Panama
You can practice scuba diving in Panama all year round. Indeed, the tropical climate brings little temperature variations, and changes are seen only between two seasons. More specifically, the dry season, which goes from December to March, brings the most tourist. Not only is this the best time to visit, it is also the best time for North Americans and Europeans to escape the cold at home. During the wet, or should we say green season, it rains most days but not all day. Thus, both seasons are welcoming for travelers and scuba divers!
Moreover, if you wish to encounter the humpback whales, you level up your chance by visiting between July and September. As for silky sharks, aim for May, June, July and August.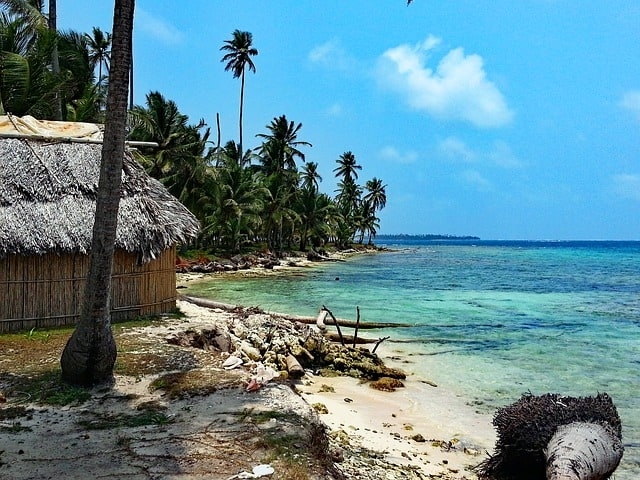 Top liveaboards in Panama according to divers reviews
Dive courses
Panama has a number of dive sites suitable to learn how to dive and it is a great place to do a discovery dive. Also, many of the dive sites located on the Pacific Ocean coast are best for drift divers. Thus, if you are not drift diving certified, it's a great opportunity to do your specialty training!
Scuba Diving conditions
As mentioned above, the tropical climate of Panama sees only little temperature variation over the year. This is true for both air & water temperatures, but the latter sees more variations. More specifically,  air temperatures have daily lows of 24°C/75°F and highs of 29°C/84°F. Plus, a few days of the year the temperatures will rise to a 32°C/90°F level.
The water temperatures do vary by a few degrees over the course of the year, and Pacific locations, away from the coast, may have colder waters. Still, we are looking at average water temperatures of 27°c /80°f in February to 29°c/ 85°f in July.
Visibility when scuba diving in Panama is good overall. Indeed, some dive sites will have limited visibility of about 30 feet/ 10 meters, while most sites away from the coast line will have visibility exceeding 100 feet/30 meters.
Snorkelling in Panama
Most the dive sites on the Caribbean side that are shallow are suitable for snorkeling. Also most beaches will offer snorkeling opportunities.  On the Pacific Ocean side, dive sites in the Gulf are often suitable for snorkeling as are around islands with a fringing reef.
Fishes and Coral
The Caribbean coast offers the typical range of tropical fish and coral reefs of any Caribbean sea destination. There are also sharks, dolphin, and turtles in abundance.
The Pacific coast still has a nice range of marine life, however, it is slightly less than found on the Caribbean side. however, the marine life in the Pacific coast make up for that with many larger species including whales and whale sharks.
Diving Safety
If you are planning an upcoming dive trip or travelling to Panama, it is a really good idea to invest in travel insurance for scuba diving, because you never know what could happen and when you might need it (because accidents do happen!). I recommend this diving insurance as they offer worldwide coverage and focus on providing scuba divers a quality insurance and medical assistance service.
Panama is a well know destination, but still a partial secret among divers. Panama's fame comes from the canal and the local culture. Unlike Belize, whose primary market is scuba divers, diving in Panama is over shadowed by the other attractions. Let'S put it on our bucket list as a soon, and not later choice.
Travel Guide
Now that you know all about the underwater world, you might want to start planning your scuba holiday! Check out our Panama Travel Review for information about how to get there, activities and excursions, where to stay, and more.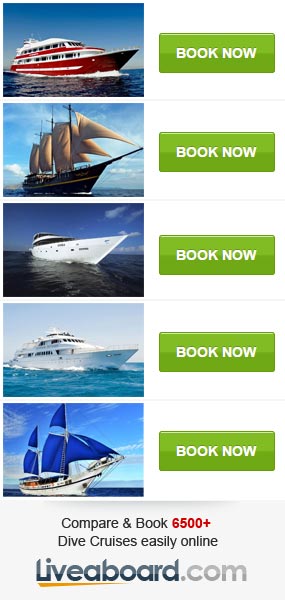 Diving Reviews for this region
Dive spots reviews in Panama
No dive sites reviews found
Liveaboard Reviews in Panama