If you have dived in Malapascua Island before, please share your experiences: Dive spots you would recommend, which Dive Center you used, Fishes & Diving, Visibility, Currents, etc. Please post your comments in the section below, by doing so you will help fellow divers to plan their next trip

Scuba diving in Malapascua Island is famous worldwide for being the only place in the world where you can observe the very rare Thresher Shark on a regular basis. As a side tip, another diving destination where you can sometimes see them is the Brothers Islands in the Red Sea.
Thresher Shark Dives:
The Thresher Sharks live usually in deep water and are very rarely spotted in shallow water. In Malapascua they come up to around 20m in the water first thing in the morning to get rid of the parasites on their skins. The best chance to spot the Thresher Sharks is at Monad Shoal dive site early morning. It is also a good spot to encounter Manta Rays!
Over the years, many documentaries have been filmed underwater at Monad Shoal and that's what has made this place so famous. Encounters with the Thresher Shark is not guaranteed however if you dive in Malapascua for a week you excellent chances of coming back with fabulous shots of this very timid Shark!
Macro Diving and Wrecks
Apart from the big stuff, there is also very interesting macro diving around the Islands. It is a great place to observe rare critters and macro species such as colourful Mandarin fishes, rare Blue Ring Octopus, superb Flamboyant Cuttlefish, Ornate Ghost Pipefishes, or the strange looking Frogfishes and Seahorses.This really is a great place for macro underwater photography so don't forget your camera!
There are also 3 nice wrecks to dive ranging from 10m to 70m deep like the Dona Marilyn wreck located 1 hour away form your dive resort. It is a former 100m long ferry passenger which sank in 1988 during a Typhoon.
Day trips and Hammerheads!
Day trips to the nearby Gato Island can also be organized to observe Nurse Sharks, Whitetip Reef Sharks and even the rare bamboo Sharks resting in small cracks.
Kalanggaman Island is also a great day trip for amazing reef life and amazing picture opportunities. Early morning dives are also organized to spot the Schooling Hammerhead Sharks around Kimud Shoal. The best chances to see them are from December to April.
You can also explore this underwater world on a Liveaboard trip that generally combines Tubbataha Reef and Malapascua Island. I usually use this website to book in advance my Liveaboards in the Philippines as they usually have the lowest rates I find. I like it because they have an easy booking system.
In this page you will find more detailed information about scuba diving in Malapascua Island.
Where to stay?
I usually use this website to book in advance my hotels in Malapascua Island as they usually have the lowest rates I find. I like it because it's free to cancel and change the dates.
Best time to dive in Malapascua Island
Diving Season
It is possible to dive all year round in Malapascua but there are different seasons depending on what you want to see.
Thresher Sharks and Manta Rays can be spotted year round but the best seasons for Manta rays are Winter and Spring.
Hammerhead Sharks can be seen schooling with best chances from December to April.
The visibility is reduced from November/December up to the end of January because of high plankton density. You can expect from 5m to 10m visibility during this period. During the rest of the year the visibility is ranging from 15m to 30m. However it is during this period that you can spot more Manta Rays! So it's really up to you!
Best visibility from June to September.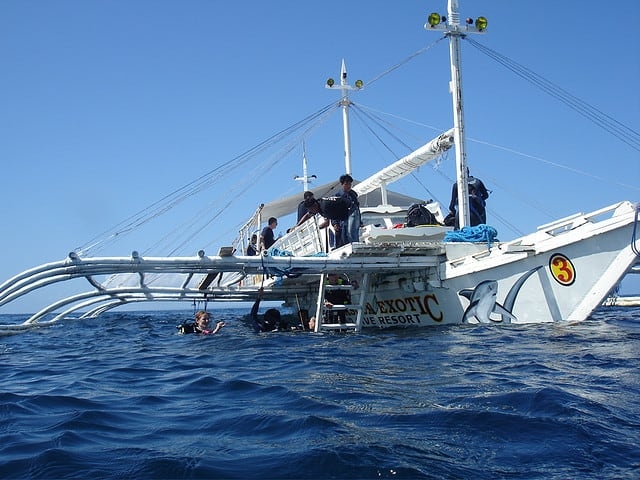 Top liveaboards in Malapascua Island according to divers reviews
No liveaboard found
Scuba Diving conditions
The water temperature ranges from 27°C to 30°C. However, in December, January and February the water temperature decreases to around 25°C.
You can expect visibility ranging from 15m to 30m most times of the year except in December and January when the blue water turns green because of the density of plankton. The visibility is quite poor from 5m to 10m but not too bad if you are there for the small critters.
Snorkelling in Malapascua Island
There are nice snorkelling spots around the Island including the shallow Japanese wreck. You can ask a local fisherman to take you on a day trip to the best sites. The coral is beautiful and the reef life is teeming. However, there are signs of bomb fishing and lots of coral has been damaged by anchors.
Diving Safety
If you are planning an upcoming dive trip or travelling to Malapascua Island, it is a really good idea to invest in travel insurance for scuba diving, because you never know what could happen and when you might need it (because accidents do happen!). I recommend this diving insurance as they offer worldwide coverage and focus on providing scuba divers a quality insurance and medical assistance service.
Photos Malapascua Island
Travel Guide
Now that you know all about the underwater world, you might want to start planning your scuba holiday! Check out our Malapascua Island Travel Review for information about how to get there, activities and excursions, where to stay, and more.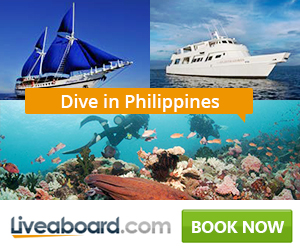 Diving Reviews for this region
Dive spots reviews in Malapascua Island
Monad Shoal, also known as Shark Point, has now become a World famous dive site. It is the best place in the world and i...
The Dona Marilyn is a 98m long former ferry that sank near Malapascua Island in October 1988 during a Typhoon while sail...
Liveaboard Reviews in Malapascua Island
Diving centers in Malapascua Island